My Favourite Things: A Birthday Giveaway [CLOSED]
November 01, 2011
Happy November 1st!

November is my favourite month of the year. Why? It's my birthday month, and it's one month away from Christmas! But, today's post is not about me, it's about you!

I've recently been looking at the stats on my blog, and I get anywhere from 250-500 unique views everyday. But.. I don't know any of my readers! So this is where you come in.

To celebrate my birthday this year, I want to give one of my readers a treat from myself, namely some of my favourite things that I use all the time!

The prize consists of 11 different items: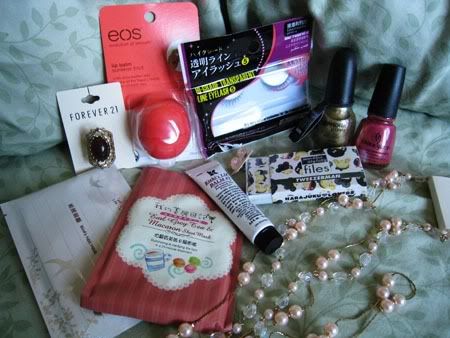 EOS lipbalm (flavour of your choice: sweet mint, summer fruit, strawberry sorbet, passion fruit), fake eyelashes, China Glaze polish in Flirty Femininity, Sephora by OPI Polish in Blasted Gold, Tweezerman Harajuku Lovers Matchbox Itty Bitty Files, F21 Rose earrings, My Beauty Diary Masks (Birds Nest & Earl Grey Macaron), Pearl necklace from F21, Kiehl's Lip Balm & a Statement Ring from F21 (sz 6). Approximate value of the prize is $60 CAD, and everything was purchased myself, no sponsors!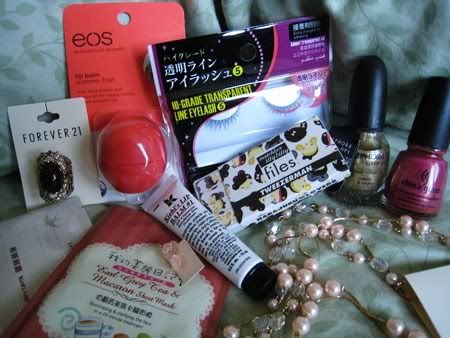 Entering is super easy! Two steps!

1. Follow my blog via Google Friend Connect
----> in the sidebar
2. Using your account, leave me a comment below
about how you found my blog! I seriously always wonder.
& maybe something about yourself if you feel like it!
I don't bite, I promise! :D

& for an extra entry, you can tell me what type of
content you'd like to see more of, or have me
introduce on my blog!
This giveaway is open to all readers internationally, and will close on the night of my 21st - November 23rd, midnight PST. I will choose the winner on November 24th using a random generator, and announce it on my blog & via Twitter. Winner will be given 48 hours to contact me to claim his/her prize. So enter away! :)
And thank you so much for taking the time to read my blog! It's you that keeps me going :)