It's pretty rare for me to have time to go out for lunch on weekdays with my crazy class schedule and all, but when the chance comes up, I look for good food and a great deal. I had always heard good things about Cibo Bistro, and having only visited for dinner in the past, I stopped by in the summertime to see what lunch was all about.

Cibo Bistro - 11244 104 Avenue - Edmonton AB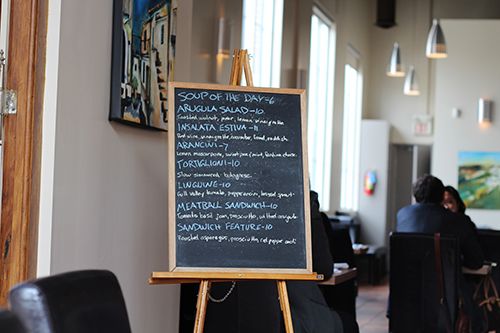 At Cibo, lunch is available from Tuesday to Friday from 11:30-2:00PM. Without a reservation, I stopped with a friend by around noon to find that the restaurant was pretty busy, but luckily there were still two open tables available. After being seated our waiter brought over a handwritten menu on a chalkboard with all the options for lunch and the special for the day. It was a little awkward with our waiter standing right at the tableside as we read and decided what we wanted to eat, but since there's only one chalkboard for the whole restaurant, it was understandable that other tables needed to be served as well.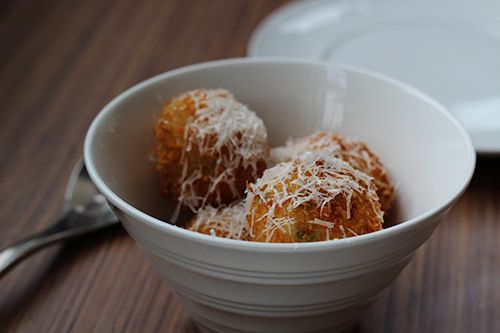 We started off the meal with Arancini ($7):
lemon marscapone, sweet pea, mint & fontina cheese
. I will tell you that my favourite arancini belong to Corso 32 here in Edmonton, but the arancini at Cibo are a close second. A thin, crisp exterior houses a gooey mixture of cheeses, rice, and other ingredients. And since this one has lemon in it, it's slightly tangy and brings another flavour element to the dish. Just be careful and contain your excitement when they come to the table - I would hate for you to burn the inside of your mouth so you can't taste the remainder of your meal!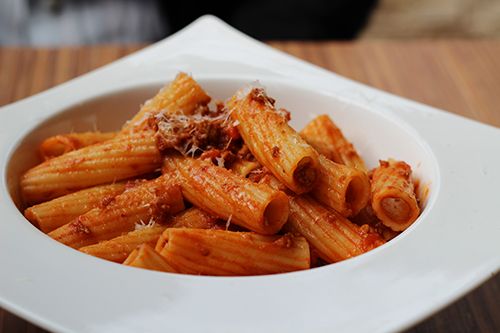 My friend ordered the Tortiglioni ($10), which was tossed up with a slow simmered bolognese sauce. The tomato sauce wasn't overly acidic, with a perfect blend of herbs and savoury notes. The pasta was cooked al dente, and portion wise, the size was perfect for lunch.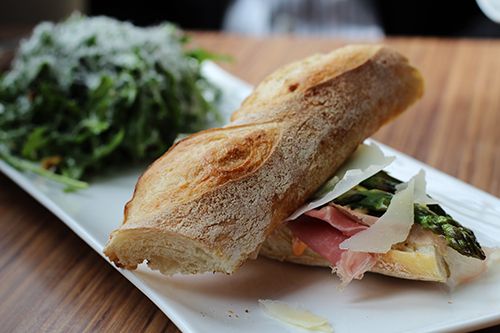 For myself, I just had to get the Sandwich Feature ($10) for the day cause it sounded delicious:
roasted asparagus, prosciutto, red pepper aoili, and a side of the arugula salad
. This sandwich here definitely ranks as one of the best sandwiches I've ever had. There was a substantial amount of prosciutto which wasn't too salty, the asparagus was tender, and the shaved parmesan really brought the flavours together. The bread had a nice crunch to it, but the interior was soft and easy to chew. The side asparagus salad was refreshing with a tangy vinaigrette, and the shaved cheese on top was a nice touch. If I could have this sandwich again right now, I would!
The lunch menu itself doesn't have a dessert, so to finish the meal we opted to go with their seasonal Panna Cotta ($10):
vanilla custard, blood orange syrup and candied meyer lemon
. Panna cotta ranks as one of my favourite desserts, as it's not too sweet and it's creamy without being heavy. The panna cotta at had a light sweetness, creamy texture, and definitely jiggled on the plate. I loved the citrus flavours combined with the vanilla, so this dessert was a clear winner for me.
It's been a while since I've been to Cibo Bistro for lunch, so I'm definitely due for another visit. The menu is simple, but the dishes pack flavour, and the service is quick and friendly. I've heard that their prices have increased from $10 up to $12, but honestly, it's still a great price and a good deal for lunch! So stop by soon and try them out - you won't regret it.