When you're a restaurant that's been hosting an annual lobster celebration for 15 years, you're pretty serious about how you serve your clawed crustaceans. 2015 marks the 15th year that The Keg Steakhouse + Bar has featured lobster on their menu during the summer months.

The Keg Steakhouse + Bar - 1631 102 Street - Edmonton AB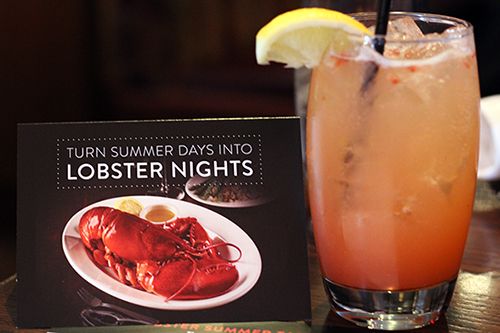 Having lived in Edmonton all my life, I'm pretty sure this is the first year I've heard about the lobster summer menu at the Keg. Better to be late to the party than to not show up, right? From July 6th to August 30th the lobster menu is featured at all locations of The Keg across Canada. Fresh North Atlantic lobsters are flown in twice a week to all Keg locations, ensuring that all dishes are made with the freshest seafood possible. Why spend the money flying to Atlantic Canada for lobster when they'll fly here to you?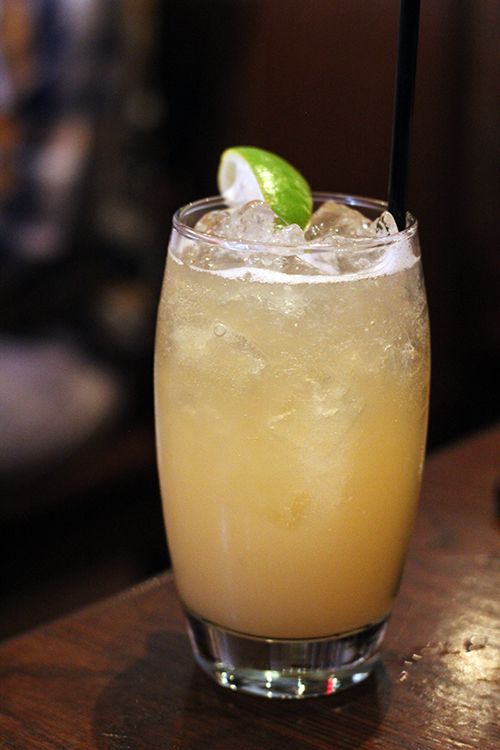 Feature Cocktail: Casamigos Mule
Two weeks ago I had the opportunity to stop by The Keg for a preview of some of the lobster dishes available this year. Often times I find it can be intimidating for people to go out for lobster, or seafood in general, because of the high price tag associated with high-quality seafood. This year The Keg is trying to make lobster available and affordable at different price points so that everyone can enjoy it. Based on the price points on the lobster summer menu, I would say The Keg has definitely accomplished this goal.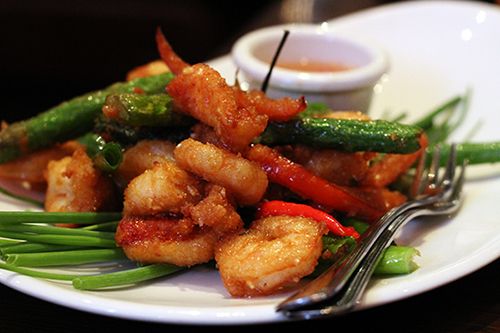 While classic lobster dishes appear on the menu, The Keg has introduced four new dishes this year. One of them is the Szechwan Lobster ($15) that you can order to kick off your meal. Golden fried lobster and shrimp are tossed in a sweet and spicy sauce with red peppers, asparagus, and red Thai chillies. Although it is a Szechuan-inspired dish, the heat in this dish is only apparent if you choose to take a bite into the fresh chillies. The chunks of lobster were sweet and presented in a fair size and proportion, so you get pretty good value out of this dish.
The lobster summer menu also features three casual plates, which are ideal for sharing with friends on the patio or as lighter dinner mains. I definitely appreciate the smaller plates as I tend to go for lighter meals in the summer heat. The Crispy Lobster Tacos ($16 for 3) feature lobster that has been coated in a crispy rice batter and golden fried, served with cabbage slaw and cilantro on a warm tortilla with jalapeno maple aioli on the side. Despite being fried, the lobster maintains it's natural sweetness and goes really well with the fresh slaw. The aioli gives an extra dimension of flavour and a creamy texture to bring it all together.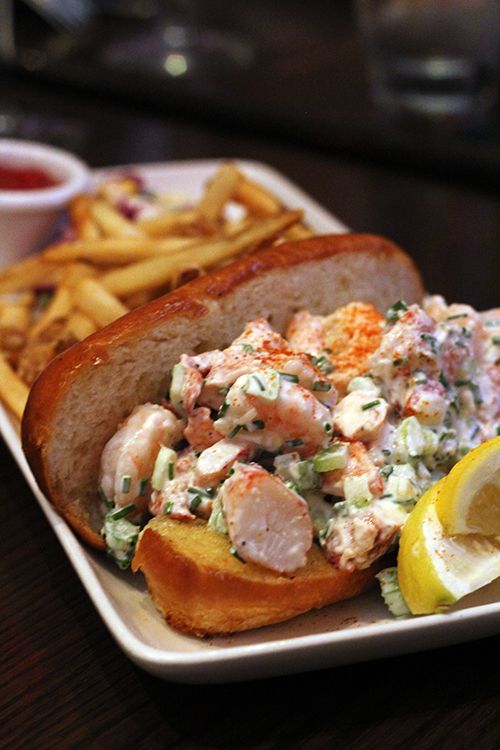 Another casual plate on the menu is the Lobster Roll ($19), an East Coast classic. A creamy mixture of chives, celery, lobster chunks, and shrimp are served in a butter brushed brioche roll and plated with crispy Keg fries and a cabbage slaw. The soft bun is bursting at the seams with filling, and I particularly enjoyed the added crunch and flavour from the fresh celery.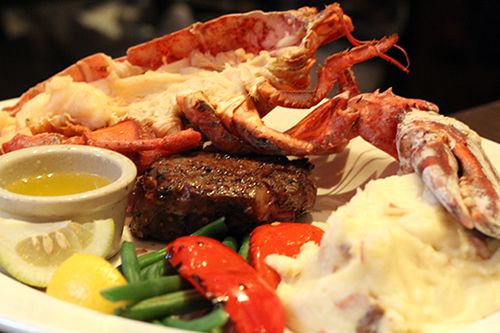 When it comes to entrees during lobster fest, the classic surf and turf combination is a no-brainer. Tender sirloin steak in 6 oz. or 8 oz. portions ($45/$47 respectively) cooked to your preference is served alongside a fresh half lobster with butter, lemon, and your choice of a side. I prefer my steaks between rare and medium rare, and the kitchen had no problem executing my request. When each guest's plate arrived to the table, we all had one thought: wow. The half lobster dominated the plate and the portion was almost intimidating, but this could easily be split between two people to make it more manageable. The steak was tender and juicy as expected, and the lobster was delicious simply cooked and dipped in the hot butter.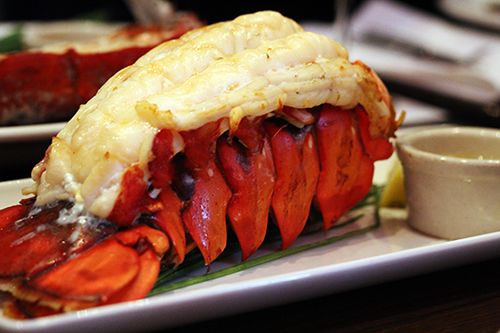 Now if you're really looking to indulge while the lobster summer menu is out you'll want to get the 1 pound Lobster Tail ($40), which is new to the menu this year. There was a collective gasp when the tails arrived to the table due to their sheer size. The lobster tails were so big that I didn't even know where to begin! Again, the lobster tail was simply cooked, but the natural sweetness combined with melted butter was quite indulgent. The Keg recommends adding the tail to an entree for sharing between two people, so you can create your own surf and turf meal.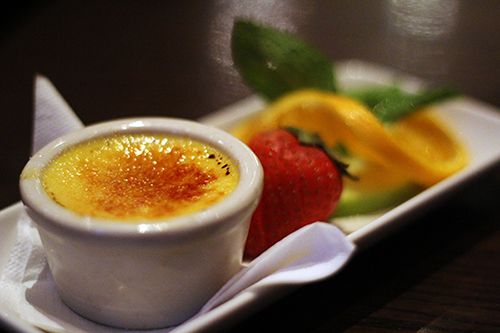 Mini Mango Brulee
With just over one month left to enjoy the lobster summer menu, you'll want to get to The Keg soon if you're a lobster fan. The range in price points makes lobster affordable for every budget, and the prices are quite reasonable for what you get. The live Atlantic lobsters are fresh and you can really taste the quality in every bite. Grab a group of friends and indulge - after all, it only happens once a year!
*Disclosure: The Keg Steakhouse + Bar invited me to attend their media tasting. Views expressed in this post are solely mine. I was not expected to feature this restaurant on my blog, nor obligated to do so. This post is 100% my opinion, and as always, my priority is to you, the reader, to present an unbiased, thorough review.