Meat, Cheese & Wine: Cured Wine Bar
July 27, 2015
If I could get away with eating charcuterie and cheese for every meal, I probably would. There's so much variety in the world of cured meats and cheeses, and pairings with wine makes things more fun. And now there's a spot in south Edmonton where you can indulge in these three very things!

Cured Wine Bar - 2307 Ellwood Drive - Edmonton AB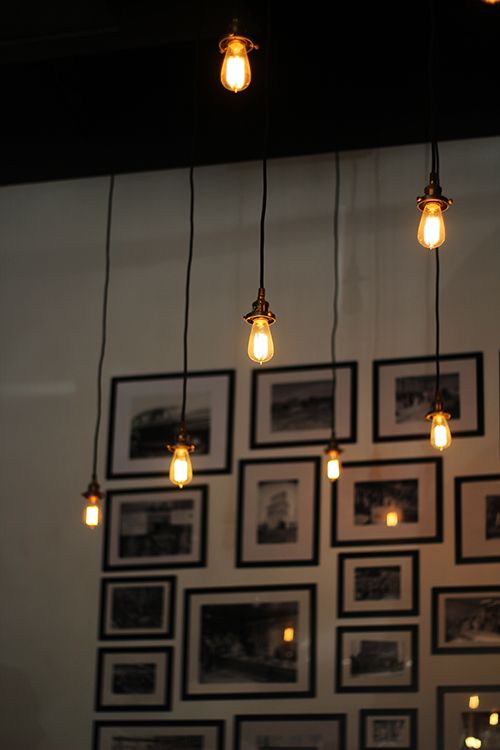 I first came across
Cured Wine Bar
at the 2014 Rocky Mountain Wine & Food Festival. At the time there were very few (if any) restaurants in the city making charcuterie in house, so I was pretty impressed to hear that this restaurant was up to the task of dedicating time to produce quality cured meats. After months in the making, Cured finally opened to the public as of July 14.
Located in Ellerslie, it seems like the suburbs are the new popular place for restaurants to open. I'm not one to complain though, as I love having locally owned dining options close to home. My boyfriend and I stopped by one night to check out the space, and the environment was great for us to wind down and relax after a long day at work. The wooden accents and brick contrast against Edison light bulbs and tufted seating, giving the restaurant a rustic, country chic vibe - I love it.
Lemon Lavender Fizz
The wine and liquor display up at the bar is extensive, with an Enomatic as the centrepiece on the wall. The Enomatic serves some wines exclusive to Cured, including those from Blue Mountain. According to the owner, Field Pieterse, Cured is the only restaurant in Alberta to carry bottles from Blue Mountain Winery, and they drive to the Oakanagan to purchase their bottles. It's the perfect excuse for a mini getaway if you ask me! Jokes aside, the wine list is about 60% Canadian, and there's some great cocktails, beer, and scotch available too.
Given the restaurant name and the meats and sausages hanging on display, it's no surprise that a large proportion of the menu at Cured is dedicated to customizing your own charcuterie board. All of the cured meats are made in house with exception to the prosciutto, which will be ready next year. Two boards - small and large - are available at $29 and $43, respectively, where you can choose five different meats. The smaller board is meant for 2 to share, providing 50g of each meat selected, while the large board for bigger groups is presented with 80g per meat selection. If you can't make up your mind, there is the option of having the chefs prepare a board for you, or you can order the "Pig Out" where every meat is presented on the board at a price of $100.
For our charcuterie board we ordered the chipotle jerky, maple duck mortadella, air dried beef tenderloin, elk sausage, and venison salami. We also added in some smoked gouda and cave aged gruyere ($5/1oz.), and the board was beautifully presented with grilled bread, walnuts, almonds, dried cranberries, and housemade condiments of pickled mustard seeds, caramelized onion marmalade, and corn pesto.
Of the selection we chose, the duck mortadella, beef tenderloin and venison salami were my favourites. The mortadella is made with Brome Lake duck, and seasoned beautifully with a variety of herbs that really work well together. The tenderloin has a great texture and the flavour of the beef really comes through. The salami on the other hand isn't overly fatty and has great texture and flavour. I did find myself looking for a smokier chipotle flavour in the jerky, but I did appreciate the moist, chewy character to it. As for the elk sausage, it was quite lean and the game flavour was a little heavy for my liking.
Although the charcuterie really shines, it's a bit of a shame that the cheese selection is a bit lacking. Most of the cheeses are fairly typical and sourced from large distributors. There is a housemade ricotta, and the gorgonzola and gouda are slightly altered by a smoking process done in house, but I would love to see more of Alberta's local cheeses and unique varieties on the menu. That being said, our smoked gouda had a deep smoky flavour we really enjoyed and it complimented the meats we ordered. We were pretty impressed with all the accompaniments to the board and we liked being able to customize it. It was also more filling than we had imagined!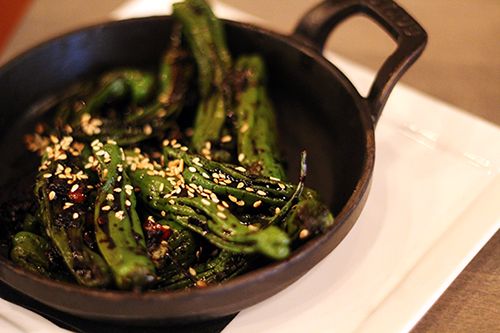 Following the charcuterie board we ordered a couple small plates that piqued our interest. Shishito peppers are one of my favourite snacks and they're pretty hard to find in Edmonton. I was excited to spot the Pan Seared Shishito Peppers ($14) on the menu, and they were cooked in a sweet soy reduction and topped with toasted sesame seeds. One of the neat things about shishitos is that you literally play spicy pepper roulette while you're eating them. About one in every ten peppers is spicy, so you never know what you'll be biting into! The dish at Cured gives you a substantial portion of peppers, and soy reduction is actually cooked with some red chili peppers, so there is an element of heat to the dish which takes away a bit of the fun. Unfortunately I found that the sauce was overly reduced, sticking heavily to the peppers and making them quite salty. With the sauce thinned out a bit, it would have been perfect.
The Lobster Arancini ($16) was recommended to us, and I love a good ball of arancini! Cured makes theirs with saffron Arborio rice and snow peas and serves it with a spicy aioli and shaved grana padano. Biting through the crisp outer layer led to a heavy and dense ball of rice, peas and lobster. The arancini could use more seasoning, and in my opinion, a lot more cheese to make it gooey and addicting. There's lots of potential here, so with some tweaking, it could end up being pretty good arancini.
Our last savoury dish of the evening was the Flame Broiled Peach Salad ($13) with slivered prosciutto, housemade ricotta, candied walnuts, and mixed greens. Cheese and meat can be fairly heavy, so I was looking forward to a refreshing dish to lighten up the meal. The salad came out beautifully presented on a slate board, but unfortunately wasn't quite what I was expecting. As peaches are in season I was hoping to find fresh, juicy peaches in this salad, but found the canned variety instead, grilled and lacking moisture. The housemade ricotta was smooth and creamy, but lacking in flavour and moisture to lend to the dry greens. The prosciutto was abundant and delicious, but there was almost too much of it, making the salad saltier than expected. Given how dry the salad was, it would have benefitted with a dressing. It's another dish with lots of potential, but unfortunately lacked in execution.
To finish off our night we ordered the Honey Poached Pear ($8) with ice wine gatrique and
Pinocchio
vanilla bean ice cream. The pear wasn't too sweet, but I did wish for it to be poached a bit softer and served warm. The ice cream was fragrant and creamy, balancing the acidity of the gastrique.
The charcuterie at Cured is clearly the star of the menu, as it should be. Although there were some hiccups in the small plates, the restaurant was very receptive to feedback, and hopefully they can iron out the kinks with a bit of time. Service was great and the staff were knowledgeable when it came to their offerings. Cured is very much committed to supporting local producers and sustainability, and it would be great to see this reflected in the menu.
I'm definitely looking forward to future visits to unwind with some meat and cheese. It will be interesting to see if the charcuterie grows to include more varieties, or if the restaurant adopts a seasonal menu to reflect availability of produce.
With some adjustments, Cured Wine Bar has the potential to be a go-to dining spot for many. Pricing for the charcuterie is reasonable and the atmosphere is great for both intimate dinners and group celebrations. Thanks for bringing housemade charcuterie to the south side - whatever occasion it may be, I'll be back soon for some more of that venison salami!
*Disclosure: Cured Wine Bar invited me to attend their media opening. Views expressed in this post are solely mine. I was not expected to feature this restaurant on my blog, nor obligated to do so. This post is 100% my opinion, and as always, my priority is to you, the reader, to present an unbiased, thorough review.