When I think of brunch it's usually some version of eggs benedict accompanied by a mountain of fruit. Meat isn't usually the first thing to come to mind, so when Meat deviated from their weeknight dinner service to offer weekend brunch I was curious to see what was on the menu.

MEAT - 8216 104 Street - Edmonton AB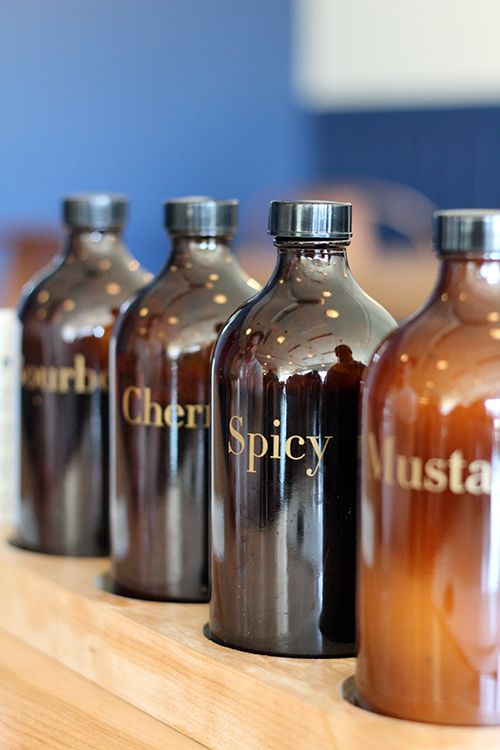 Opened just over a year ago, Meat delights those in Old Strathcona with the smell and taste of tender smoked meat. The large windows bring in lots of natural light to the open concept dining room, and the communal dining tables give this restaurant a casual, laid back feel. Bourbon, cherry and spicy barbeque sauce and mustard line each table, waiting eagerly to accompany your meal.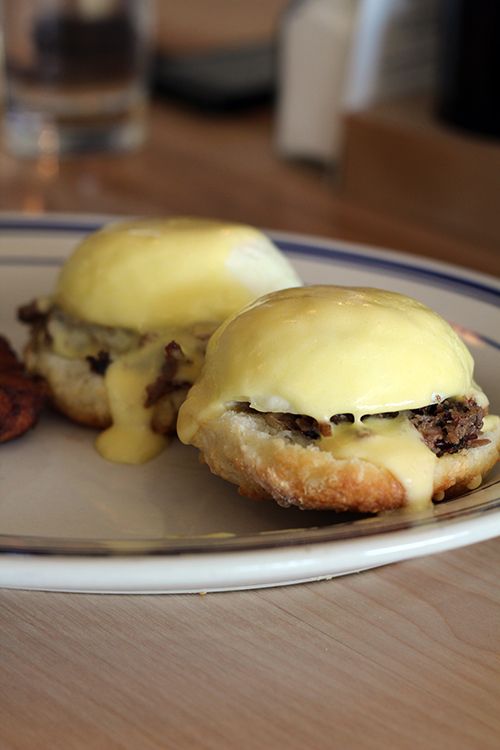 The brunch menu is straightforward, offering seven breakfast dishes and three sandwiches. My boyfriend started his day with the Beef Brisket Benny with Hashbrowns ($15), where the soft poached eggs and brisket sat on caramelized onions and a fluffy buttermilk biscuit. The housemade hollandaise added flavour to the dish and the crispy hashbrown was a great accompaniment, but it did feel like the dish could have used a bit more brisket.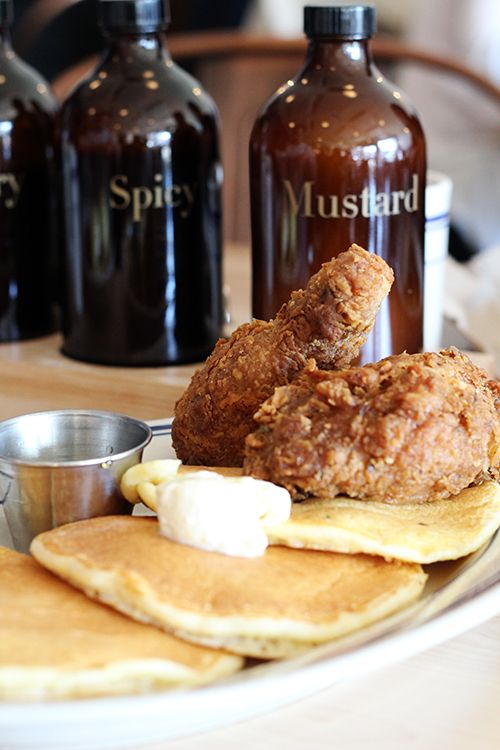 For myself I went with the Buttermilk Fried Chicken & Flapjacks ($16), and it was probably the best decision I made that day. Biting through the crispy skin revealed piping hot, juicy chicken that was perfectly seasoned. The three cornmeal flapjacks with butter and rosemary maple syrup made for the perfect sweet and salty combination and the portion size held me over 'til dinner. Unfortunately, one of my pancakes wasn't fully cooked through, but another quickly arrived to the table in its place. If you're going to Meat for brunch, this dish would definitely be my recommendation!
Edmonton doesn't have as much of a brunch culture as other cities (hello, Calgary!), but it's great to see another restaurant start to offer casual weekend dining. Old Strathcona is a great area to spend a warm weekend afternoon, so why not kick it off with brunch at Meat? And not to worry if you're a vegetarian, as they have veggie friendly options too. Not too many people seem to know about brunch yet, as it wasn't overly busy during our visit, so you can avoid long lineups and kickstart your weekend with some smoked goodness!