Happy Monday! I'm still stick in holiday mode and lounging around the house, but hopefully the day goes well for those of you that have returned to work! It's the last Monday before we ring in the new year, and I've got a pretty polish to share with you today.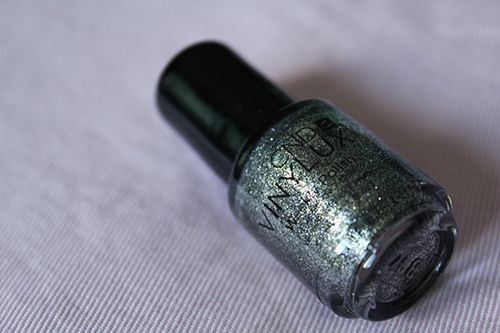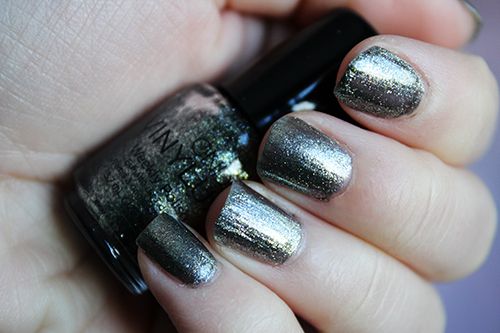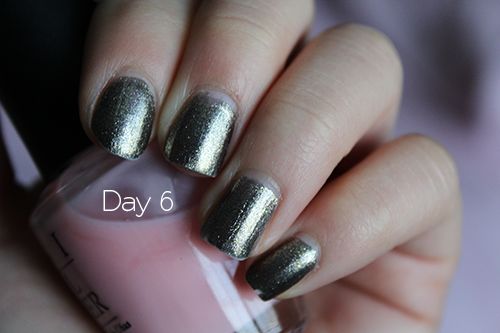 As you may remember, I've been swatching my way through the CND Vinylux Forbidden Mini Collection. Night Glimmer can be described as a green-brown shade with silver glitter. It's pretty complex and flashes a different colour with changing angles, and I loved looking at the colour throughout the week of wear. The formula is smooth and opaque with three thin coats, drying quickly with the application of the weekly top coat. Although the collection promises a full week of wear chip free, my wear tests have proven otherwise for the creme shades. However, this particular shade has proven to wear very well! After six full days of wear there is minimal wear at the tips and only a small chunk of polish missing from my pinky. I think this just goes to show that glitter shades do indeed wear longer, even with regular nail polish. What I found the most surprising with this formula is how easy to really was to remove it. Just a little acetone and some patience and it comes right off the nail. There's no need for foil removal or concentrated scrubbing like regular glitter polishes.
If you're looking for a week-long polish, I would definitely suggest this shade or any of the glitter polishes in the CND Vinylux range!
*Disclosure: This product was sent for consideration of a review.