Taya Amazon White Clay Collection - Review + Giveaway
December 09, 2013
Happy Monday! Hope you've all had a wonderful weekend, especially my fellow Edmontonians braving the cold weather with me! I've got a big announcement today, but you'll have to get all the way to the bottom of this post to find out. See you there!

A few months ago I received the entire range of products from the Amazon White Clay line made by Taya. Taya, which means "I Am" in the Wayuu dialect, is a beauty brand specializing in hair care products. While I'm not typically too picky about my hair products, what appealed to me about Taya is their commitment to being sustainable and environmentally responsible. What that means is that their products are sulfate, paraben & animal product free, and they don't use any animal testing. In the Amazon White Clay Thickening collection all the products include organic ingredients found in the Amazon Rainforest.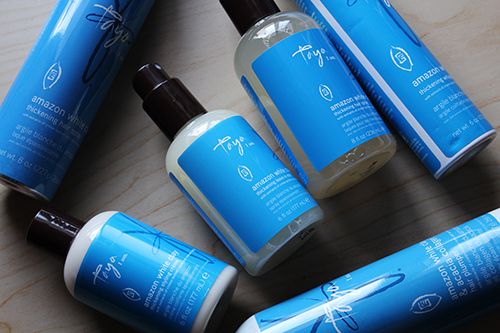 So before I can dive into a review, let's talk hair. Everyone has different hair characteristics and care regimens, so this review is based on what I've experienced and how I use the products. I have medium-thick hair with roots that like to become greasy and ends that are dry and prone to splitting (I also blame our weather...). I wash my hair every other day, blow drying only when necessary, and my hair has been chemically straightened every 2 years for the past 5 years. When I use a hair dryer I try to remember to use heat protectant spray and seal in my ends with Moroccan Oil. So as you can see I try my best to keep my hair happy, but I'm not the most diligent with protecting it either.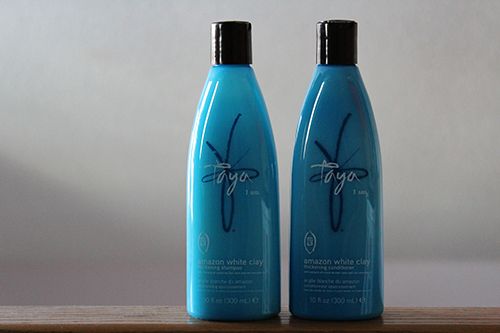 Taya's Amazon White Clay collection aims to thicken hair, and has a total of 8 products which I've been testing out for the past two months. Amazon white clay, Croton Lechleri resin, and raw avocado oil are the main ingredients working together to add body and shine to hair, making it feel richer and volumized. On a side note, the entire range of products has a natural, clean scent to it. After I used the products for the first time, my boyfriend took notice and commented on my hair smelling great. Thanks Taya!
Amazon White Clay Thickening Shampoo
($20) - the formula of this shampoo is different from your typical runny shampoo. This shampoo is quite thick, as if there is a lower water content, giving it a gel-like consistency. You need a fair amount to build up a lather in your hair. After rinsing, your hair feels really clean without being stripped of its natural oils.
Amazon White Clay Thickening Conditioner
($22) - a little goes a long way with this creamy formula. I apply it to the ends of my hair, and I can immediately tell the difference after rinsing as my hair feels incredibly smooth. After drying, my hair is soft and the ends feel like they've retained a lot of moisture.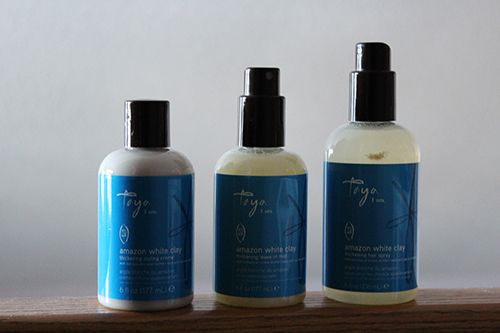 Amazon White Clay Thickening Creme
($22) - on days when the weather was drier I would apply a small amount to the ends of my hair before blowdrying. This allowed for my hair to stay frizz-free and straight. Surprisingly enough, the product was lightweight and didn't weigh my hair down. It's a great product to use and my dry ends look healthier after application.
Amazon White Clay Thickening Leave-In Mist
($22) - like other leave-in treatments I either spray this into the ends of my hair before or after drying. It leaves hair soft by nourishing each strand and gives it a fresh scent.
Amazon White Clay Hair Spray
($24) - a medium hold hairspray with a pump nozzle. I'm not the biggest fan of hairsprays that dispense in this way, as I have a lot of difficulty controlling where it goes and my fingers always feel so weak! The formula works great for keeping flyaways and baby hairs in place, but it doesn't do much for curls. It is lightweight and allows hair to remain flexible but it's not a product I would consistently reach for.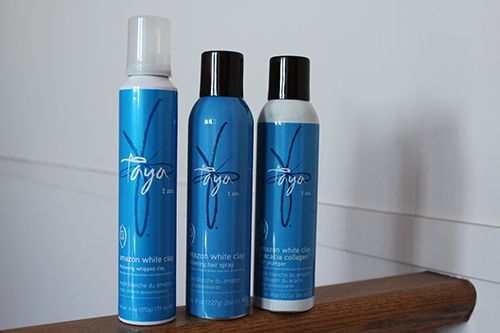 Amazon White Clay Thickening Whipped Clay
($24) - similar to a mousse, this whipped clay is great for creating texturized hair styles. Applied at the roots and blow dried it gives hair volume, but I also find it feels heavier and makes my scalp oilier than usual. Using it at the ends of hair for curls and scrunching is great, but again it does make hair feel heavier and gives it a bit of sticky texture.
Amazon White Clay Thickening Hair Spray
($24) - now this is the hairspray that I like. Aerosol, easy to control, and strong hold. It works great to hold any style in hair, and it doesn't leave hair feeling hard and clumped together. It does have a bit of a different scent to it though since it is an aerosol formula.
Amazon White Clay & Acacia Collagen Hair Plumper
($24) - at first I had no idea what this product was for, but it's come to be my favourite one in the entire line. It's a mousse & hairspray all-in-one, which I apply to my roots before blow drying. I instantly get volume once the area is dried and my hair doesn't feel like there's any product in it, leaving my hair feeling light and lifted all at once.
After two months of use I can confidently say that my hair does indeed feel fuller, but it's not a dramatically noticeable difference. Holding my hair in my hands it feels thicker to a certain extent, as if I have more hair, and it's much easier to work with. I would say the Amazon White Clay line by Taya is great for people with fine hair, or for anyone that's looking to get more body and volume without weighing their hair down. But even if you don't want the volume, an added bonus is that many of the ingredients are hydrating for your hair, keeping it in good shape.
-----------------------------------------------------------------------------------------------------
Now here's the
big announcement:
What better way to celebrate the holidays and ring in the new year than with a giveaway? So I've teamed up with Taya to bring you my biggest giveaway yet, the entire range of products from the Amazon White Clay line. That's a
$180+ value
in products! So let's make it a new year's resolution - you get the products and promise to pamper and take care of your hair!
This giveaway is open
internationally
, as I want to thank ALL my readers for the continuous support! If I could I would gift this set to each and every one of you! To enter, follow the instructions in the widget below. Giveaway ends January 1st, 2014.
a Rafflecopter giveaway