As the saying goes, all good things must come to an end. Edmonton first learned of Prairie Noodle Shop in October of 2014, and the demand for a good bowl of ramen has increased ever since.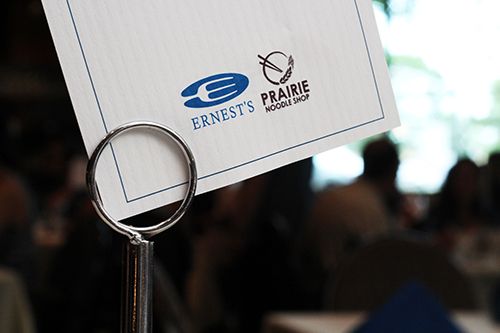 This past Saturday Prairie Noodle Shop hosted their fourth and final pop up, this time at
Ernest's
, the fine dining restaurant at the
NAIT
campus. Having a bigger space to host the pop up event meant the team had the ability to serve 150 bowls of ramen - the largest number of bowls to date. Tickets to the event sold out in under five minutes, so if that doesn't tell you Edmonton is ready for ramen, I don't know what does.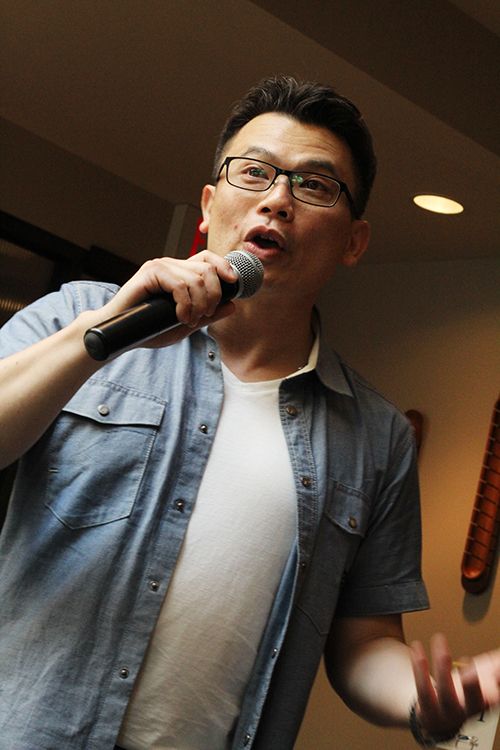 As guests were seated at their tables for dinner, Arden Tse, one of the co-founders of Prairie Noodle Shop, let out some exciting news: a brick and mortar space has been secured and could be open as soon as December 2015. Say goodbye to the anxiety-fuelled, often frustrating attempts to secure tickets for ramen, and say hello to long lineups for a guaranteed bowl. Once all the paperwork is approved and construction starts, the first dedicated ramen shop is coming to Edmonton!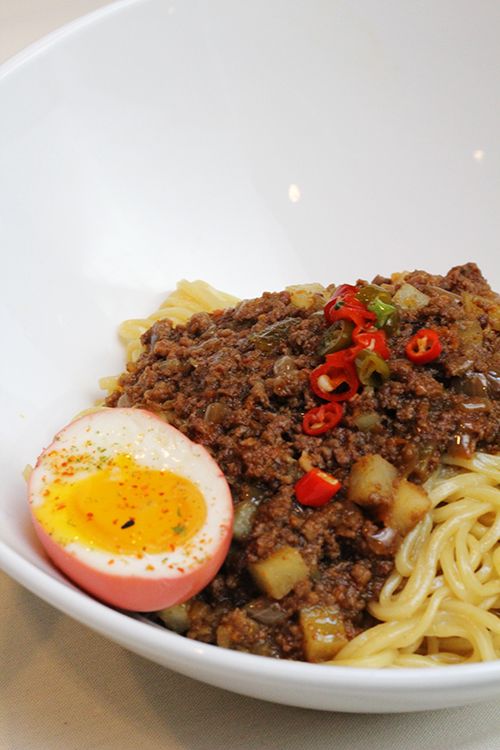 As with the previous three ramen bowls, Prairie Noodle Shop brought forth yet another Albertan-inspired bowl of ramen. Alberta's "meat and potatoes" loving diet was the inspiration for a tsukemen style ramen, where thick ramen noodles are dipped into a flavourful, concentrated broth. It's not the usual image that comes to mind when you want to eat ramen, but I love that Prairie Noodle Shop is introducing Edmonton to different aspect of ramen culture!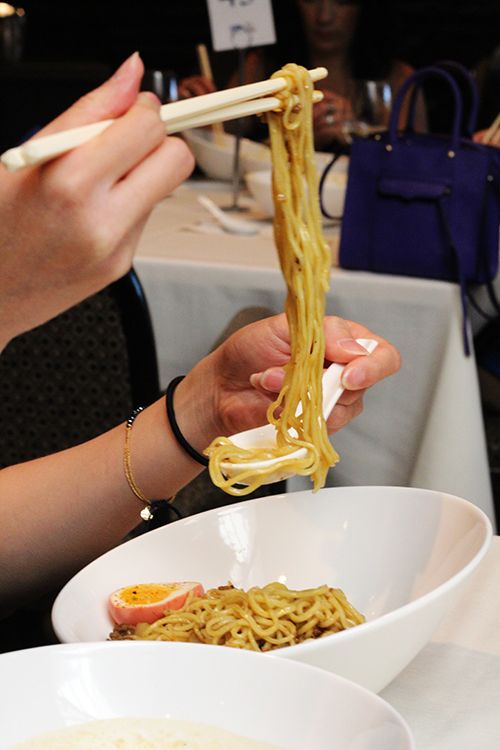 So what exactly was in the bowl? This bowl of tsukemen ramen had three different components. Starting with a solid base of good quality ramen noodles sourced from the "Ancient Chinese Lady," the noodles were sticky and springy in texture, ready to be dipped in broth. Beef from
D'Arcy's Meats
was ground and cooked up tan tan style (or Chinese dan dan style) into a ragu of sorts with black bean paste, carrots, pickled chilies for heat, and cubed potatoes for crunch. The team decided to go with the ground beef as it would allow for meat in every bite and you wouldn't finish one component before another. Lastly came the soup, which was a tangy potato soup, thick enough to cling to the noodles. And of course we can't forget the famous umeboshi egg! Flavourful, tangy, pink and with an oozing yolk, that egg is a killer component in any bowl. I can't wait for the day that I can have more than one in my ramen!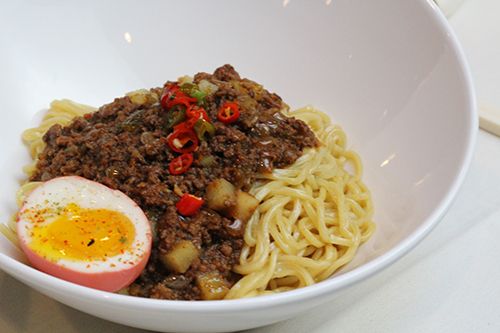 All the components in this bowl really clicked, making it not only delicious, but hearty too. The heat from the ragu really built up with each bite, while the tang of the starchy potato soup toned it down. It's another great bowl of ramen, so if you didn't get a chance to try it, it will be on the menu alongside the
pork
,
chicken
, and
garlic cheese
ramen featured at previous pop ups. Being one of the lucky individuals to have tried all four bowls, I'd have to say I'm on team pork/ I can't wait until I can have that bowl of ramen with the crunchy chicharron.
It's been amazing seeing the team at Prairie Noodle Shop follow their passion and develop what is to be Edmonton's first dedicated ramen shop. I can't wait to sit up at the bar and just eat a bowl of umeboshi eggs - yes, that is definitely happening. Congratulations PNooSh and all the best in the rest of your journey, I'll be sure to be there on opening day!