FIFA Fever: Eat Your Way Through the Women's World Cup
June 22, 2015
Although Edmonton is a winter city for most of the year, summer is my favorite season because of all the fun events and festivals that happen through June-August. Edmonton has often been regarded as a "festival city" given all the events that really draw a crowd. This year Edmonton has the pleasure of being the official host city of the 2015 FIFA Women's World Cup in Canada, which is just one of the many fantastic events that will be happening this summer.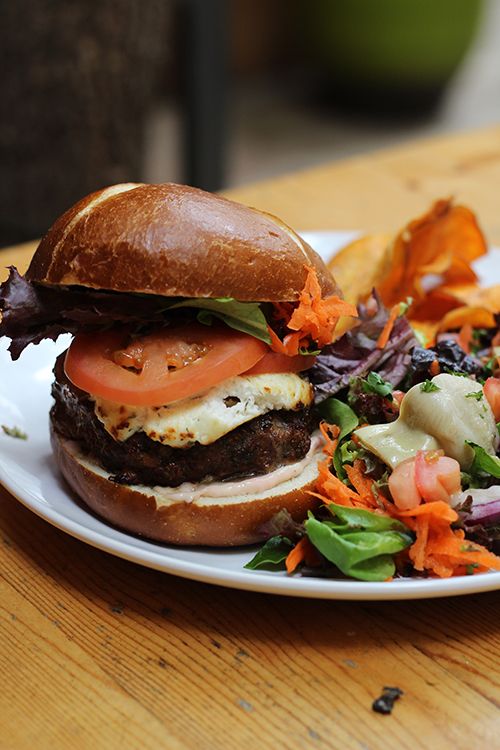 If watching soccer games doesn't quite capture your interest, there's plenty of other ways to enjoy the World Cup. There's soccer movies being shown at the
Edmonton Night Market
, and the
Kick it Up!
event going down in Little Italy, just to name a few. Food never fails to capture my interest, so I was surprised to learn that 13 local hotels/restaurants are featuring soccer inspired dishes on their menus during the World Cup. Whether it be a filling meal or a cocktail, the offerings are pretty fun!
I stopped by two of the participating restaurants last week, The Dish Bistro and the Harvest Room at the Fairmont Hotel MacDonald, to see what they were offering. Right along the vibrant 124 Street,
The Dish
has a Soccer Saskatoon Lamb Burger on their menu for the month of June. A juicy lamb patty is presented on a soft pretzel bun with caramelized onions, lettuce, tomato, carrots, Saskatoon aioli, and a generous helping of herbed goat cheese. It's the perfect combination of savoury and sweet, and is an outstanding burger you need to eat this summer! Served with your choice of a honey green salad or the soup of the day, enjoy your burger out on The Dish's secret patio (it's a hidden gem!).
Without a doubt, The
Fairmont Hotel MacDonald
has the most beautiful patio in the city. During the World Cup you can enjoy the spectacular view and the Sinclair 12 cocktail, inspired by none other than Canada's own Christine Sinclair. The combination of Canadian Club, maple syrup and lime juice over ice are reminiscent of the flavours found in a classic Old Fashioned, but this drink has some Canadian flair.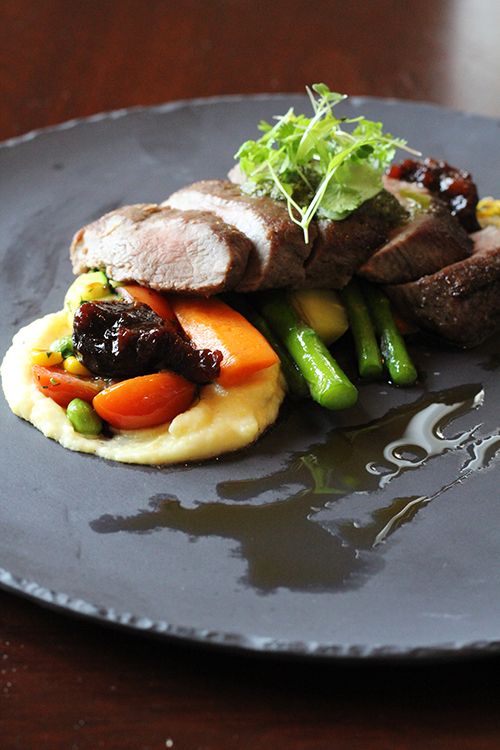 At the Harvest Room Chef Serge Jost has put Midfield Lamb on the menu. Lamb is cooked to your preference and served on a bed of creamy blue cheese polenta. Fava bean succotash, stone fruit and raisin chutney, baby squash, seasonal vegetables and a mint pesto also sit on the plate in perfect harmony with the lamb. I'm honestly not usually a fan of blue cheese or polenta, but that component was my favourite on the dish aside from the lamb itself.
So where else can you find some FIFA inspired eats? Here's a quick guide:
Cocktails
Hundred Bar & Kitchen is serving the Canadian Cucumber Cooler cocktail made with real Canadian gin distilled in Victoria, BC
Red Square Vodka House has three signature cocktails - the Canadian Red Header, the Red Corner Kick, and the Heartbreaker
Nova Hotels has a Smokey Maple Old Fashioned cocktail and Candied Maple Bacon Popcorn
Chateau Lacombe is serving The Sinclair and The Penalty Kick as cocktails in the Bellamy Lounge where you can view all the games
Food
Chocolaterie Bernard Callebaut is selling large chocolate soccer balls
Sherlock Holmes on Rice Howard Way and The Rose & Crown Pub are serving The Canadian Burger. The burger is coated with maple BBQ sauce, crispy maple bacon, and cheddar cheese, and served with ketchup chips and pints of red Canadian beer. Maple, ketchup chips, and red beer. A great Canadian combination!
The Pint (Whyte/Downtown) are offering the Team Canada Poutine Dog. It's an oversized all beef hot dog, topped with Pint fries, cheese curds, beef gravy, maple infused bacon bits and crumbled ketchup chips. You can even have a Team Canada Caesar, loaded with peppered bacon, maple pancakes, and a dash of maple syrup
Tiramisu Bistro is serving The Golden Goal cocktail and The Dream Pasta Chicken, where baked chicken breast is wrapped in bacon and spicy Havarti, served with spaghetti in rose sauce
The Ramada Edmonton is serving Canadian Soccer Beef Balls: BBQ glazed meatballs stuffed with Canadian cheddar cheese and a Strawberry Freckled Vodka Lemonade cocktail
Fat Franks on Whyte Avenue is serving the Mondo Soccer Dog complete with guacamole, chopped tomatoes and grilled onions
Zocalo in Little Italy is serving up a fresh salad assembled into a Canada flag and topped with a red edible begonia bloom
With so many options to choose from, where will you go? I'm thinking I definitely need to take on the oversized poutine dog at The Pint. Anyone want to challenge me? The FIFA Women's World Cup continues until July 4th, so if you aren't taking in a game, grab something to eat in honour of Team Canada! For more information on events around the city, see this
guide put together by Edmonton Tourism
.
Disclosure: I was invited by Edmonton Tourism to try out FIFA inspired dishes and share my thoughts through social media. Views expressed in this post are solely mine, and as always, my priority is to you, the reader, to present an unbiased, thorough review.