On my most recent trip to Vancouver I booked my flights in such a way that I could maximize the length of my trip, and therefore maximize the amount of food I could eat. Arriving at 7:30 AM on a Friday and leaving 8:00 PM the following Tuesday gave me plenty of opportunities to indulge! The first order of business was to meet up with Jo, a local blogger that I have met and grown close to over my years of blogging.

Cafe Medina - 780 Richards Street - Vancouver BC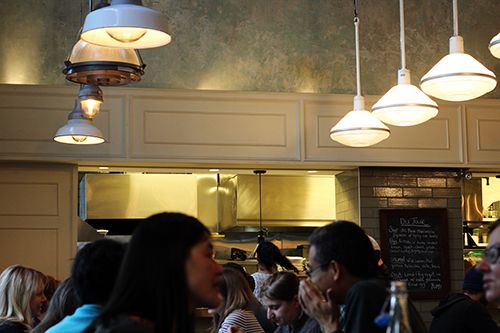 Arriving in Vancouver at 7:30 AM meant that I had been awake for 4 hours prior to landing without having any
real food
. I admit it: first world problems. Jo had suggested we meet for brunch at 10:00 at Cafe Medina, and I was determined to save my stomach capacity for the many meals ahead. My boyfriend and I wandered around downtown before arriving at Cafe Medina at 9:30 AM to find the place packed, so we quickly put our names down on the list and were quoted a 20 minute wait time. Unfortunately they don't take any reservations, and your entire group must be present before being seated. Fair enough!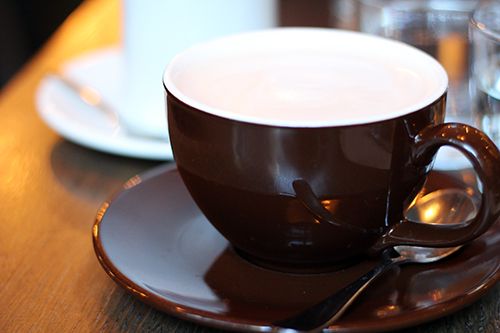 Milk Chocolate Lavender Hot Chocolate
This location on Richards Street is actually their second location, which opened earlier this summer. Their first location closed so that they could grow into this larger, gorgeous space with high ceilings and plenty of natural light coming in from the large, street-facing windows. The dining room is able to accommodate 65 patrons, while the bar can seat 10 and the coffee bar seats 8. The space is buzzing with conversation and the large open-kitchen is bustling with activity. It's such a energizing environment to be in for brunch and the space smells amazing.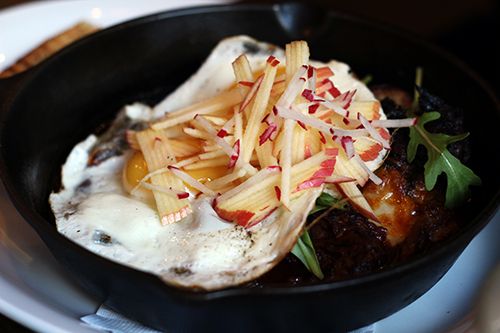 To start off my day I had to try the Milk Chocolate Lavender Hot Chocolate ($4). The massive mug of hot chocolate was frothy and felt quite light, with just the right hint of chocolate and lavender. I was a little hesitant when ordering because some hot chocolates (especially made with milk chocolate) can be overly sweet and very rich, but Cafe Medina does this one well. On my return, I'll be trying out the white chocolate pistachio rosewater hot chocolate!
As we all enjoyed our morning punch of caffeine, it was difficult to choose what we wanted to eat. All the items on the menu were enticing, and upon scanning the dining room, all the other patrons' food looked delicious. Jo picked out the Fricassee ($17) which has two fried eggs over braised short ribs, roasted potatoes, caramelized onions, applewood smoked cheddar and seasonal greens. Finished off with some matchstick apples and a side of grilled focaccia, the ribs were tender with bold flavour, making this a very hearty brunch dish.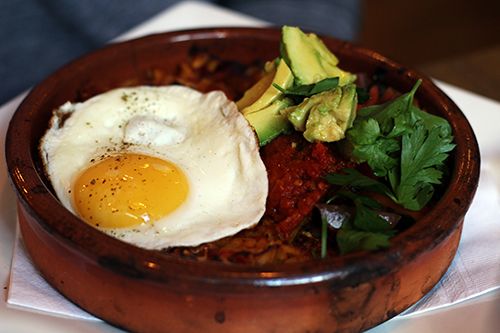 My boyfriend went with the Paella ($14), featuring a fried egg over an orzo based paella with spicy chorizo, seasonal vegetables, Grana Padano, avocado and charred tomato salsa. I really wish pictures could give off smells, because this dish may not look like much, but it smelled amazing. The paella base had a lovely colour and punches of flavour and heat throughout. The creamy avocado added an extra textural element and the broken yolk bound every ingredient in the dish together.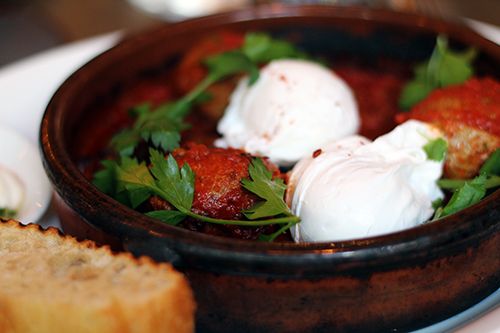 I found it difficult to settle on just one dish, but Les Boulettes ($17) eventually won me over. Spicy Moroccan lamb meatballs are cooked in a roasted red pepper and tomato stew with black olives and raita, served with two poached eggs and a side of grilled focaccia. Holy moly flavour explosion. The lamb meatballs were moist and tender, seasoned well and free of any gamey flavour. The herbs (especially coriander) were fragrant and the acidity from the tomatoes packed a great tangy punch. The eggs were poached perfect with soft whites and an bright orange, runny yolk. You bet I took that focaccia and lapped up all the sauce.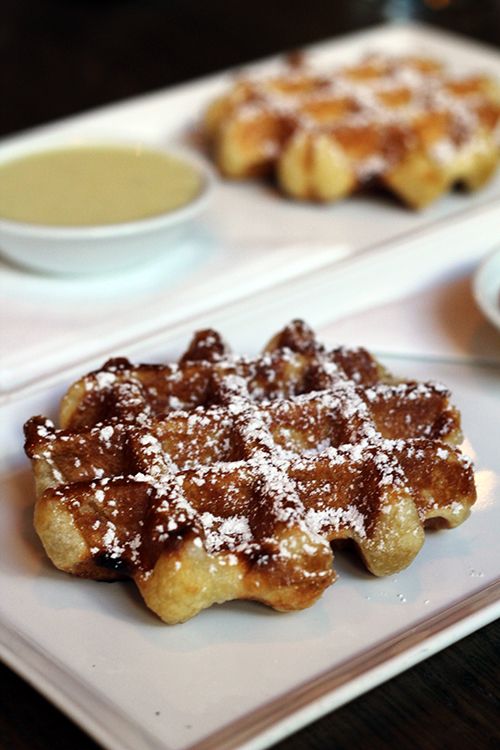 No meal is complete without dessert, and brunch is no exception. Cafe Medina is well known for their Liege-style Waffles ($3.15), so we ordered one with a side of their raspberry caramel, and one with a side of white chocolate pistachio rosewater ($1 per topping). The made to order waffles were warm and fluffy, but missing that crunch and caramelization that liege waffles are known to have. I really enjoyed the strong raspberry flavour in the sauce, but found the white chocolate too strong and covering the delicate tones of pistachio and rosewater.
At Cafe Medina you wait to be seated, and the food is definitely worth waiting for. The Mediterranean inspired menu offers tons of choices that are sure to make your mouth water. The space is inviting, the staff are friendly, and I would definitely return again on a future trip. Now if only I could convince them to come to Edmonton too...