#YEGNoodleSoups: Weekend Ramen at Yuzen
December 24, 2014
Ramen is now the talk of the town since many restaurants have started to feature it on the menu. But before any of the hype started, a little restaurant out in St. Albert offered steaming hot bowls of hearty noodle soup for the Saturday lunch hour.

Yuzen Japanese Restaurant - #127, 1 Hebert Road - St. Albert AB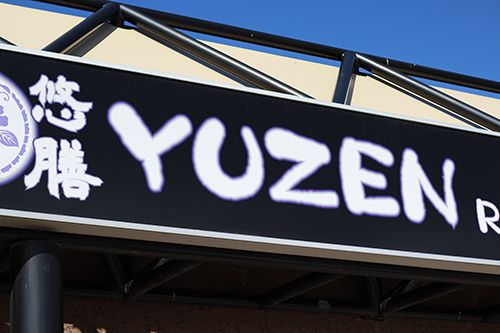 I never used to find myself in St. Albert due to the long drive, but ever since my boyfriend starting coaching hockey out there it has not felt so far away. We heard about the Saturday-only ramen featured at Yuzen and figured we should check it out - after all, hot soup noodles are great for warming up before or after sitting in a cold arena!
Yuzen only serves ramen on Saturdays from 11:30-2:00 PM. We arrived at about 11:50 to find the restaurant packed with hungry patrons, and we were quoted a 15-20 minute wait time. The restaurant can accommodate about 40 people including the seats at the bar, but the space is pretty small so you wait outside of the restaurant until your name is called. Service seemed to be pretty quick because it felt like we were seated in no time.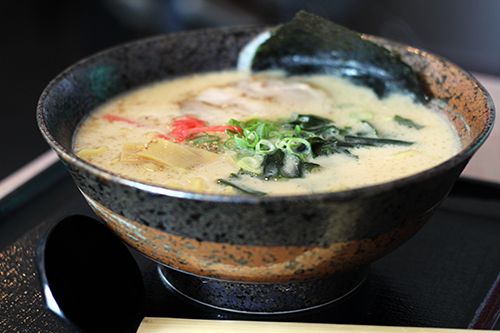 The Saturday lunch menu features five different bowls of ramen (shoyu, shio, tonkotsu, miso, tan tan men), optional extra toppings, and a few sides like gyoza (panfried pork dumplings), ebi shumai (steamed shrimp dumplings), and rice bowls. All the ramen bowls come with the standard char siu, green onion, bamboo shoots, and roasted nori sheet, unless otherwise specified. My boyfriend ordered the Tonkotsu ramen ($11), which was garnished with wakame and beni shoga in addition to the regular toppings. One look at the broth and I was excited - the cloudy soup hinted at signs of a rich, flavourful broth, and that's exactly what we received. Thick and creamy, the broth gave a flavourful punch with each bite into the al dente noodles. The char siu was quite fatty, but was moist and flavourful, making this a pretty good bowl of ramen. My boyfriend actually found the broth to be a little too rich for his liking, but I would have happily devoured the entire bowl.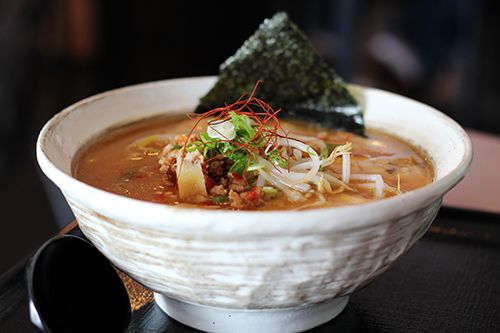 For myself I had the Miso ramen ($11) which was served with bean sprouts, spicy ground pork, green onion, bamboo shoots, and the roasted nori sheet. The ground pork was in place of the char siu, so I ordered a side of char siu (5 pc, $2.50) to come with my noodles. The miso broth was not quite as thick as the Tonkotsu, but it had depth and a strong miso flavour with a bit of heat. The noodles had a nice bite that lasted to the end of the bowl, and it was a filling, hearty bowl of noodle soup.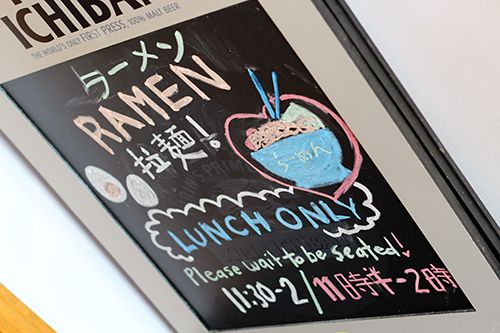 Yuzen does a great job with their broth for ramen, making it in house on Friday nights to prepare for the Saturday rush. Like other Japanese restaurants with ramen on their menu, Yuzen brings in the noodles from a supplier here in Edmonton. Makes me wonder when we will have a dedicated ramen restaurant that makes both their broth and noodles in house! Speculation aside, the bowls of ramen were awesome for Edmonton standards and are comparable in price to other restaurants. The broth was flavourful and the noodles were cooked well, so I would definitely return in the future. If you're in the area on a Saturday afternoon or are willing to make the trek for some ramen, try out their bowls and let me know what you think!
Edmonton is a cold, snowy city for the majority of the year. During the winter months I'm always looking for ways to warm up from the cold, and nothing is more comforting to me than a bowl of steaming noodle soup. I'm going to be highlighting some of my favourite noodle soups in the city, and I'd love for you to share yours with me so I can try them too. Follow along with #YEGNoodleSoups and let the fun begin!