Downtown Gastropub: Central Social Hall
December 10, 2014
When the hockey game is on and friends want to head out to catch the game, what is the first place you think of? For me it's typically Central Social Hall. Pub grub, beers and hockey go so well together. But the two men behind Central Social Hall, Jesse Kupina and Jerry Rota, want to change that.

Central Social Hall - 10909 Jasper Avenue - Edmonton AB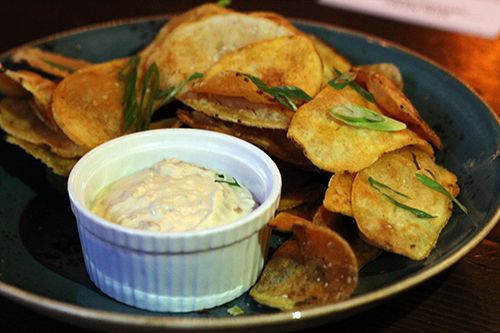 Kettle chips & dip
Born and raised Edmontonians, Jesse and Jerry have lots of experience in the bar and club scene, but wanted Central Social Hall to grow in a different direction. The intention was to create a higher end pub space where men and women can hang out, eat, and enjoy the social atmosphere. However, the food wasn't cutting it. With the help of Chef Reuben Major (formerly of Earls in Vancouver), the menu was revamped and has become what it is today. The kitchen is focusing on the use of fresh local ingredients and making items from scratch wherever possible.
A couple weeks back I had the opportunity to attend the new menu tasting event hosted by Jesse and Jerry. The night started with a welcome plate of Kettle Chips & Dip ($8.99, above), which featured housemade chips with a sour cream and caramelized onion dip. Surprisingly the chips were not very oily and the dip had a slight sweetness from the onions. The chips were dangerously addictive for some individuals at our table, proclaiming they would be happy just eating them all day (I'm looking at you,
Funmi & Adrian
!).
Next up was a sample of the Bacon + Deviled Eggs ($7.99), served atop a smear of red pepper relish aioli. The filling was deliciously creamy with a hint of smokiness from the bacon and tang from the aioli. This plate surely had the gastropub feel to it.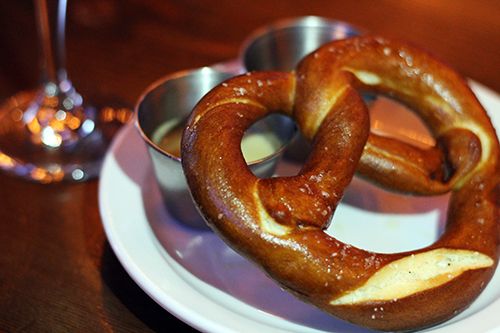 The Ball Park Pretzel ($9.99) came to the table next, and I was shocked to hear that this was the mini size. The real deal is four times as big. Basically bigger than the size of your face! The baked pretzel was quite soft, with some nice colouring from the oven. Spicy mustard and stout cheddar sauce accompanied the pretzel. While the cheese sauce could have been a bit cheesier, I found the mustard to have a bit too much horseradish in it for my liking.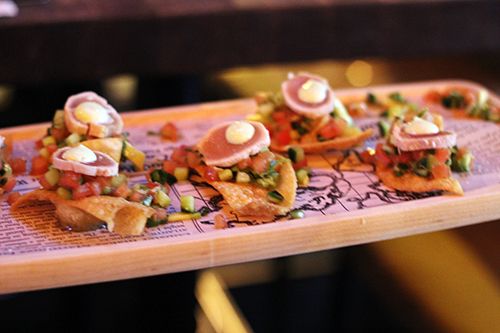 The Albacore Tuna Tataki + Wontons ($14.99) was my favourite dish of the night. The portions were pre-assembled for us, but at Central Social Hall you will build your own when you order this dish. Tuna, avocado, pickled ginger, cucumber, ponzu sauce and wasabi aioli were piled on top of a crisp wonton chip, and the ingredients worked well together. Creaminess from the avocado, savoury and tangy notes from the ponzu, crunch from the cucumber and sweet and spicy notes from the ginger - you can taste the independent flavours but they combine harmoniously. Yum!
The Spicy Chicken Tacos ($12.99) featured poached serrano lime marinated chicken meat, slaw and pico de gallo on a white corn tortilla dressed with Valentina hot sauce. This taco was juicy, making it a bit of a messy experience to eat, and it really packed heat. All I could really taste was the spicy flavour, and wished there could have been more flavours from other ingredients.
The Crispy Prawn Thai Noodle Salad ($16.99) was unfortunately the least impressive dish of the evening. The colours are absolutely beautiful on the plate, but that's about it. This salad is composed of vermicelli noodles, cabbage, cilantro, mint, carrot, cucumber, chili lime dressing, pickled onions and a sprinkling of peanuts. The rice noodles sat on the plate in a stiff, starchy state, which told me that the noodles had not been cooked at all. The salad was quite oily and lacking in flavour, with only the tang of the pickled onions coming through. For someone who hates cilantro with a passion, I found myself searching for it. What? While an Asian-inspired noodle salad is a nice change to see on a menu, this one was not executed well in my opinion. With some work, this dish could have some potential. I love vermicelli salads!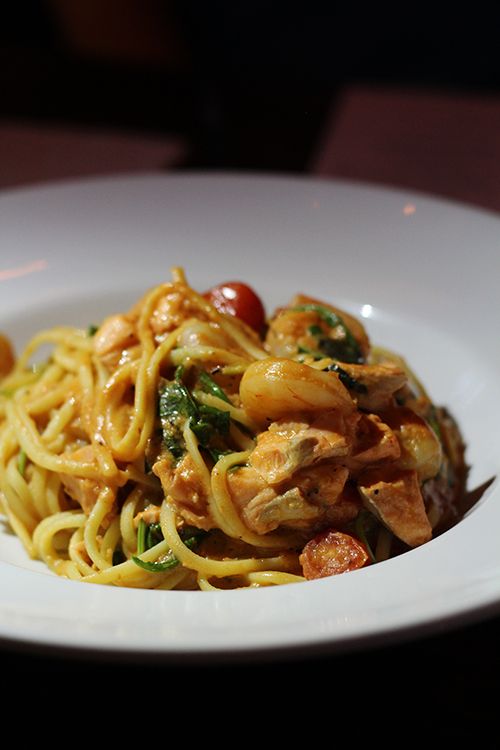 Seafood Linguini ($16.99) was not a dish I expected to see on Central Social Hall's menu. Shrimp and salmon were cooked with garlic, chilies, grape tomatoes, arugula and basil in a creamy rose sauce. The acidity from the San Marzano tomatoes cut through the richness of the dish and the flavours were well balanced. The pasta was cooked to a perfect al dente and this was a hearty pasta dish I would eat again.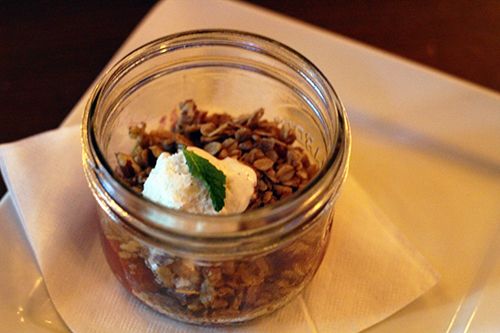 The night ended with a serving of the Apple + Cranberry Crumble ($6.99) served in a small mason jar. The fruits were topped with a maple and pecan crumble, a small scoop of vanilla bean gelato, and garnished with a mint leaf. I wish there was more gelato, as it really helped cut the tartness from the fruit. It was a nice dessert to finish with since it wasn't too heavy.
It's nice to see that another establishment in Edmonton is committed to local, sustainable ingredients. I was pleasantly surprised at the offerings of upscale pub food on the menu at Central Social Hall, and with a bit more tweaking this can be a great spot to enjoy food and conversation with friends in the downtown core. Central Social Hall will be expanding to a new location in St. Albert before Christmas, so check the out if you're in that area!
Disclaimer: as this was a media event, views expressed in this post are solely mine. I was not expected to feature this restaurant on my blog, nor obligated to do so. This post is 100% my opinion, and as always, my priority is to you, the reader, to present an unbiased, thorough review.