As I sit here in my hot room, waiting for the thunderstorm to pass and ultimately avoiding studying for the MCAT, I thought I'd at least put some wasted time to use and post!

This past Saturday after a long scheduled meeting from 9am - 330pm, Vince and I needed a quick fix before I headed to my next work responsibility at 6pm. With the outdoor temperature being so hot, pho was out of the question even though I was CRAVING it.. so I suggested heading over to Mongolie Grill on Calgary Trail, since I enjoyed having it for lunch with the girls and Vince had yet to try their cooking concept.

I had never tried this restaurant up until about a month ago, when Cassie suggested going there for lunch. I guess it was likely because of my parents, saying that the restaurant was extremely overpriced for eating just a simple stir fry - what can I say, they're Asian ;)

Upon arriving at 430, the restaurant was pretty empty, with maybe two or three tables occupied at most. We were greeted by the friendly hostess, and our server was very polite! The thing I like most about this stir fry restaurant is that you have the option to choose what you want to eat, and how much you want to eat. It is the perfect option for those trying to watch what they eat - you control portion size, flavouring, etc. For starters, both of us decided to try their Hot & Sour Soup.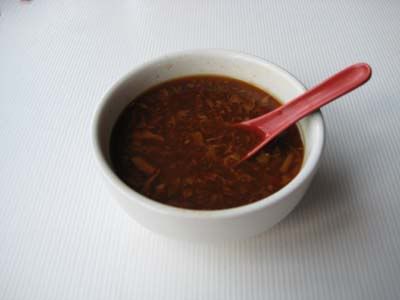 Hot & Sour Soup
The soup itself looks interesting, very different from the traditional hot and sour soup that my parents have been feeding me my entire life. While the type I have at home is usually jam packed with asian ingredients like bamboo, shiitake mushrooms, wood ear fungus, this bare version at Mongolie grill mostly consisted of a broth with some egg, flaked bean curd and chewy pieces here & there (I say chewy pieces because I had no idea what I was eating!) Despite this vast difference, the soup itself wasn't bad. The flavouring to the soup made me want it more & more - it was a very unique mix between salty, sweet, sour and spicy. All in all I would recommend it, but I hope overtime they will reduce the amount of sodium in this one!
My vegetarian stir fry
For my stir fry, I opted for the vegetarian, choosing my favourite stir fry stars: baby corn, broccoli, onions/green onion, white and portabello muchrooms,and of course Shanghai noodles! I think the funnest part of the meal is choosing the sauces for the stir fry, and crossing your fingers hoping the resulting plate will taste decent! For me I chose house blend, spicy thai, pureed garlic, teriyaki, oyster sauce, and black bean sauce. The result? Delicious. Combined with the complimentary wraps & rice and you've got yourself a substantial meal!
Oh, and on a side note, I bought myself the Coach Alexandra bag this past weekend in Champagne.. isn't she a beauty? She's gorgeous and I can't wait to use her!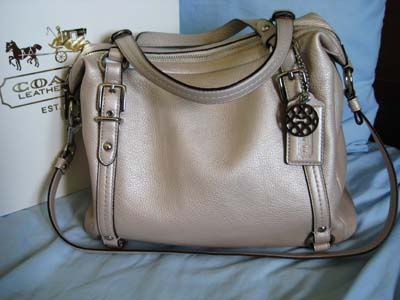 meet alexandra :)
Mongolie Grill
3345 Calgary Trail
Edmonton AB