Tasty Choice!
June 20, 2010
After an extremely long and tiring day of work (trust me, it was tough being stuck inside while there was AMAZING weather outside, not to mention I have not been this tired after work in a long long time with sore feet and I cannot keep my eyes open as I type this!!) I got a text from one of my best friends Andrew, who just came back from his trip to Japan! Despite being tired, I was so excited to see him, so I went to pick him up and we went to try the new bubble tea & snacks place called Tasty Choice.

Once we arrived, we were quite lucky to run into some of our other close friends. We bumped into Ronald, Carson, Calvin, Matt, and Jian (you music lovers can find Calvin & Matt's blogs here & here) just to chill and catch up!

Of course, this wouldn't all happen without the help of some yummy snacks and bubble tea :) Since I had some fresh watermelon slush earlier in the afternoon, I opted out of having bubble tea and settled for some of their snacks instead. Andrew & I chose to try out their green onion cakes (an Asian staple for sure!), and something they had called "Crispy Twists"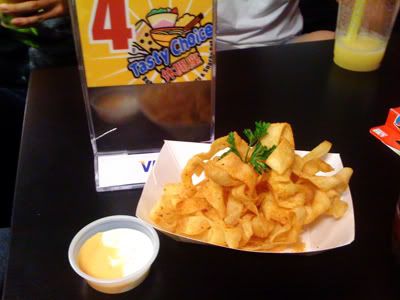 Crispy Twists
Now, not to say these didn't taste good, I just had no idea what they were! I was thinking maybe they were made of potatoes at first, but since they were so thin and awkwardly curled, it would be impossible for potato shavings to keep their shape like that. The outside was crisp, with the inside being soft & a little chewy, so I'm just going to guess that they were deep fried dough or noodles of some sort! Served with ranch dip and a house special sauce (it resembled southwest sauce...), it wasn't bad, minus the extremely generous amount of seasoning salt on top!
Green Onion Cake
Now, onto the green onion cakes served with a sweet chili sauce. These were pretty standard green onion cakes, likely the kind we see everyday in the shape of a saucer. What I liked about these is that they were not very salty, and I didn't feel they were soaked with oil.
All in all, the experience at Tasty Choice wasn't bad, but considering they are a new bubble tea place in Edmonton, I would give them a bit of time to improve on their dishes. I visited them a week earlier and their satay beef noodles in soup were quite delicious - hopefully they can touch up on all their other dishes and make them equally as tasty. Also, I can't wait to try their mango dessert! Definitely the thing I look forward to most.
Tasty Choice
107 2920 Calgary Trail
Edmonton AB