Sunshine, Bighorn Sheep, snow-kissed mountains, and a fun road-trip partner made for a pleasant four hour drive up to the iconic Jasper Park Lodge. Christmas in November is an event I have wanted to check off my culinary bucket list for quite some time, and saying I was excited to attend this year is a bit of an understatement.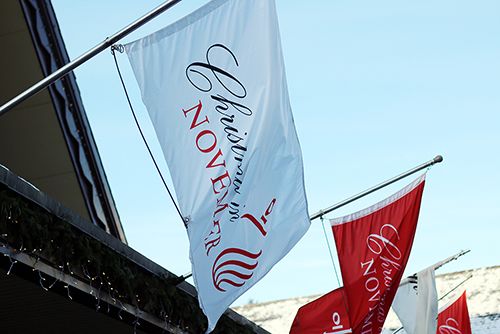 What exactly is
Christmas in November
? It's a 3 day, 3 night culinary adventure that takes place at the
Fairmont Jasper Park Lodge
where you learn, mingle with celebrity chefs and industry experts and indulge in all things food. It's practically an all-inclusive culinary vacation, hosted in the beautiful rocky mountains, so it's worth your while if you love food and preparing for the holiday season.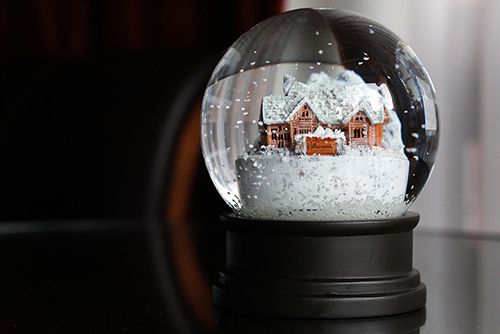 For the 27th annual event, I attended on behalf of
Gastropost
. You may recognize Gastropost from your local newspaper in Edmonton, Calgary, Vancouver or Toronto - they post food missions for food lovers to complete, and the photos can be featured in the weekly section in the newspaper. It's a fun way to share your food photography and connect with local food lovers in a unique manner. As the Gastropost ambassador my mission was to tweet, Instagram, blog, and submerse myself in all things food - it was a blast and I would happily do it all over again!
At Christmas in November there are three packages you can choose from. The first runs from Friday evening to Monday morning, the mid-week package spans Monday evening to Thursday morning, and the final package runs Thursday evening to Sunday morning. My boyfriend and I attended the mid-week package, which we felt was perfect for our introduction to this extravagant event.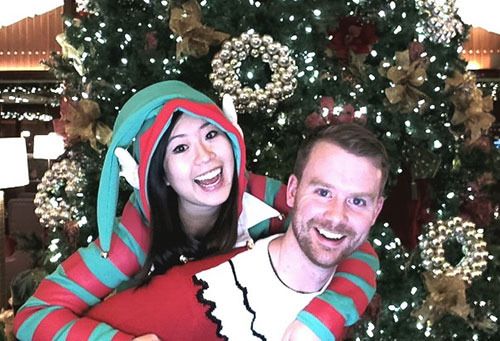 On the first night we attended the welcome reception, where guests were invited to don their silliest Christmas sweaters. We had fun dressing for the occasion, with G dressed in his Santa sweater and myself in my elf sweater (which was complete with jingling bells, a hat, and ears!). And although we didn't win the prize for ugliest sweaters, we definitely conquered the buffet.
Like many others I've always felt that Las Vegas is home to some of the best buffets in the world. Forget that, the Christmas in November welcome reception is home to the buffet of all buffets. Towers of seafood, plates of charcuterie, a station with melting raclette cheese, and a whole roasted pig were just some of the things being offered that evening. It was a buffet of grand proportions, and all the food was delicious. Check out my
recap here
!
When you register for Christmas in November you are given the opportunity to attend seven sessions. There is also the choice to take a break from sessions to enjoy the amenities on the property (spa, hot tub, etc.) or take the time to explore Jasper and the surrounding area. As I wanted to learn as much as I could, I spent all my sessions with guest presenters, and my first day started with Giselle Courteau, co-owner of Duchess Bake Shop.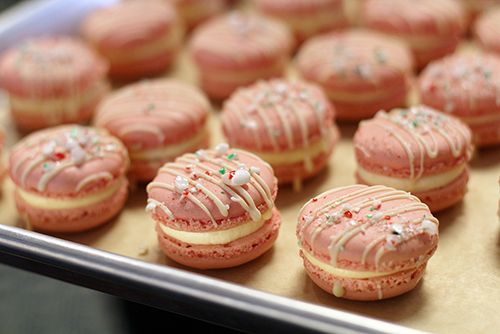 Duchess Bake Shop
is arguably one of the best patisseries in Canada. The shop is well known for the French pastries and macarons, so Giselle spent the morning sharing her passion for the meringue sandwich cookies. I've made macarons in the past and I know how difficult it can be, but Giselle made it look like a breeze. Some of the best things I learned that morning?
If you prefer to grind your own almond flour, allow it to dry after grinding as it will be quite oily
There is no difference between using room temperature and cold egg whites if you're using egg albumen
Use powdered food colouring or a paste to colour the macaron shells, as you do not want to add additional moisture to the batter. If using powder, add it in with the sugar. If using paste, add it after the meringue has been whipped
Even if you have a perfect oven without hot spots, always turn your tray partway through baking the macaron shells
Check out Giselle's
tips and recipe
to make the best French macarons.
Following the morning session was a three course lunch sponsored by
Taste Alberta
and the
Alberta Turkey Producers
. A refreshing salad of beets, goat cheese and citrus came before our main dish of salt brined Alberta free range turkey. A beautiful slice of strawberry and white chocolate layer cake with orange cremeux rounded off the meal, and although many won't admit to it, I think some of us in the afternoon sessions were affected by the tryptophan in the turkey!
The next session of our day was spent with
Pierre Lamielle
, corporate chef for Subzero and Wolf Appliances. You may recognize Pierre from Top Chef Canada, Chopped Canada, and for his award-winning food illustrations. He shared his take on cocktail-inspired desserts, suitably named "Boozy Baked Desserts." He walked the participants through three desserts inspired by Coffee with Baileys, a Bourbon Old Fashioned, and Sangria. Pierre had a great sense of humour that had everyone hooked onto every word of his presentation. My favourite dessert was the Coffee Pot de Irish Creme, but the bread pudding was a very close second. I'm a sucker for coffee and Bailey's by the fireplace during the winter season, so I'll definitely be making some over the holidays. Check out
my recap and the recipes
here.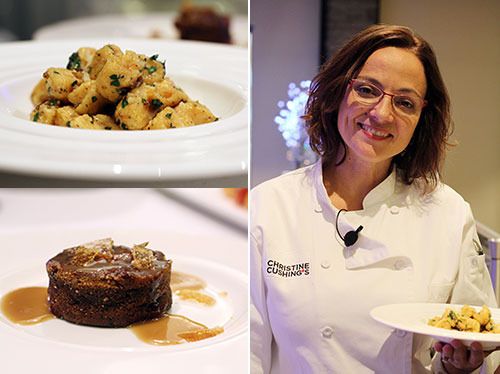 For our last session of the day we joined
Chef Christine Cushing
in making a three course holiday meal. She was personable and you could tell she was really passionate about the food she was cooking. The pairing of
Serrano ham and roasted quince
was a unique take on prosciutto with melon, and her
sweet potato gnudi
was a hit! I'm definitely going to try my hand at making her gnudi this holiday season, and you should too. Check out my
recap here
!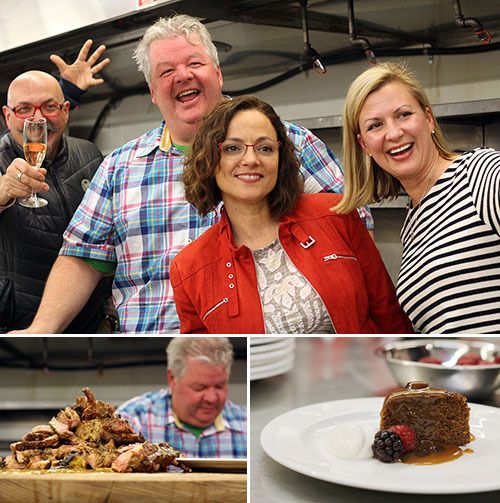 Prior to the first formal dinner of the week we attended a private Christmas party hosted by
Chefs Anna and Michael Olson
where VIP attendees and all the presenters mingled in the Golf Clubhouse kitchen. It was so much fun and surreal to be hanging out casually with so many celebrity chefs, I kept feeling like I needed to pinch myself to decide if I was in reality or a dream! We all enjoyed lamb popsicles, steak, and pork chops cooked perfectly (and in what felt like record time) by Michael Olson, while Anna Olson whipped up a quick caesar salad and sticky toffee pudding for us to enjoy. It was an event to remember, and it was such a conflict figuring out how much to eat, and how much room to save for "real" dinner.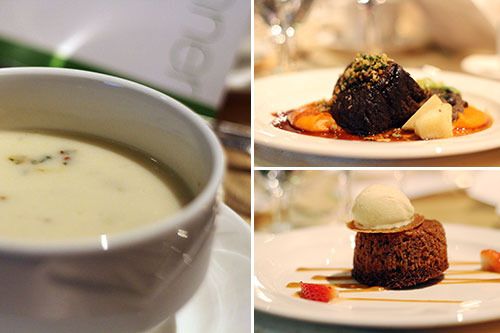 The Tuesday evening Holiday dinner consisted of three courses, starting with a potato and leek soup with espelette and truffle essence. Next was a beautiful fall-apart braised short rib served with a bounty of root vegetables. I was about ready to explode as this was our second dinner, but the short rib was too good not to eat. It felt like we had eaten 24/7 and we vowed to pace ourselves a little bit better the next day as we finished the meal with warm sticky toffee pudding.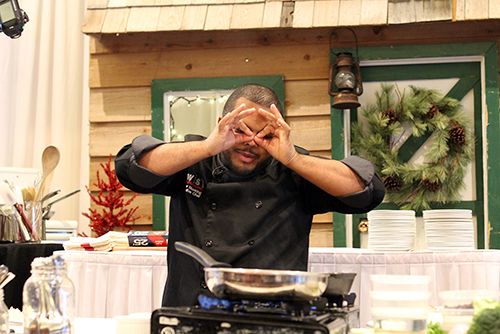 To kick off Wednesday we started our sessions with
Chef Roger Mooking
to make a version of Asian inspired surf 'n' turf from his cookbook, Everyday Exotic. His grilled steak with black bean shrimp and broccoli dust was absolutely delicious, and might I add, pretty easy to make! He was at ease during the session, throwing out tips and tricks as he prepared his ingredients:
When using chilis – smell them first. If they smell hot, they will be spicy, so use accordingly
The best way to peel ginger? With a spoon! There's very minimal waste using this method
Soy sauce will vary dramatically in flavour and salinity between brands – start with smaller amounts and adjust according to your tastes
And, don't forget to use your beef goggles when cooking steak! It's the best way to figure out if the steak is ready
Of all the sessions I attended at Christmas in November, I would rank my session with Roger Mooking as my favourite. As a presenter he was confident, engaging, entertaining, and just a blast to learn from. Check out my
notes from the session
and
grab the recipe
!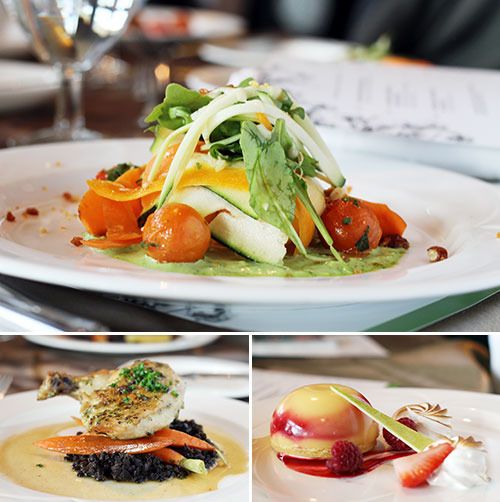 As everyone gathered at the table for lunch, it was a joy to see a beautiful salad to start. Trust me, eating 24/7 makes your palate thankful for refreshing salads! Our second lunch was sponsored by Taste Alberta,
Alberta Pulse
, and
Alberta Chicken
. I love that every meal at Christmas in November highlights different producers, as it gives you an appreciation for the food grown in Alberta. Our entree was a Roasted Herb Marinated Chicken Supreme served on a bed of marinated lentils, while dessert featured a delectable tart Raspberry Lemon Dome alongside seasonal berries.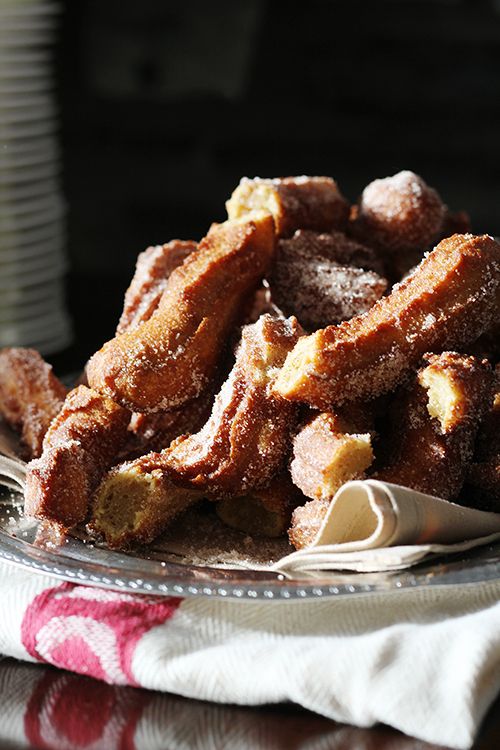 While it is great to attend sessions with celebrity chefs, I love that Christmas in November makes the effort to showcase Alberta's culinary talent too. It's a great opportunity to familiarize yourself with people that are movers and shakers within your local food scene. Our post-lunch session was with Chef Edgar Gutierrez of
Rostizado
, and he shared his recipe for his delicious Rosti Pollo (roasted chicken), and churros with dulce de leche. Rostizado is a restaurant I frequent in Edmonton, and I've always wanted to recreate some of their bold flavours in my kitchen – now I can't wait to try the recipes at home!
Check out my recap
and add some Mexican flair to your food.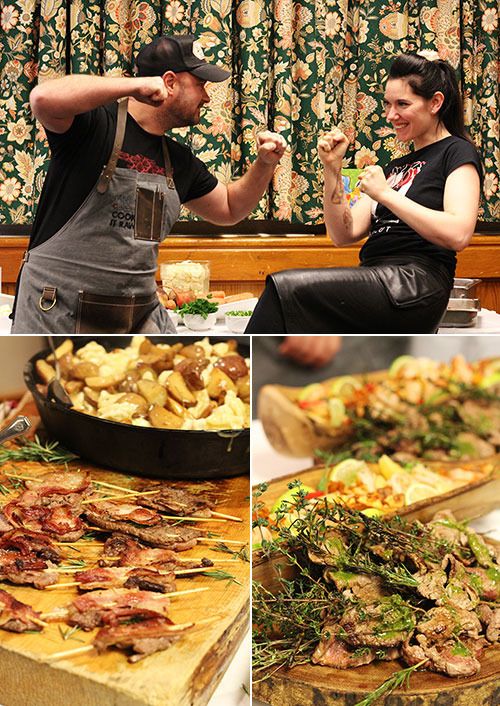 For our final session at Christmas in November we joined Chefs Connie DeSousa and John Jackson, co-owners and co-executive chefs of
CHARCUT
and
Charbar
, for a Chopped-style challenge. I've always been a huge fan of their restaurants, so I was excited to see what they had in store! Each chef chose a volunteer to act as sous chef and they battled it out. Connie put together a platter featuring skewers of beef tenderloin and with
blue cheese aioli
and CHARCUT's famous duck fat fried poutine with
truffle gravy
. John offered a platter with herb-skewered beef tenderloin with
chimichurri
and a ceviche-style shrimp with root vegetable chips. As each team cooked, the room filled with wonderful aromas, and everyone's mouth was watering. So who won? Find out in
my recap
and grab the recipes!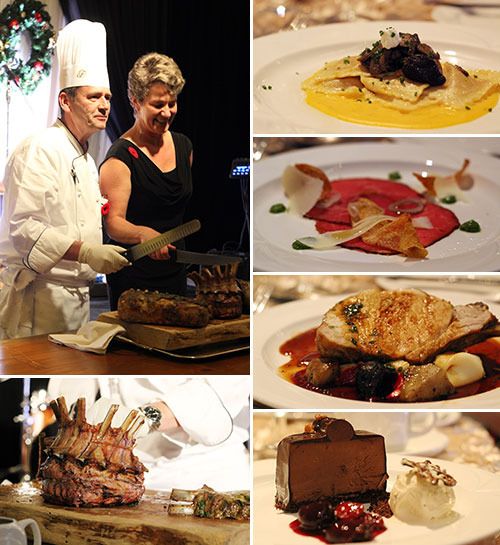 The Jasper Park Lodge hosts a grand Gala Dinner on the last night of each Christmas in November package. The ballroom is transformed into a room dressed with gold trimmings, and everyone is dressed in their best cocktail attire to take pictures with Santa and toast to memories made at the event. The four course dinner began with a beautiful plate of fresh butternut squash ravioli made by
ORSO
, one of the restaurants on the Fairmont property. Next came a plate of Kobe beef carpaccio, dressed with pickled shallots, fried fingerling potatoes, and smoked parmesan cheese to garnish. As the gala dinner was sponsored by
Alberta Pork
, a beautiful crown roast of pork was wheeled into the dining room for slicing. The pork was perfectly cooked and seasoned to perfection. A decadent dark chocolate terrine served with Guinness ice cream and morello cherries was a wonderful end to the meal and gave everyone the energy needed to dance the night away.
Unfortunately my boyfriend and I had to leave after the gala dinner to return home, cutting our time at Christmas in November just a bit short. Nonetheless, we had been blown away by the hospitality at the Jasper Park Lodge and had an incredible time at Christmas in November. Everything (and I mean
everything
) feels magical and the time spent learning, eating, and engaging in all things Christmas is a truly special experience.
From the moment we stepped foot on the property, to the time that we departed, we were treated like VIPs. If there's a place that you can expect amazing hospitality and staff that go out of their way to make your stay more enjoyable, it's at the Fairmont. The days you spend on the property are perfect for a mini-getaway with friends or loved ones, and after this experience I can see why attendees return year after year. I've been asked whether Christmas in November is worth the price tag, and I can confidently say yes. Your only task is to relax and enjoy the food, presenters, and the beautiful scenery – everything else is taken care of. My boyfriend and I are already looking forward to attending next year. After all, one of our favourite chefs -
Vikram Vij
- will be there, and we hope to see you there too.
*Disclosure: My boyfriend and I were invited to attend Christmas in November as guests of Gastropost/Postmedia. Views expressed in this post are solely mine. This post is 100% my opinion, and as always, my priority is to you, the reader, to present an unbiased, thorough review.