One of the big food events that I look forward to every year is the NAIT Chef in Residence luncheon. This program brings the Culinary Arts students an opportunity to learn from an accomplished chef - it's an opportunity that many people do not come across in their culinary careers.


Three weeks ago Chef Vikram Vij spent a week with the students and worked with them to create a menu that would transport diners on a trip through India. When I arrived I was quite surprised to find Chef Vij himself personally welcoming all the guests to the lunch, as often the chef will be in the kitchen overseeing the final preparations for the meal. Just as he does at his restaurants in Vancouver, Chef Vij introduced himself to each guest. Hospitality really is his specialty, and he was such a bright personality in the room.
The tables were preset with a glass of mango lassi and baskets of fragrant papadums to nibble on as guests arrived. I loved the vibrant colours and sparkle of the sequins at each table.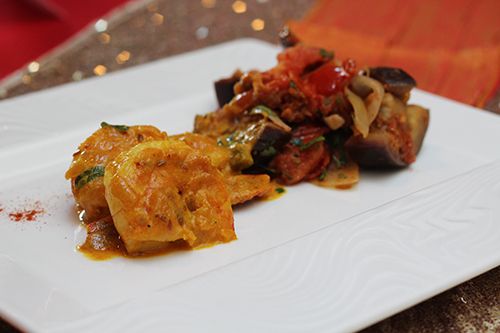 Our meal started with an appetizer duo of salad and prawns. The prawns cooked in coconut masala are a Southern Indian dish, being lightly spiced and fragrant. The warm eggplant salad was surprisingly my favourite part of the dish. I usually enjoy my eggplant soft and thoroughly cooked, whereas this salad featured tangy, crunchy eggplant mixed with onion and tomato. I definitely need to learn how to recreate this dish at home!
The rest of the meal was served family-style, starting with Kerala-style coconut curried vegetables and cumin-scented basmati rice. Chef Vij explained that the vegetables had been slow cooked for 4 hours to suit his mother's palate, and while the vegetables lost their usual form, they soaked up all the flavour of the curry. Vij encouraged everyone to try eating with their hands, and I've learned that I'm awful at it.
Cumin-scented Basmati Rice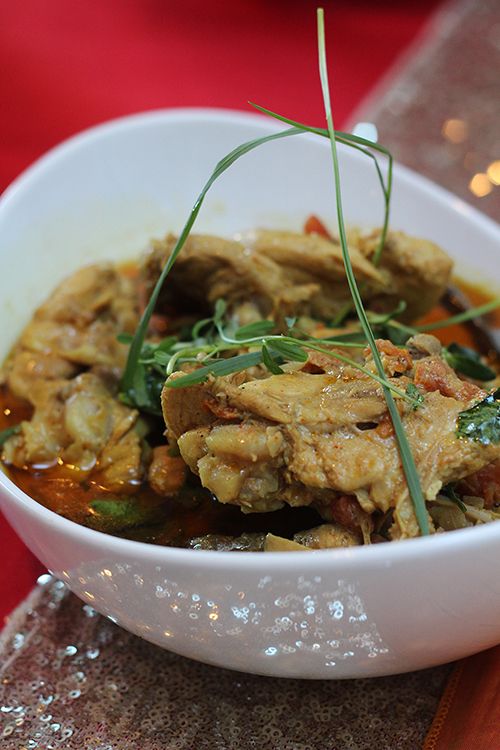 Next up came Vij's signature chicken curry, which he eagerly loaded up onto everyone's plate. There is often a misconception that Indian food is full of heat from spices, but Vij explained that Indian food should not make you sweat and hurt the next morning - curries are meant to be subtle, layered, and flavourful.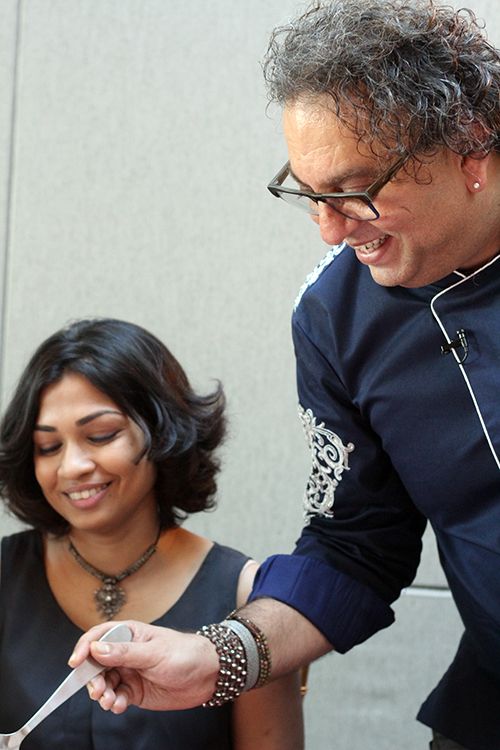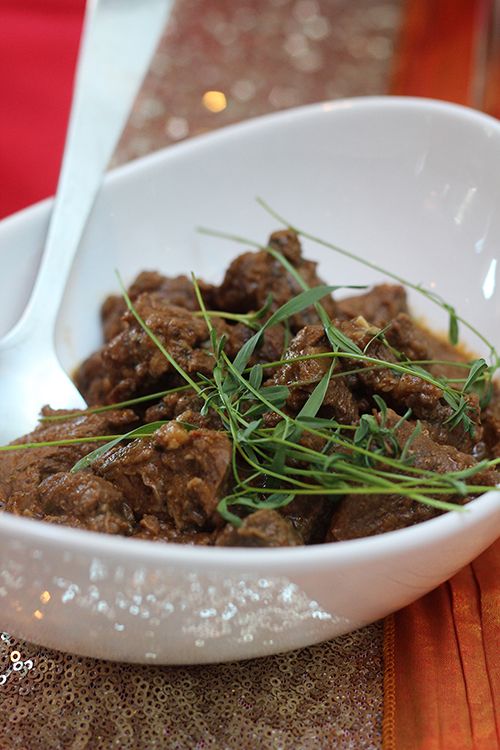 The final savoury course was a North Indian style stewed cinnamon scented lamb curry. Unlike a typical curry, this one was dry and the chunks of lamb more closely resembled that of a stew. The lamb was tender and the dish perfectly spiced.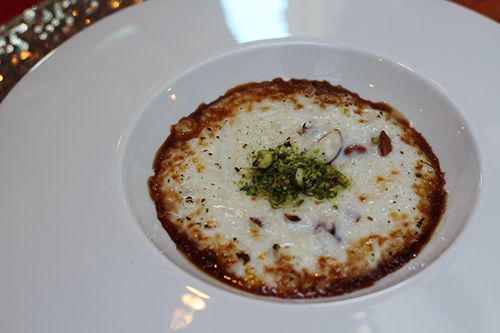 For a sweet touch at the end of the meal we were each served a portion of rice pudding brulee topped with crushed pistachios. Lightly sweet, the dessert featured the flavours of rosewater and cardamom, while bitter notes came from the caramelized sugar on top.
It was truly a great experience eating lunch prepared by such a humble chef. Acting as the Chef and Front of House is no easy feat, but Chef Vij made it look easy. This lunch was one of the best Indian meals I've had to date, so that goes to show the caliber of talent of NAIT's culinary arts students. Thanks to NAIT for including me in this year's luncheon - I can't wait to see who takes the role of Hokanson Chef in Residence next year!