Samuel Adams x Smokehouse BBQ: Triple B Tuesdays
March 07, 2016
Barbecued meat and beer, could there be a better combination? As part of a series of restaurant takeovers, Samuel Adams is connecting with local restaurants to create special menus pairing food with their Boston Lager.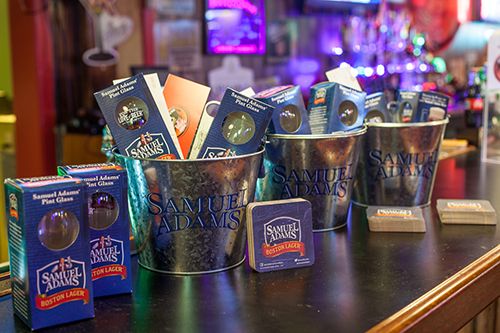 Credit: Curtis Comeau Photography, Courtesy of Samuel Adams
In Edmonton,
Samuel Adams
is partnering with
Smokehouse BBQ
to create Triple B Tuesdays, where a sampler plate of brisket, ribs, and slaw are served with your choice of chips or fries for $14.95. Combined with pints of Samuel Adams on special, you've got your triple B's: brews, brisket and bones.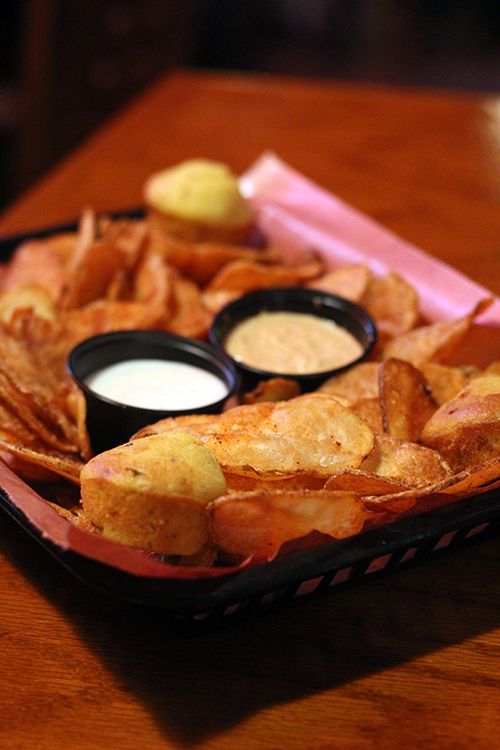 Last week I stopped by Smokehouse BBQ for their VIP night to celebrate the launch of Triple B Tuesdays. Baskets of crispy housemade chips and cornbread greeted us at our table, and I probably could have eaten just their chips all night! They were well-seasoned and fried to perfection, I would definitely recommend a side of chips with your brisket and bones!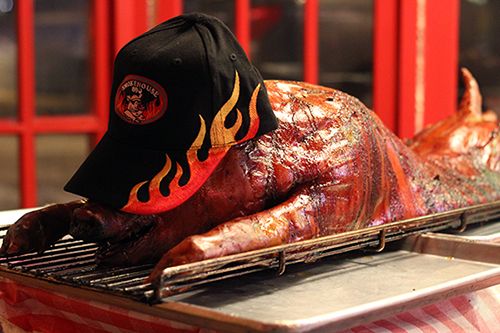 In true Southern fashion, a 'Carolina Pig Pickin' had been planned for the evening to kick off the collaboration with Samuel Adams. What exactly is a pig pickin? It's a large gathering where a whole pig is barbecued until it is tender enough that the meat falls off the bone. Our guest of honour that night was seasoned and stuffed with garlic before cooking in the smoker for 7.5 hours.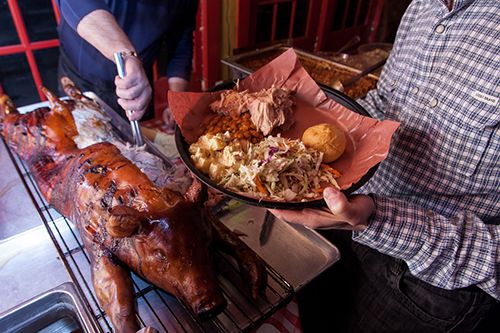 Credit: Curtis Comeau Photography, Courtesy of Samuel Adams
After spending the majority of the day in the smoker, the meat was juicy, tender, and literally fell off the bone. A vinegar-based Carolina BBQ sauce on the side cut the fat of the meat, and I really enjoyed its tanginess compared to the sweet flavour of traditional BBQ sauce. Samuel Adams' Boston Lager was a great beer to pair with the meal given its light flavour and smooth finish. With buns, slaw, baked beans, and potato salad to accompany the pig pickin, it was a delicious night to remember!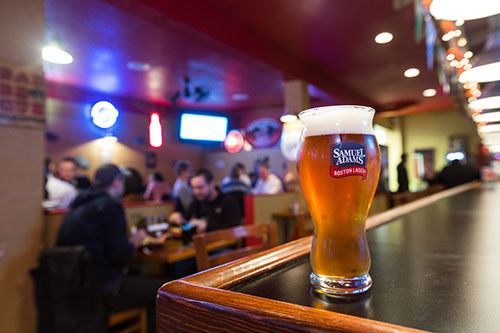 Credit: Curtis Comeau Photography, Courtesy of Samuel Adams
It's great to see Samuel Adams reaching out to restaurants to create new experiences for customers by pairing food & beer. The fun, casual atmosphere of Smokehouse BBQ makes it a great spot to meet with friends or unwind after a long day. So if you're looking for a new date idea or a place to kick back on a Tuesday night, stop by Smokehouse BBQ for Triple B Tuesdays!
*Disclosure: I was invited to the VIP launch for Triple B Tuesdays, and am receiving compensation for this review. Views expressed in this post are solely mine. This post is 100% my opinion, and as always, my priority is to you, the reader, to present an unbiased, thorough review.