Hop on the Nandwagon - Nando's PERi PERi Chicken is Here!
March 06, 2016
When a well-known restaurant chain comes to town, people get excited. Big advertisements can be found throughout the city and people get talking. That's right, I'm talking about Nando's, which opened up last week in the south end of the city.

Nando's - 4228 Gateway Boulevard - Edmonton AB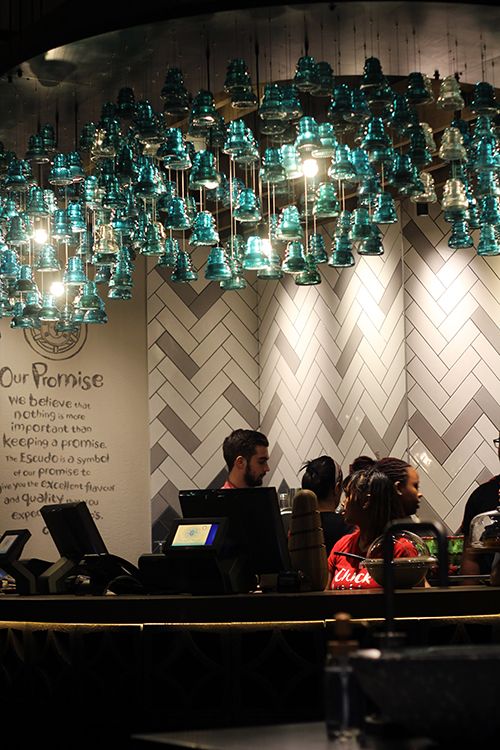 Nando's
roots go back to 1987 in Johannesburg, South Africa. Two friends, Fernando Duarte and Robert Brozin, had a meal of chicken cooked in PERi PERi sauce and loved it so much that they bought the restaurant and renamed it. Since then the franchise has expanded rapidly and now Nando's operates over 1000 outlets in 35 countries.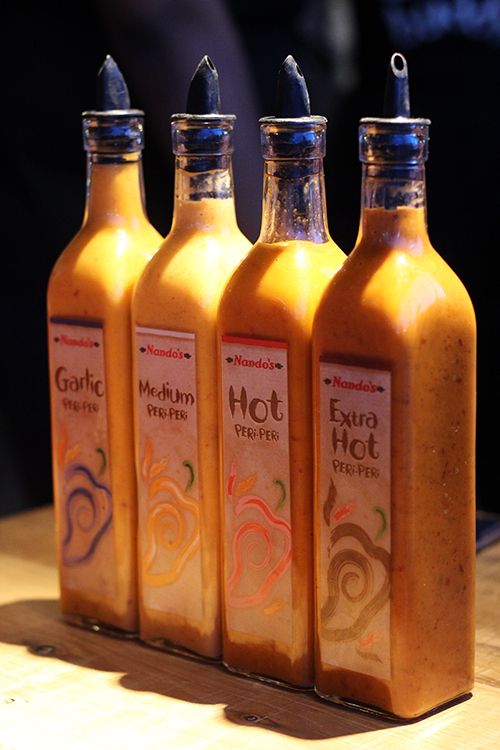 So what exactly is PERi PERi? PERi PERi is a chili sauce originating from Mozambique, made from the African Bird's Eye Chili. Nando's adopted this chili to be it's signature flavour, and the sauce is available in four different variations: Garlic, Medium, Hot & Extra Hot.
PERi PERi Nuts
As I have never had the Nando's experience I was excited to get a sneak peek prior to their official opening. As I walked in I was immediately drawn to their use of bright colours and modern decor, which gave the restaurant a fun, welcoming vibe. Most tables in the restaurant accommodate groups of four, while larger booths and communal tables can seat larger parties. Like many fast-casual dining spots, Nando's uses a self-service system. After perusing the menu, you head up to the counter to place your order and a server will bring your food out when it is ready. While this isn't a dining style for everyone, I definitely appreciate this dining model as you can set your experience to your own pace.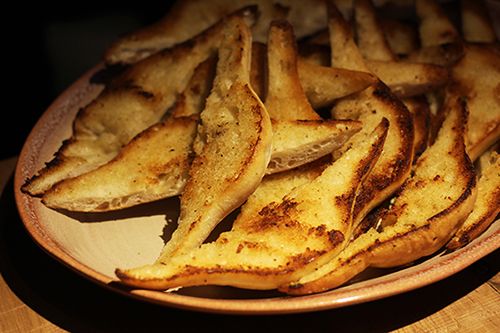 For the evening we weren't able to order individual dishes from the menu, instead we were presented with a sampling of items made by the restaurant. Our night kicked off with the Portuguese Garlic Bread ($4), where Portuguese buns are smothered with a garlic and herb spread and finished on the grill. The bread was flavourful, grilled to a nice crisp, and acted to help us try out all the different PERi PERi sauces at the table!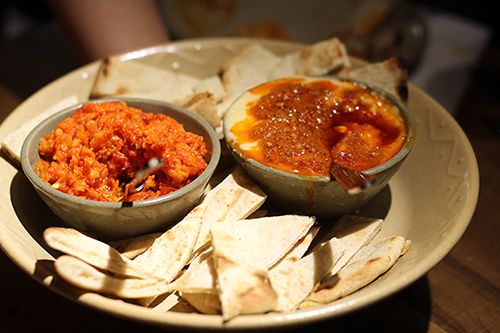 Shortly after, our table was presented with Roasted Red Pepper Dip ($6.50) and Hummus ($6.25) with warm pieces of pita. Of the two, I really liked the natural sweetness and chunkier texture of the red pepper dip. The hummus on the other hand was smooth and topped with a slightly tangy PERi PERi drizzle.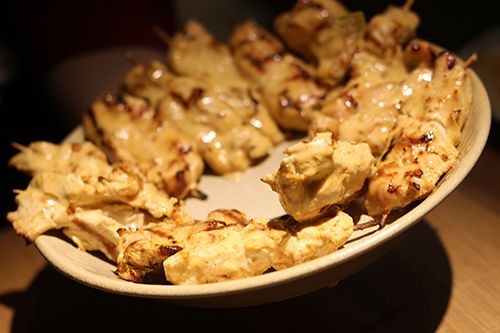 At Nando's the chicken is guaranteed to be fresh and never frozen. Their famous Portuguese-style flame grilled chicken is marinated for 24 hours, then basted in your choice of PERi PERi sauce to finish before your meal is delivered to your table. Like many other restaurants that specialize in chicken, you can order a whole chicken, half chicken, or quarter chicken at Nando's. There's also the option of chicken skewers, so we tried the lemon and herb chicken skewers ($9/2) and quarter chicken pieces ($7.75). The chicken was fantastic - tender, juicy, and so flavourful. Given the volume of people they had to serve that evening, I was very impressed and would definitely return in the future knowing I can count on getting some good chicken even during the lunch or dinner rush!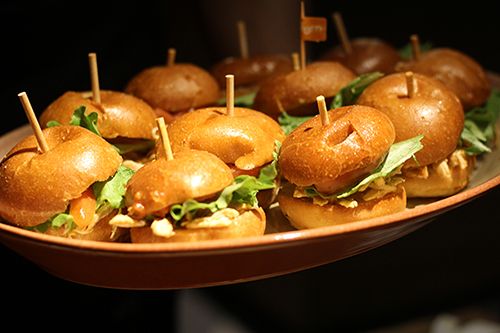 PERi PERi Sliders ($8.50/3) made their way to the table next, and these delicate little buns held PERi PERi chicken, lettuce, tomato, cilantro dressing, and chili jam. The flavours were well balanced, and I enjoyed the sweet and spicy kick of the jam.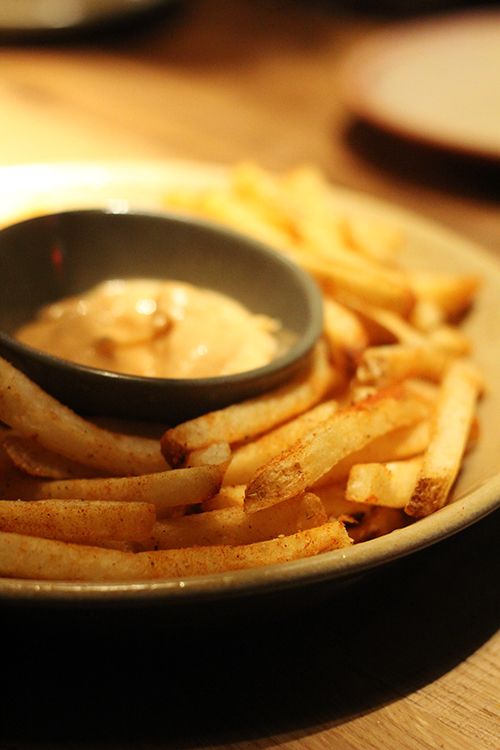 Our last savoury dish of the evening was a piping hot order of PERi PERi Fries ($3.50/small) with PERi-naise to dip. The fries were crisp and seasoned so as not to be overly salty - I could probably just eat a bucket of these fries and call it a day.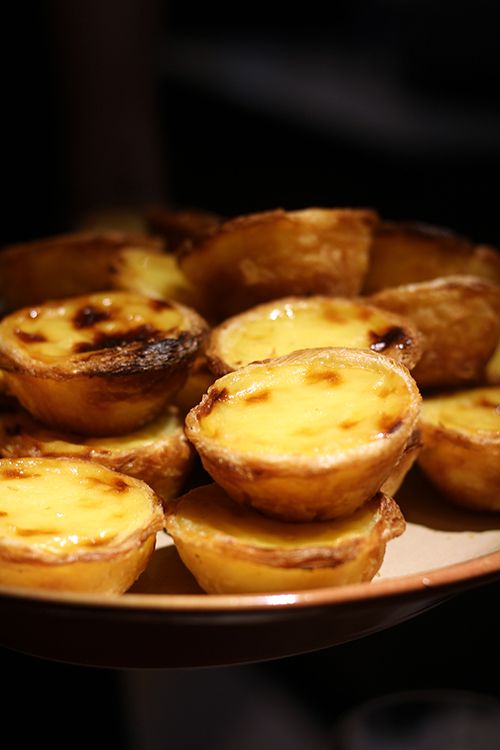 To round off a meal, Nando's offers four different dessert options: Pasteis de Natas (Portuguese Tarts - $2.50), Carrot Cake, New York Cheesecake, and Chocolate Cake. Portuguese egg tarts are one of my favourite desserts, so I was excited to see if Nando's version could meet or exceed my expectations. With a crunchy, flaky pastry crust and a mildly sweet egg custard in the middle, these natas were near perfect for me!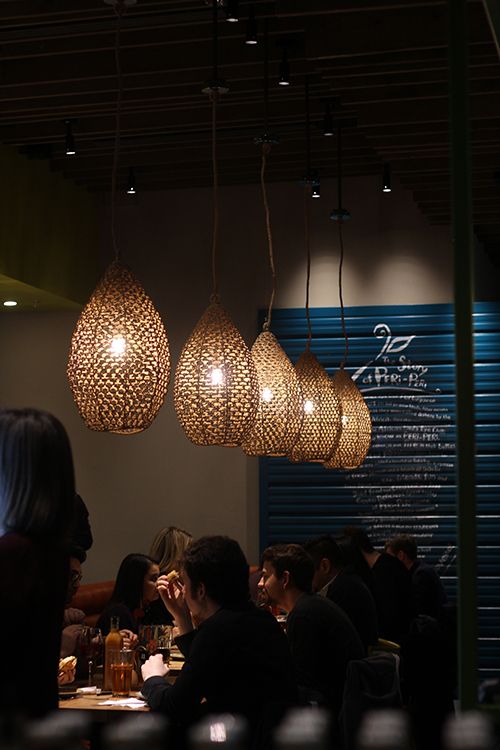 Having another restaurant open up in the South end of Edmonton is great news, especially for those working in the area. Nando's has a fun, inviting atmosphere and caters to a variety of crowds, including families with children. The fast-casual dining concept works well, and as long as food quality is consistent I can see Nando's sticking around for a while. I'll definitely be back in the future for some more juicy PERi PERi chicken, and of course a dozen natas to myself! Have you tried Nando's yet? Let me know what you think!
*Disclosure: I was invited to try Nando's as media at their launch event. Views expressed in this post are solely mine. This post is 100% my opinion, and as always, my priority is to you, the reader, to present an unbiased, thorough review.