Summertime is all about the popsicles and BBQs, but what do you eat when its cold and rainy outside? I always feel that cold, windy days call for comfort food, and nothing is better than a steaming hot bowl of noodle soup!

Ha Phuong's Vietnamese Restaurant - 9656 107A Avenue - Edmonton AB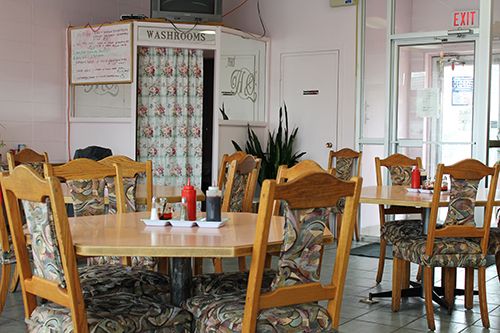 Ha Phuong's isn't new to the Edmonton dining scene, but it recently came to my attention after seeing a picture on my Instagram feed. I didn't think much of it, but my interest in visiting the restaurant was sparked again after reading this article about
Chris Tom-Kee
who is currently helping out at the restaurant. Later on I found out that the daughter of the owners recently took over the restaurant and is making some changes. One windy evening my boyfriend and I headed down to Chinatown to check the place out.
When we first walked in we kind of thought to ourselves, "are we in the right place?" I felt a little uneasy as the restaurant was empty at 6:00PM on a weeknight and we had it all to ourselves. The lack of decor and old furnishings gave it that hole-in-the-wall feel, but we sat down and thought it could only go up from there.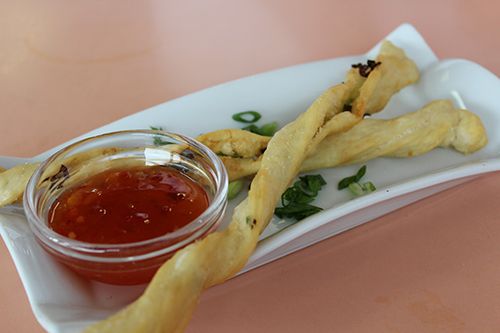 The restaurant doesn't supply you with menus, but there are two whiteboards hung on the walls with descriptions of dishes that are available. 7 items didn't seem like much to choose from, but we were excited to try out the offerings. To start off we ordered two Tomkee's Twists ($1.50), which are a spin on the traditional green onion cake. Twisted out into a long stick, the green onion cake twists were crispy, fluffy and fragrant. The sweet chili sauce served on the side added some flavour, but I honestly ate these by themselves and probably could have ordered a couple more.
Hu tieu is a hugely popular noodle soup in Southern Vietnam. The broth is typically made from pork bones, but some variations have seafood as well. Ha Phuong's offers regular hu tieu and also Hu Tieu Kho ($10), which is a version I've never had before. Basically, rice noodles are tossed in a special house made sauce, topped with meat, fried onions, and served with the pork and seafood based broth on the side. This dish was excellent! Al dente noodles were tossed in a fragrant hoisin based sauce and the broth had a really nice depth of flavour. BBQ pork, Vietnamese pork sausage and another cut of pork topped the noodles along with shrimp and a quail egg. I would highly recommend trying this dish out!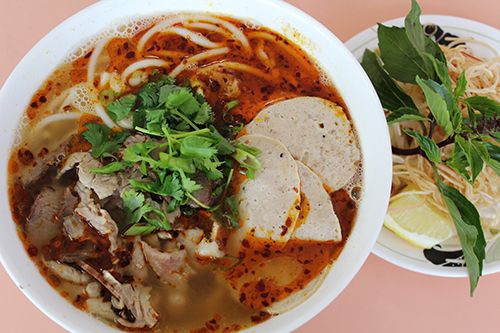 It just so happened that on the night we visited the restaurant was offering bun bo hue as an off menu special for $10. Bun bo hue is a popular spicy noodle soup from Central Vietnam and happens to be one of my favourite noodle soups. The spicy soup is so perfect for warming up on cold days! The version served at Ha Phuong's was delicious. The broth had a really nice depth of flavour with strong notes of lemongrass (which I love). The soup wasn't too spicy and there was a good portion of meat and noodles.
I feel like there aren't too many people that know about Ha Phuong's and the great noodle dishes they're cooking in the kitchen. I'll definitely be returning on another cold day for a hot bowl of soup! Stop by if you're in the area, I know you won't be disappointed.