This past Saturday I think I found the one restaurant in Edmonton that has the worst service I have ever experienced. And as much as it pains me to say it, this restaurant was Lazia inside City Centre.

On that night, I was heading out with my friends for my birthday dinner, which had been planned 3 weeks in advance. When I was making my reservation, the man I spoke to over the phone informed me that I could have a group booking for 5:00 or 8:00 pm. The only catch was that for the 5:00 reservation, I would have to be finished dinner & out of the restaurant by 7:45. I understood that this would require following a pretty strict timeline, as the dinner rush would be during that time slot. Therefore I booked for 8:00 and the gentleman assured me that I would have my table at 8:00 pm, and that I could have all the time I wanted to dine there that night.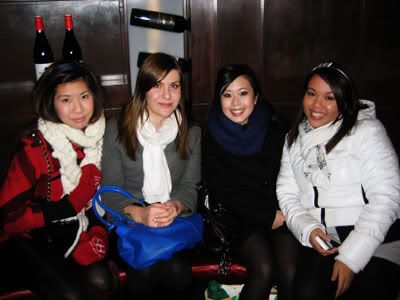 With my girlies, waiting for our table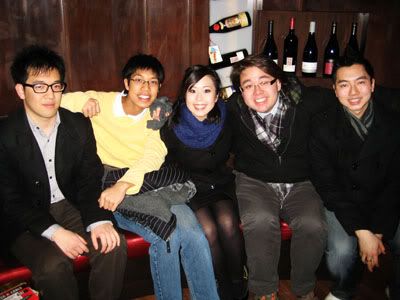 And the gentlemen
Fast forward three weeks, and there I am inside the restaurant at 8:00, and the hostess tells me that the table before my reservation is still at the restaurant. What happened to the whole "you must be finished and out of the restaurant at 7:45" rule that they wanted to enforce on me? I was slightly frustrated, but she said that they were asking the table to leave in order to allow my party to be seated. My friends arrived within the next 5 minutes, and we were left sitting in the little waiting area, wondering when we would be seated. Time passed, and more time passed, and soon enough, it was 9:00. We saw a large group of individuals leaving the restaurant, and the hostess told us we would have to wait a little longer in order for them to clean & set the table. Ridiculous.
We sat down at the table, and hastily ordered our food as we were STARVING. Our waitress wasn't really too efficient of a person, but I tried not to let that get to me. As we sat and waited some more, she came by with our drinks, and disappeared shortly after. Time passed again, and it was 9:35. There was still no food at our table, and I was starting to get extremely frustrated. We finally flagged down the waitress, and she came over saying she would try to get them to bring out our food as quickly as possible.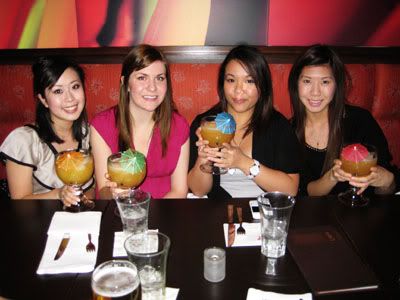 At least she brought our drinks!!
A couple minutes later, she brought out warm puffed pieces of bread to our table. It really wasn't that delicious, but at that point, any food in my mouth was good enough.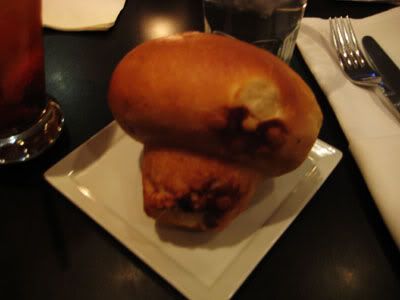 Puffy bread
By the time 10:00 rolled around, the first plate of food finally reached our table. I swear my stomach was rejoicing and jumping around inside my body because it was so excited to receive dinner!!
I ordered the 'not your average nasi goring', which actually tasted pretty good. The dish was a spicy Indonesian fried rice, served with chicken, shrimp, red pepper, baby bok choy, and peanuts. The heat in the dish was quite mild at first, but with each successive scoop, it gradually became pretty spicy.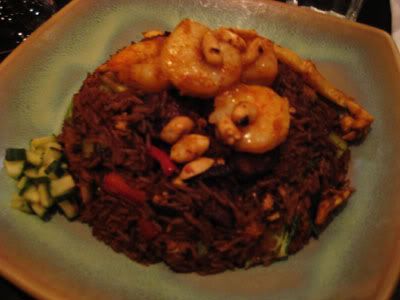 Nasi Goring
Vince ordered the 'Secret BBQ side ribs', served with steamed potatoes and green beans. He said that one side of the ribs was tender and juicy, but the other was dry. Weird, right? You would think it would be the same the whole way through.

BBQ side ribs
For dessert, I ordered the 'Chocolate Overdose', which was a dark Callebaut chocolate mousse cake. I wanted to test the waitress, to see if she really had good customer service skills, and to see whether she would try to turn our horrible dining experience around, by asking her whether or not they do anything special for birthdays at their restaurant. To my dismay, she said that they don't and that she could try to find me a candle for my dessert.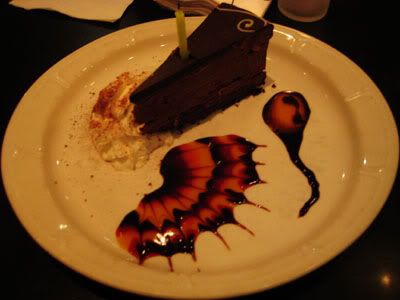 Chocolate Mousse Cake
Once the bill arrived, it REALLY got me thinking about how terrible of an experience I had at this restaurant. By booking 3 weeks in advance, being fully aware of their policies, I expected to have my table ready for me to be seated at 8:00 pm, and NOT shortly after 9:00. Secondly, why did the food take so long to arrive at the table?? Many people that were seated after us received their food and ate it before we got ours! Third of all, the waitress really wasn't attentive, and I did not have an enjoyable time at the restaurant. Now, the icing on the cake: because we had 8 guests in our party, we had to pay a mandatory 15% gratuity just to receive terrible service. Talk about worst restaurant in town. We never even received a single apology the whole time we were there, nothing. How difficult is it to say "I'm sorry this is happening, we are trying our best to get everything ready for you"? NEVER ever again will I go to this place nor recommend it to other people. No one needs to experience this type of service.
Am I being irrational? I think I have all the right to be upset with how my night turned out. So before anyone bashes me for this, put yourself in my shoes. I'm not saying that the food at this restaurant is bad, it's the service at this restaurant that makes me put this location on my blacklist. Is it too much to ask for quality service at restaurants these days?
Since the dinner took so long, my post-dinner plans had to be cancelled. One of my guests flew in from Baltimore and I wanted to make sure he could attend my dinner at a reputable restaurant. Well, their respectable reputation no longer stands in my books.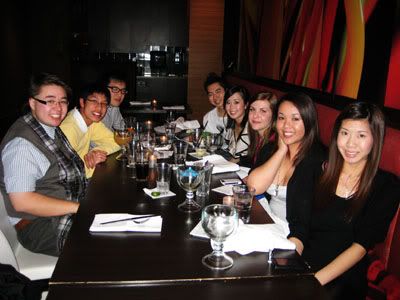 Best people to experience a terrible night with. I love you guys!!
*PS - Vince was actually quite upset with how this dinner turned out, and sent a lengthy, disgruntled email to Lazia's downtown location. To this very day (January 11, 2011) we still have not received a follow-up reply. The irresponsibility of the management to follow up on this experience goes to show their quality of service. I hate this place.
Lazia Restaurant
Suite A113 10200 102 Avenue
Edmonton AB