One of the Best Days of the Year!
November 23, 2010
Happy Birthday to .... ME!!
Wow, I'm so self centered on my birthday.. but who wouldn't be?
Today also marks the official day that Vince & I have been dating for 2 years. So why wouldn't this be one of the best days of the year?

This morning, my momma took me to Cora's for brunch before heading to class. I got my usual eggs benedict, and paired it with the mango banana smoothie. Delish! Love you mom :)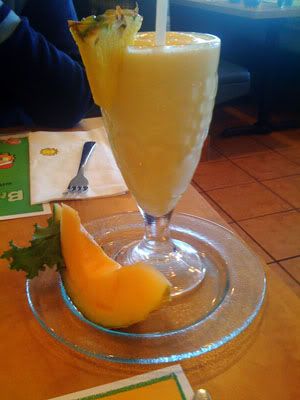 Birthday Smoothie
Tonight, Vince took me out to Sabor Divino, a fine dining restaurant downtown to celebrate my birthday & our anniversary.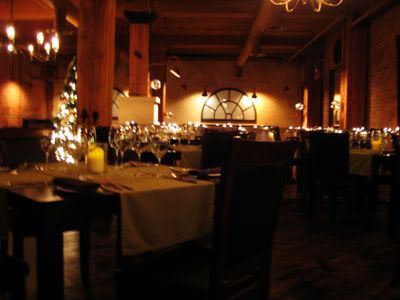 Very romantic :)
The interior of the restaurant is dimly lit, providing a romantic setting in the dining room. The furnishing is somewhat rustic, and with a majority of the room made with burnished wood, it gave me a very homey feel as we sat down at the table. The cuisine here at the restaurant is described to be rich in European influence, with a contemporary flair, so I was excited to see what the menu was all about.

Bread to start
To start, we were presented with a basket of bread served with olive oil, balsamic vinegar, butter, and a side of olives. To my surprise, the bread was served cold, rather than warm like other restaurants. I found it a little odd, but I was hungry and ate anyways!
We decided to skip the appetizers, thinking we would order dessert to finish the meal instead. For the entree, I ordered the 'Magret de Canard', which is a pan-seared duck breast cooked with black trumpet mushrooms, shallots and licor Beirao, and served with risotto. When it was presented to me by our attentive waiter, I didn't really know what to expect out of the dish because it didn't seem too fancy. But what is the one word I can use to desribe this dish? Fantastic. The skin of the duck was seared to a nice crisp, while the meat beneath was tender and juicy. The sauce on the duck was a little sweet, which paired very nicely with the saltiness of the skin, albeit some parts were a little saltier than desirable.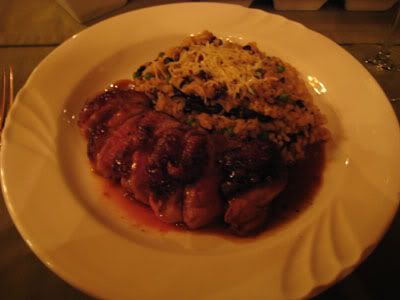 Magret de Canard
Now for the risotto, I think it's the best I've ever had! No joke. The risotto was cooked al dente in a creamy broth with peas and a vegetable I cannot identify, and mixed with a nice blend of cheese. The best part was that the cheese didn't solidify upon cooling, which allowed the risotto to maintain its creamy consistency. Simply delicious.

Calamari & Prawns
Vince ordered the Grilled Calamari and Prawns, which I thought was weird since he wasn't being his adventurous self. But once the plate arrived, I was pleased with his decision because I wasn't afraid to eat it! The plate was cooked with Portuguese chorizo (pork sausage), bell peppers and white bean puree. The Calamari was cooked very well, having a chewy texture, but not so chewy that it required copious amounts of chewing. The prawns were large and also cooked perfectly, so we were both very happy with our meals!
After dinner, we were stumped between two of the items on the dessert menu. We wanted something different, and specific to the restaurant, so we ignored the desserts that regularly appear on menus elsewhere, like the tiramisu and cheesecake. The things that intrigued us were the 'Leite Creme Dona Irene' and the 'Chocolate Cayenne Mousse'. Dona Irene is similar to a creme brulee, and is described as a light Portuguese cream custard topped with caramelized sugar and cinnamon. I think it's the cinnamon that made us really want to try it out. On the other hand, the mousse was described as a semi-sweet chocolate mousse with a little heat. Interesting, right?
After asking for the opinion of our waiter, he suggested we try the Dona Irene, because he's a little averse to the heat from the cayenne pepper in the chocolate mousse. He said it gives his throat a bit of an uncomfortable burning sensation, haha! But that many people order it and enjoy it, making it a very popular dessert in the restaurant. Vince & I chose to go the less adventurous route, and ordered the custard.

Dona Irene & Cayenne Mousse
To our surprise, our waiter brought the custard, and included a little sample of the mousse so we could get a feel for what it's like. And trust me, it's interesting. When you first put it in your mouth, it tastes just like any other chocolate mousse. But the moment after you swallow it, you start to feel a tingly sensation in your throat! It's definitely interesting, but not something I would want to experience in large amounts. Dona Irene was definitely a better choice, and tasted like a creme brulee with a sprinkle of cinnamon.
All in all, this was a great choice for dining on this very special day. I would definitely return in the future to try out some of their other offerings, as they are quite unique, and I feel that this city doesn't really have many European restaurants aside from Italian ones. Not something I think I could go for often though, it would really burn a hole in my wallet! (We paid roughly $77 for the two of us including tax & tip)
Sabor Divino Restaurant
10220 103 Street
Edmonton AB