Birthday Sushi : Kyoto
November 26, 2010
Lisa and I decided to go out for my birthday lunch today, and since it was warm outside, we trekked over to Kyoto on 109th!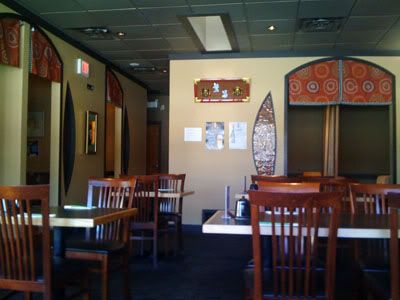 Inside the restaurant
It was the first time I had ever been to this location, and upon walking in, it felt a little smaller than I had imagined it to be. The hostess quickly greeted us and brought us to our table.

Guess what I ordered!
For lunch I picked out the beef tataki and tempura udon. Lisa ordered the udon as well, and avocado sushi. We were SO excited to eat! The restaurant had just opened for the day and was quite quiet, so I expected to get very good service from our waitress.

Bean sprouts & miso soup
Shortly after ordering, we were given complimentary miso soup and bean sprout salad. I was surprised to get the salad, as most Japanese restaurants only give the miso soup. The soup was nicely flavoured, and not too salty. The bean sprouts were drenched with a ginger-soy (my guess!) dressing, which was refreshing, and the plump sprouts were a great way to cleanse the palate after sipping the soup!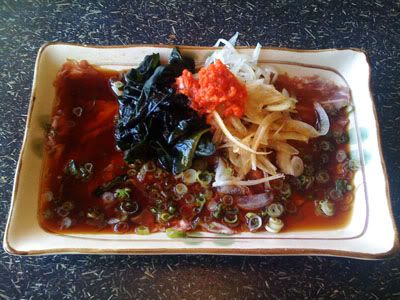 Beef Tataki
The tataki here at kyoto is sliced very thinly, almost to the point where it is see through. Seriously! I was so shocked. The ponzu sauce was rather salty, but there was plenty of seaweed and onion on the plate that toned down the saltiness of the dish.

Delicious lunch
My tempura udon arrived nice and hot, and the broth was clear & tasty. The udon spice was served in a little pot though, so I felt it was a tiny bit unsanitary, and wished it was in the regular bottle :( Lisa and I traded tempura pieces - best deal in the world! 2 of her prawns for all my vegetables, haha!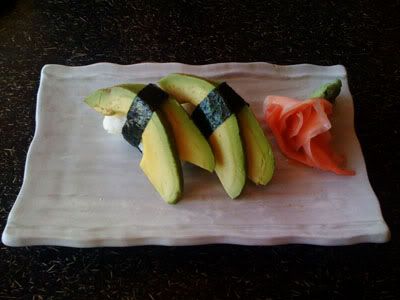 Avocado Sushi - so fresh! :)
The food was fresh and delicious, but I would have to complain about the service. There weren't too many people eating in the restaurant, yet our server hardly came to check in on us, and it was too difficult to get a hold of her in order to pay our bill! If you visit this location, be wary of the service and have patience!
Kyoto Japanese Cuisine Ltd.
8701 109 Street
Edmonton AB