What's one of the latest food trends in Edmonton? It's starting to feel like gourmet hot dogs are becoming a new thing. Other major cities like Vancouver and Calgary have their gourmet and Asian-inspired hot dog spots, so it's time that Edmonton jumped on the wagon too. Lucky for us there's a new hot dog restaurant in the north end of the city.

The Dog - 9567 118 Avenue - Edmonton AB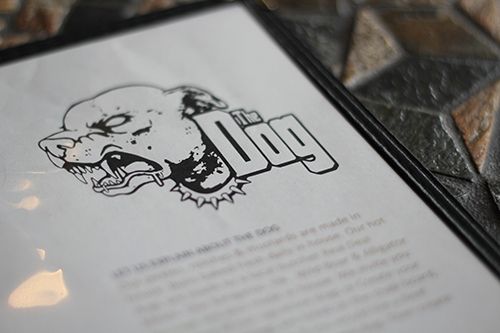 Having just opened up over a week ago, The Dog has taken over the spot previously occupied by Absolutely Edibles. As it turns out, The Dog is actually owned by the same people that owned Absolutely Edibles and Sloppy Hoggs Roed Hus just down the street. Sounds like Absolutely Edibles needed a refresh and a new concept to bring in more traffic to the location.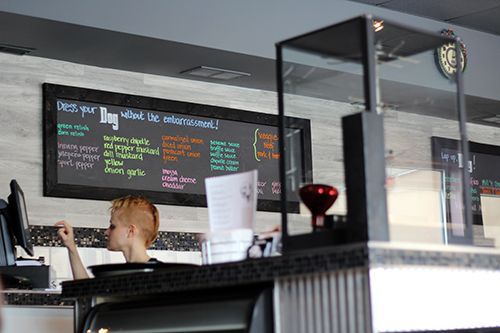 Although I never visited Absolutely Edibles, I'm told that the interior has taken on quite the change. The new space is diner-esque, with metal accents, small tables and seating up at the bar. There's plenty of seating available, but also lots of space where more tables could be placed to accommodate more patrons.
I was lucky to have a day off last week to catch up with
Linda
,
Diane
,
Cindy
,
Lesley
, and
Addie
for lunch, which meant we were able to order items to cover a large portion of the menu. The menu here is vast and there is bound to be some combination of toppings on a hot dog to suit your taste. And if it doesn't, you can customize your own hot dog from a large list of toppings and different condiments. All the hot dogs are made by local Real Deal Meats, while the wild game hot dogs are made in house. In addition to the wild hot dogs, the pickles, relishes, and mustards are made in house and the buns are baked fresh in house too. Awesome!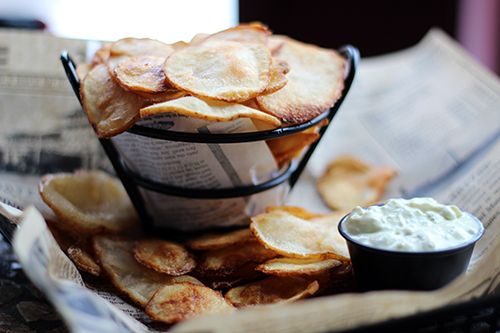 Linda ordered some Chips & Dip ($6) to start, which was housemade potato chips served with dill pickle dip. The thin sliced chips were lightly fried, with some being crisp and others still soft in the middle. I was expecting a thinner cut on the chips so that they would be completely crisp, but I didn't mind the softer texture. They were seasoned well with a bit of a kick and the dill pickle dip was both refreshing and flavourful.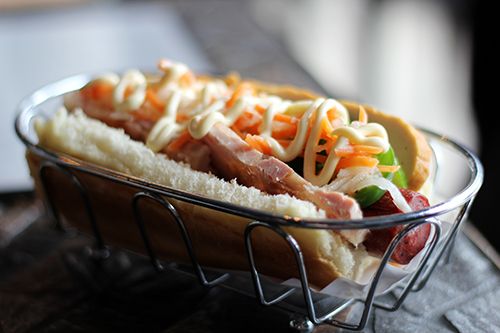 Diane ordered the Banh Mi Hot Dog ($7) which featured a beef and pork dog, head cheese, pate, mayo, cucumber slices, do chua (translated literally as sour things in Vietnamese), jalapenos, and cilantro. This was my original pick since I love a good banh mi, but she made her choice before I did. Although we had high hopes for it, the head cheese was cut quite thickly, and given that the texture was similar to the hot dog it was lost in each bite. There was little to no pate either, and the mayo was quite overpowering in flavour. We had such high hopes for this one!
For myself I ordered the Narita Hot Dog ($7), which was wasabi mayo, kimchi, sesame sauce, do chua, pickled ginger, bonito flakes and ramen noodles on a beef and pork dog. I honestly was so skeptical about ordering it because the combination didn't sound like it would work together. But I was proven wrong and this was the favourite hot dog out of all the ones we ordered. Although the kimchi and bonito flakes were practically non-existent, the sesame sauce, pickled ginger and do chua gave the hot dog a tangy, sweet flavour that balanced out the salty hot dog. The asian flavours worked really well and I enjoyed the crunch from the crushed ramen noodles.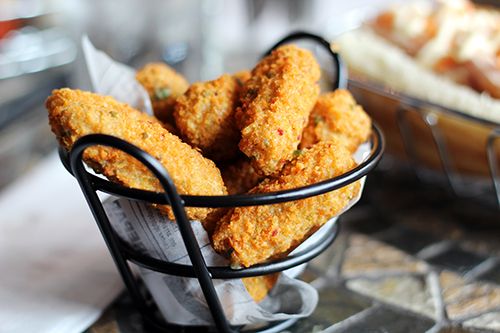 Poblano Poppers ($7) - poblanos stuffed with cream cheese
Lesley tried the Kangaroo Sausage ($12) which is made with a blend of fresh herbs. The hot dog is topped with red pepper, corn relish, and raspberry chipotle mustard. Although the hot dog itself was great, the condiments were very messy and quite tangy, masking the flavour of the kangaroo sausage. It was quite sour and definitely needed something to cut through the acidity.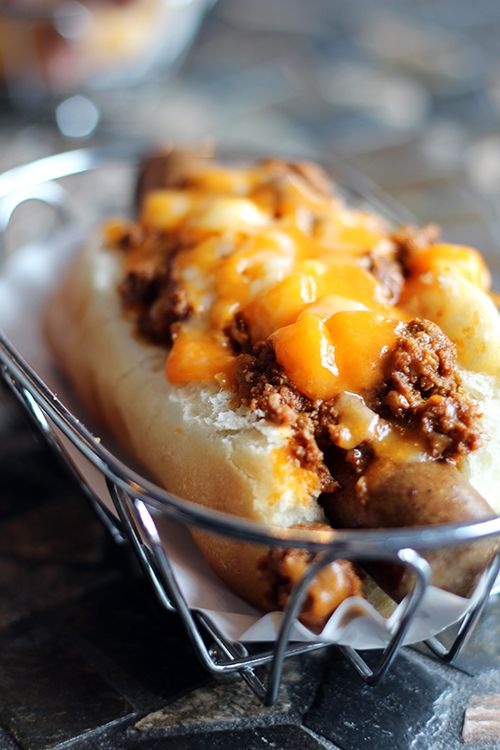 Linda tried the Coney Island Hot Dog ($8), made with a beef dog, beef chili, cheddar cheese, yellow mustard and diced onion. The combinations weren't too far off from your typical hot dog, so it was quite enjoyable. Look at all that cheese! The Dog definitely doesn't skimp on their toppings.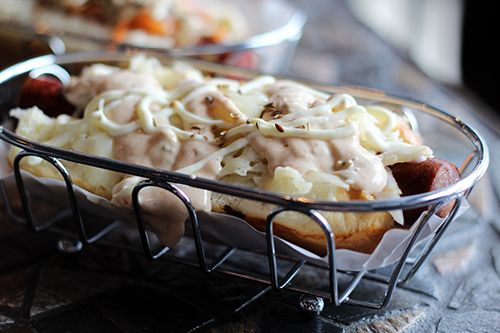 Addie went for the Kansas City Hot Dog ($7) which featured sauerkraut, cheese, reuben sauce, and caraway seeds on a beef dog. The reuben sauce was oozing out of the hot dog, so you've been warned - don't order this on a first date. The ingredients weren't overly exciting, but the combination worked well together and tasted great.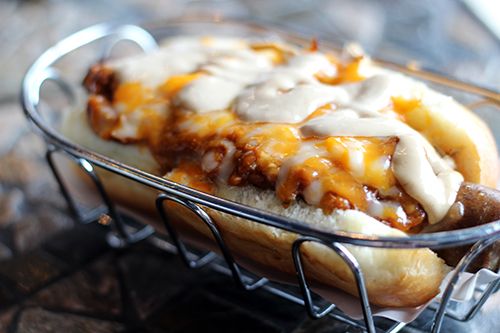 The last hot dog to the table was Cindy's Hog Dog ($8), a beef and pork hot dog with pit beans, pulled pork, shredded cheese, and waffle sauce. Like the name implies, the waffle sauce has a maple syrup flavour to it, but she was hoping for more of the sweetness to come through. Again the ingredients weren't too exciting, but there was plenty of pulled pork and cheese to make this hot dog quite substantial.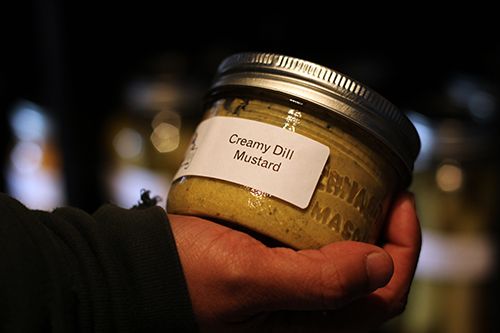 For sit-down lunch, service was quick and the hot dogs were decent. Running at $7-$12 depending on your toppings, The Dog is quite affordable and a nice place to stop for a quick bite to eat if you're in that area of the city. I should also mention that they cater to vegetarian (falafel and tofurkey dogs!) and gluten free diets as well, which is really great to see at a place selling hot dogs. At the back of the restaurant there is a large shelf with a selection of condiments used on the hot dogs. From hot and spicy roasted red pepper mustard to roasted garlic chipotle corn relish, there are so many unique choices you can buy and take home.
So, for gourmet hot dogs in Edmonton where should you go?
IT Dog
or The Dog? I actually prefer The Dog, because they are more local with their products and I found their hot dogs tasted better. IT Dog has a nice selection of Korean-style hot dogs, but I like that The Dog has hot dogs that pull inspiration from a wider range of cuisines. The price point at The Dog is on par with IT Dog, but to be fair, IT Dog serves all their hot dogs on pretzel buns while The Dog charges an additional $3 for pretzel buns. I also favour The Dog given that there is a greater ability to customize your hot dog to your liking with a wide range of toppings that aren't just Asian-inspired. Overall I had a great experience at The Dog, so wherever you go, let your taste buds guide you!