Between the Bread: Sandwich & Sons
March 04, 2015
If you know me, you know that I love noodle soups. There's no denying it. But once in a while I like to change things up, and I can get pretty strong cravings for a good sandwich. A new sandwich shop opened up in Edmonton last week and my taste buds were itching to check it out!

Sandwich & Sons - 13119 156 Street - Edmonton AB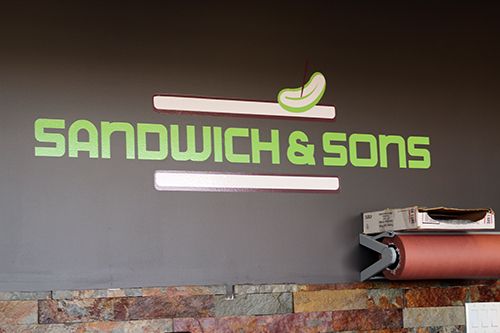 Sandwich & Sons is located just north of the Yellowhead on 156 Street in an industrial part of Edmonton. It's a new deli-style concept opened by Chef Alex Sneazwell (formerly of The Manor, Von's, El Cortez) offering soups and sandwiches during the day from Monday to Friday.
The menu itself is simple and is written in chalk on the wall. Classic sandwich combinations are put together with an emphasis on using local ingredients and housemade fixins. Each sandwich includes a side of housemade chips and a pickle, and the price is inclusive of tax. Daily soup and drinks are available for $3 each, and the housemade mustard and pickles are also available for purchase to take home.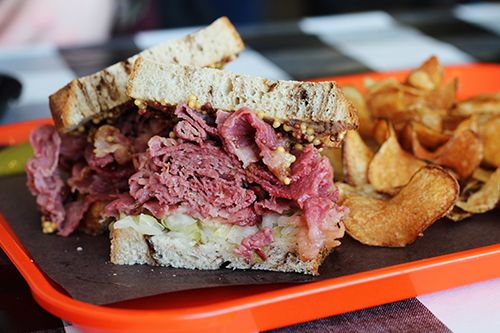 I stopped by for a quick lunch today with my boyfriend, and of all the choices on the menu the top contender for us was the Montreal Smoked Meat sandwich ($12). Shaved brisket, house mustard and sauerkraut are piled high between the two warm slices of rye, there's no shortage of meat here! The brisket comes from local producer Sangudo Meats, and this meat is fantastic. The brisket is sous vide for 24 hours then smoked with pecan wood. The resulting brisket is tender, flavourful, and not overly smoky. Grainy mustard is one of my favourite things in sandwiches, and everything combined with lightly pickled sauerkraut made this sandwich a hit.
Our other top choice was the Spicy Italian sandwich ($10). Hot salami, mortadella, artichoke spread, pickled peppers and havarti are placed inside of a roll and squished inside a panini press. The resulting sandwich is crispy, has a kick of heat and is oozing with melted cheese. The sandwich doesn't have the grandeur of the Smoked Meat, but it's a pretty solid sandwich on its own. I did find it to be a bit greasy, but that's just the nature of the ingredients used. Other than the sandwiches, the chips on the side weren't too greasy and just lightly salted for a bit of flavour. I was a little sad that Sandwich & Sons didn't make dill pickles to accompany their sandwiches, but the tangy pickles still had a bit of bite that I enjoyed.
In conversation with Chef Sneazwell, he mentioned that the smoked brisket, turkey, bologna and bacon are all supplied by Sangudo Meats. It's great to see a small sandwich shop supporting local in the ways that they can! From social media it looks like Foie Friday is going to be a thing, so you foie gras fans should flock there to celebrate the end of this week with a foie gras banh mi. Sandwich & Sons is open Monday-Friday, and catering is available too. Stop by and give them a try if you're in the area - the sandwiches are solid.