When Random Cuisines Collide: Pho Huong & Mama Pizza
September 02, 2014
Sometimes when I read restaurant names I have to do a double take. That's exactly what happened when I discovered a local restaurant advertising that they serve both pizza and Vietnamese food. Say what?

Pho Huong & Mama Pizza - 10531 107 Avenue - Edmonton AB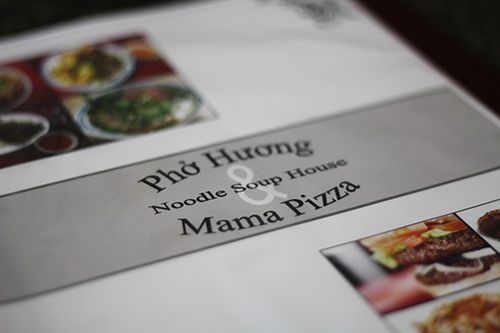 I was so curious to see whether this place was any good, and I was actually interested in trying their pho. Now I know what you're thinking - I must be crazy to think this restaurant would serve top notch pho! But hey, someone has to take one for the team, right?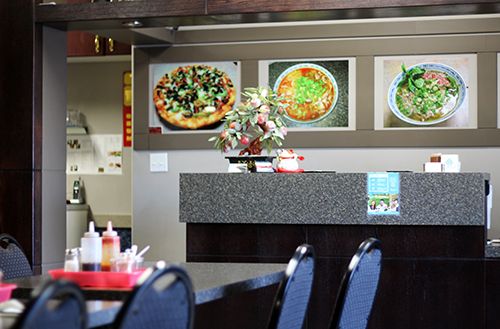 I was able to convince one of my friends to go on this adventure with me so we showed up at the restaurant at about 6PM on a weeknight. Bad news, the place was empty. We were greeted and seated in the corner before our server ran off and hid in the kitchen. The restaurant itself looked small and, like a typical Vietnamese restaurant, had sriracha, hoisin sauce and other condiments available on the table. The menu was mostly devoted to Vietnamese noodles and soups, but a whole page was dedicated to a wide variety of pizzas, salads, burgers and fries. It's the strangest thing, but it apparently works for the loyal patrons of this restaurant!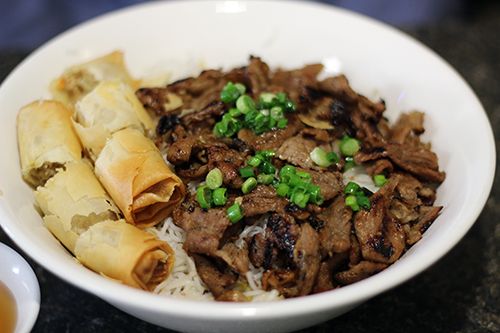 My friend ordered the Grilled Pork & Spring Roll Vermicelli Bowl (#24, $8.75) and it was a fairly generous serving. The vermicelli noodles were cooked al dente and served overtop of the usual fresh greens like lettuce, cucumber and sprouts. The grilled pork was moist, tender and full of flavour, while the spring rolls were crisp and golden. Things were off to a good start!
Most of the pho offerings on the menu ranged between $7.50-$8.50 depending on the choice of meat and size of the bowl. For myself I was craving pho with beef balls and tripe - a combination that rarely exists on Vietnamese menus. However, the restaurant was more than willing to accommodate my request so I got exactly what I wanted. The bowl of noodle soup really didn't look like much, but the broth was fragrant with a nice depth of flavour and was served steaming. Although I would have liked a bit more tripe in my bowl, this bowl of pho would definitely hit the spot on cold day.
Pho Huong & Mama Pizza is a family-run business and our server (who I believe was the owner) was very friendly and inviting. The restaurant is located in an area of the city that is a little more run-down, but appearances can definitely be deceiving. The interior of the restaurant is updated and well kept, and almost seems to be out of place given it's location. If I were in the area and craving Vietnamese, I wouldn't hesitate to drop by for a quick meal. I'm a little curious about the pizza - who knows, it could be a chance worth taking on my next visit!