Back in August, Groupon started up here in Edmonton and had a daily deal for Famoso Neapolitan Pizzeria. $15 would get you $30 worth of food, so naturally I bought it right away, as I love their pizza! Vince on the other hand, not so much, so we decided to take my family out for dinner to try it out.

It was quite packed when we arrived that night into the dimly lit restaurant, but it was mainly congested by the entrance since people were waiting anxiously to pick up their orders to take home and eat with their families.

The waitress kindly sat us down and explained the whole process of ordering to my parents & sister, as Vince & I checked out their new winter menu. For dinner, we decided to go with three pizzas: the Primavera, and the featured Vittoria and Ricotta Spinaci.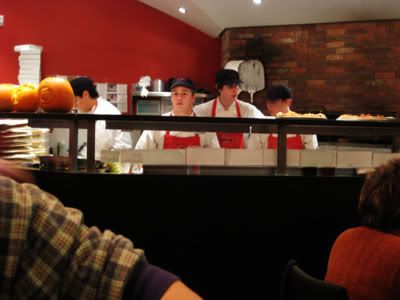 Cooks in the prep area
I find it so interesting how they cook the pizza for a mere 90 seconds, in their oven which is heated to 900 degrees fahrenheit. The food comes out quick, hot & fresh.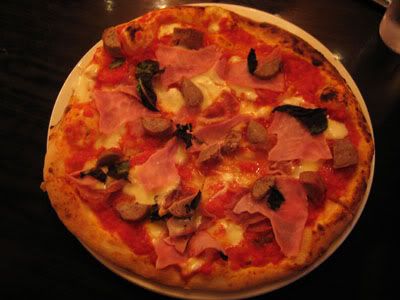 Primavera
The first to arrive to the table was the Primavera, which is a red sauce pizza (pizza rossa)topped with fresh mozarella, smoked mozza, roasted red pepper, artichoke hearts, mushrooms, kalamatta olives, caramelized onions and fresh basil leaves. This pizza was very yummy, and presented with the ingredients spaced apart expertly on the pizza. Each piece was garnished with a bit of everything so that everyone was able to taste the true pizza!

Ricotta Spinaci
Second to arrive was one of the featured pizzas, the Ricotta Spinaci. This was a white sauce pizza (pizza bianca) in which the sauce is made with EVOO, garlic, and oregano as a base. The word 'sauce' is somewhat misleading, as I would consider it to be a thin spread that dries up when being cooked in the oven! On the pizza was fresh mozarella, thinly sliced oven roasted rosemary potato, spinach, ricotta cheese and fresh basil leaves. This one was my least favourite of the three, because it was quite dry, and the ingredients were not well spread apart. I definitely would have enjoyed it more if the ricotta was more evenly spread out rather than in the large globs it was presented as. Oh heck, I probably would not have liked it then either.. bring on the red sauce version please! I like my pizza with substantial sauce! The thing that really attracted me to this pizza was the fact that Top Chef winner, Deb Pirker designed this pizza. Luckily the other featured pizza was quite a bit better.

Vittoria
Last but not least, the Vittoria arrived at our table, which was another red sauce pizza. This one was created by Dave Housman, who is actually one of the co-owners of the Famoso location we were eating at! The Vittoria is made using fiery salsa as a base, and topped with mozarella, chorizo sausage, roasted chicken, pineapple, and basil leaves. It was relieving to be able to have another pizza with substantial amounts of sauce, and the heat from the salsa gave it a nice kick. Combined with the sweetness coming from the pineapple, it made me think it was a delicious step up from the traditional ham & pineapple. Ingredients on this one were also spread relatively well.
Now here is Vince's complaint: he hates eating at Famoso because the pizza cools down rapidly, and he claims he dislikes eating cold food. This is quite true actually, as the pizza isn't really cooked for all that long, the heat dissipates quite quickly. So we, as a family, came up with a great solution (given that you're not super hungry and have a little patience!). All you have to do is order one pizza at a time - when one arrives, order another, so you will have a constant supply of hot pizzas being served at the table at the right time :)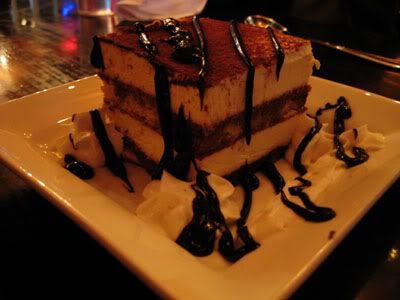 Delectable tiramisu
To finish off dinner, we ordered the tiramisu, which Famoso claims to import from Milan, Italy. I've got to say, I really enjoy the tiramisu here because it's not overly sweet, the mascarpone is fluffy and creamy, and the sponge cake is soaked in the perfect amount of espresso, ensuring it isn't overly bitter. Also, theres no lady fingers in it (wow, don't get me started on how much I dislike lady fingers in tiramisu!).
I'll definitely be back again at Famoso for their pizza - the Neapolitan style is so unique, and their menu changes with each season, so I'm excited to try things out once spring and summer come around!
Famoso Neapolitan Pizzeria
14123 23 Avenue
Edmonton AB