Fiesta at Julios Barrio
October 16, 2010
This past summer, Vince had won a $50 gift certificate to Julios Barrio, and we finally decided to use it! It's starting to get a little chilly, but nothing was stopping me from ordering a cold margarita!

We arrived shortly after 4pm, and thought it would be busy since it was a Friday afternoon. However, we were seated within 2 minutes, and our waiter promptly served up some complimentary tortilla chips with salsa to munch on while browsing the menu.



Complimentary chips
I ordered a strawberry margarita and the flautas, which are flour tortillas stuffed with ancho chicken & onions, topped with lettuce, tomatoes, sour cream and marinated purple onion. On the side, the flautas are served with salsa and guacamole. The tortillas are fried until golden, giving the outside a light crisp. I quite enjoyed this dish actually, because it wasn't too salty, and the chicken was cooked with a nice mix of herbs. Despite this dish being an appetizer, it was quite filling, even for me!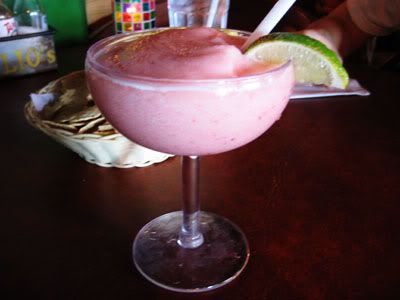 delicious margarita!!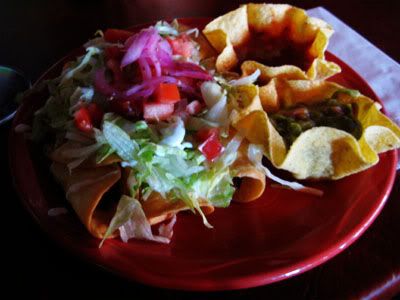 Flautas
Vince on the other hand ordered the quesadilla, which was served with Mexican rice, refried beans and a corn salad. The quesadilla was stuffed with monterey jack & cheddar, saueteed onion, red & green pepper, chipotle sauce, and chicken, then garnished with salsa, tomatoes, lettuce, and sour cream. The quesadilla tasted very good in the beginning, but the portion was big and felt dry over time. On the plate, my favourite was honestly the Mexican rice, haha.

Vince's quesadilla
The food at Julios isn't bad, but I think I want to check out the other Mexican places in town before I decide where my favourite Mexican place is!
Julios Barrio Mexican Restaurant
10450 82 Avenue
Edmonton AB