University Fare
October 24, 2010
In order to complete my mission of trying out all the food places available on campus, I decided to order from International Fare inside Hub Mall. This little restaurant serves up Thai and Vietnamese style cuisine, which is a nice change from the usual chain restaurants located inside hub, like A&W and Subway.



The little establishment
They have different curries (including vegetarian options) and stir fries cooked and ready to be ordered by themselves, or you can venture and make a combo plate. I'm not a big curry person, so I decided to try out their Tom Yum Noodle Soup.
It took about 3-4 minutes for the ladies to cook it up for me, and it was served in a decent sized styrofoam bowl, piping hot. The soup was flavourful, and mildly spicy, which was nice because I didn't have anything to drink! It was a tad disappointing, however, that my noodles were on the soggy side *sad*

Tom Yum Noodle Soup
Topped with broccoli pieces and shrimp, it's not too bad of a dish for $6. I might give it a shot again, hoping the noodles won't be so soft!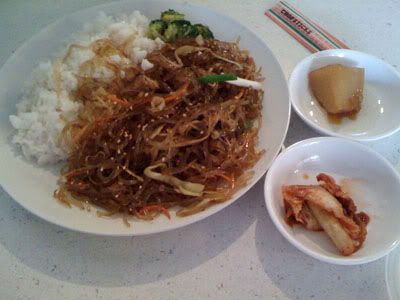 Jap Chae Bab
Vince on the other hand headed over to KFR and had their Jap Chae Bab - jap chae on top of a plate of rice, served with potato and kimchi on the side. The jap chae in my opinion could use a bit more flavour. I like it at lunch time though! They have this delicious, addictive sauce you can add on top!
International Fare
9013 112 Street NW
Edmonton AB