Free Burger Day at Rodeo Burger!!
October 05, 2010
Now the day has come! FREE BURGER DAY at Rodeo Burger!

As mentioned in my post about Burrito Libre, Rodeo Burger is doing an event today in support of the Salvation Army. In order to get a free burger, you had to bring in a non-perishable food donation, or just $1. Good deal if you ask me :)

This week, Lisa and I met up with Crystal to get our burger on! Unfortunately, with a longer line came a longer wait time. It was quite cold early this morning, but with the sun shining, the weather wasn't too bad.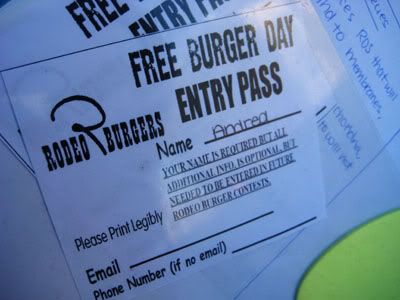 Free Burger Day Pass!
Stepping into the restaurant (after our 30 minute wait!) revealed a small, cozy establishment, full of patrons. We were told that we had a choice of the Lonestar (single patty) or the Western (veggie patty), with all the free toppings available. Anything extra, like cheese, bacon, and guacamole would be charged for. I opted for the lonestar, topped with mustard, ketchup, mayo, rodeo relish, salsa, lettuce, tomatoes, mushrooms, caramelized onions, banana peppers, and pickles. Talk about getting my "moneys worth", haha.
Just as it was at Burrito Libre, there was a big assembly line of employees, many of which were from Burrito Libre, lending a helping hand. This also confirmed for me that Burrito Libre & Rodeo Burger are owned by the same people. Burgers were freshly made to order, and it took a little over 3 minutes to have the brown paper wrapped burger in my hands, warm and ready to be eaten!

Assembly Line
Sitting down at the table, there was a small sign telling the story of this burger joint. It was really interesting to read about all the things that they make from scratch in their own kitchen! They make their own relish, burger patties, french fries, veggies, and condiments! Pretty impressive from my point of view!

Fun facts
The burger was delicious! The bun was toasted, and crisp on the outside, while the inside was warm and soft. The ingredients that I chose to have put in my burger complimented one another well, and my favourite would have to be the caramelized onions. The burger was juicy, tender, and not too salty, and the amount of sauce wasn't too much that it was dripping out of the bun.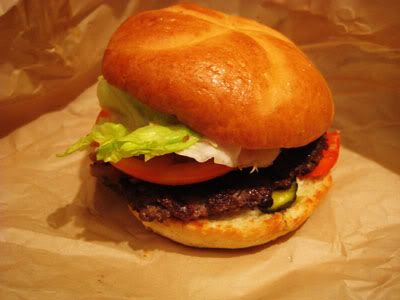 Free Burger Day Pass!
All in all, it was a great burger! My parents had gone earlier in the day, and brought their order home to eat. They didn't find the burger to be all that great since it was cold. I would recommend to eat it right after ordering, or you won't be able to see how great this burger happens to be!
Rodeo Burger
8525B 112 Street NW
Edmonton AB