One of my greatest weaknesses is beautiful pastry and dessert, so when I heard a new bakery had opened up in Old Strathcona, coffee and a sweet treat was my top priority this past Sunday morning.

La Boule Patisserie + Bakery - 8020 101 Street - Edmonton AB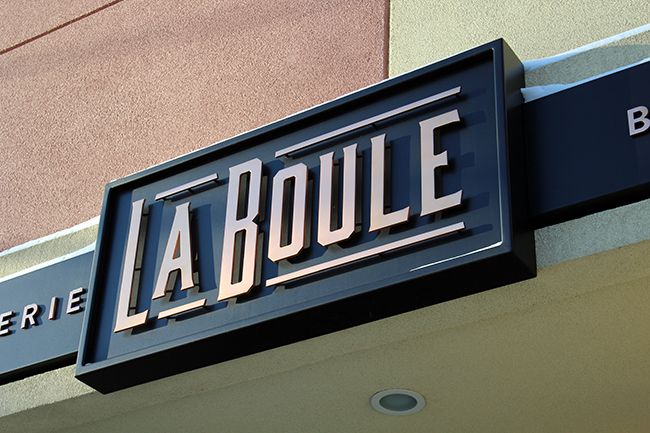 La Boule Patisserie + Bakery
opened it's doors last Tuesday in a quiet area of Old Strathcona among other local independent shops and businesses. Jennifer Strang, former pastry chef at the Shaw Conference Centre, is owner and pastry chef of this new addition to the neighborhood. This information had me especially excited because the Shaw Conference Centre is home to some pretty incredible desserts.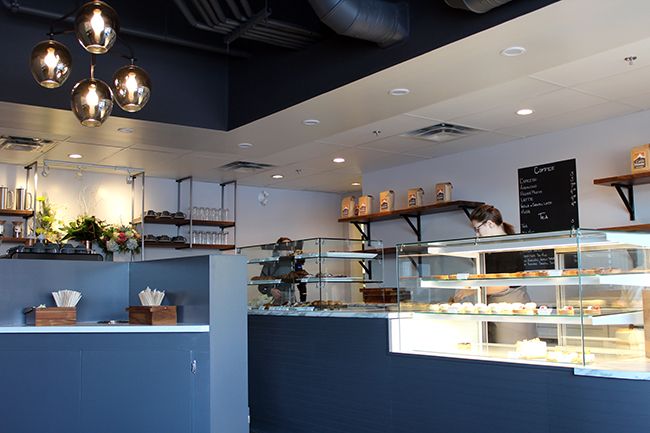 The space is open with a minimalist feel, but is warm and inviting with enough seating for 12-15 customers. The bakery was surprisingly busy for early on a Sunday morning, but I'm sure the residents in the area are happy to finally have a patisserie shop to call their own. -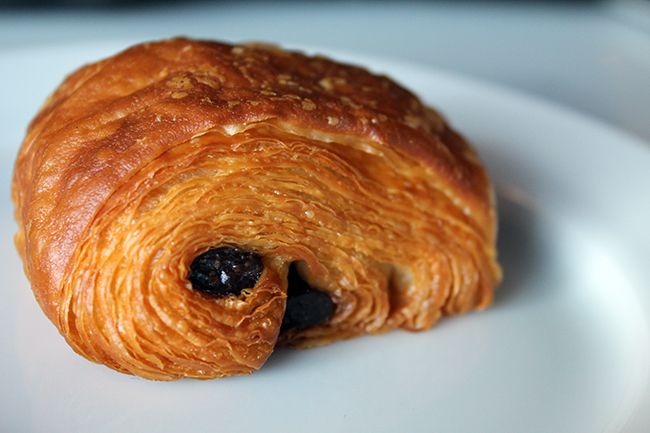 Petit Pain au Chocolat
Walking up to the counter revealed three different pastry cases - one for eclairs, one for cakes and tarts, and a third smaller one for cookies, croissants, galettes, and scones. All of the options sounded delicious and it took all my self-restraint not to order one of everything. But that just gives me an excuse to return, right?
Pastry Case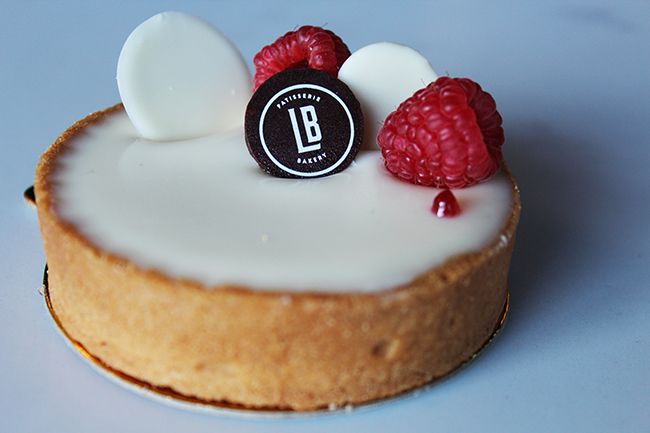 On this visit we picked out four different treats to try: the petit pain au chocolat ($1.25), a spiced apple eclair ($4), a white chocolate raspberry tart ($4.75), and a vanilla bean cherry cheesecake ($6). The mini chocolate croissant was the perfect three-bite pastry to have with coffee. Layers of crispy, flaky, buttery dough paired perfectly with the semi-sweet chocolate, making me almost regret not ordering the larger size.
I'm not much of a white chocolate fan as I find it can be too sweet, but it was just right in the raspberry tart. The tart crust held together and was baked perfectly to not crumble apart. Each bite was creamy with just a hint of raspberry, so I found myself wanting more of the fruit flavour to come through.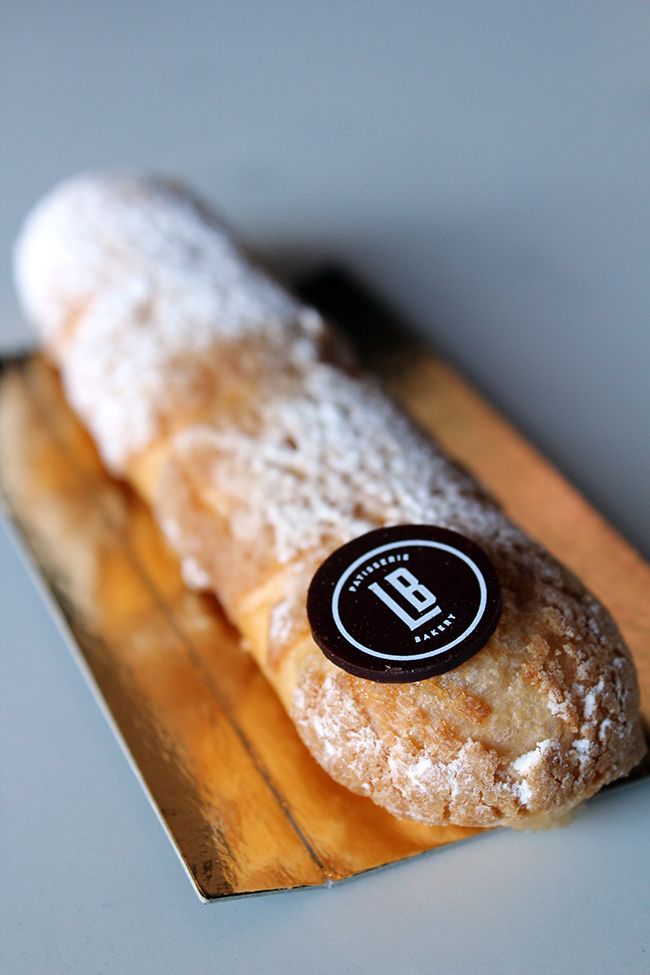 La Boule plans to eventually feature 9 different flavours of eclair, but during our visit spiced apple was the only one available. The pate a choux pastry had a nice rise, giving lots of space for the pastry cream to sit in. The spices were subtle and the eclair had great texture with the bits of apple in each bite. I can't wait to try out some of their other flavours, but for now, classic, black forest, and tiramisu are the other three available.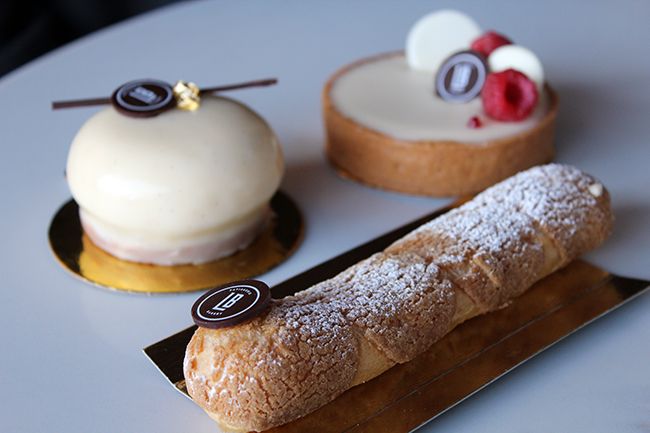 The vanilla bean cherry cheesecake (left) was beautiful with a garnishing of dark chocolate and a leaf of edible gold. Breaking into the cake revealed a layer of cherry compote and a thin graham cracker crust. This cheesecake was nice and light, which was a nice change from the usual dense, rich cheesecake that we come to expect.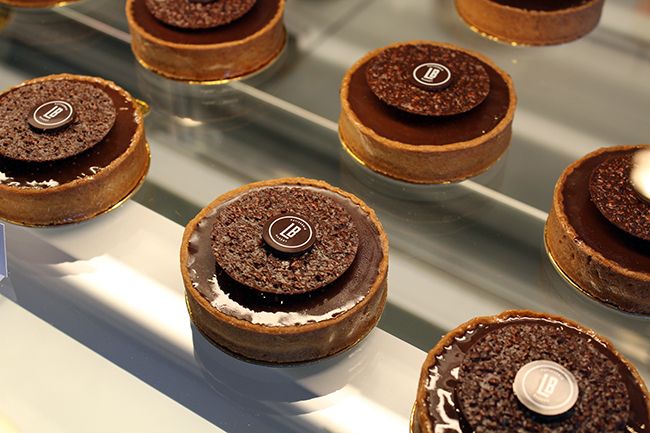 Chocolate Caramel Tart - $4.75
La Boule serves coffee and espresso using
Cafe Monte
, a Calgary-based coffee roaster, and their tea blends come from UK-based
Tea Pigs
. Depending on your drink and choice of pastry, a visit will cost you roughly $5-$10, which is very reasonable given the quality of the cakes and pastries you're paying for.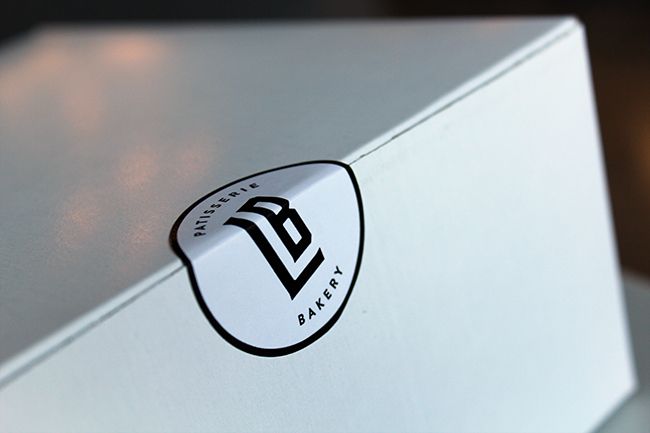 With just over a week since opening, I've seen nothing but high praise for La Boule on social media. It's definitely well deserved and it's about time the south side of Edmonton got a pastry shop to call their own! Loaves and baguettes will be available in January as the team continues to test their ovens, but the future holds lots in store for La Boule. Stop by if you're in the area for some fantastic pastry!