Eat, Stay, Fly: Renaissance Hotel's HALO Bar + Bistro at the Edmonton International Airport
December 06, 2016
When it comes to travelling, there are two types of people: the people that like to arrive much earlier than their scheduled flight and the people that arrive last minute, just moments before the cutoff to check in their luggage.

HALO Bar + Bistro - Renaissance Edmonton Airport Hotel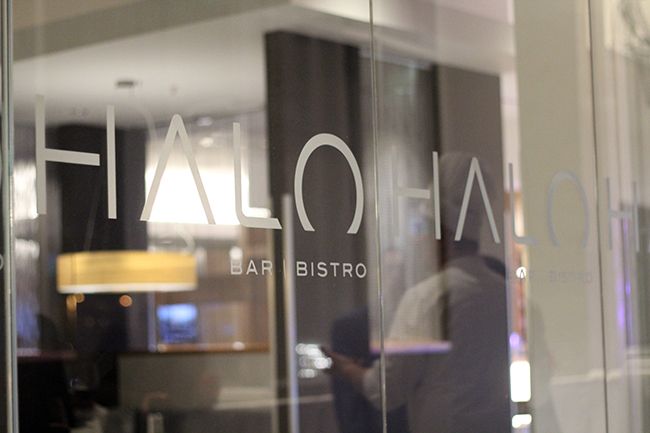 I find myself in the latter group, which is terribly frustrating for my boyfriend who is one of those people that like to arrive extremely early. But after a visit to the
Renaissance Hotel
's Halo Bar + Bistro at the
Edmonton International Airport
(EIA), the two of us just might be able to make a compromise on our travel habits.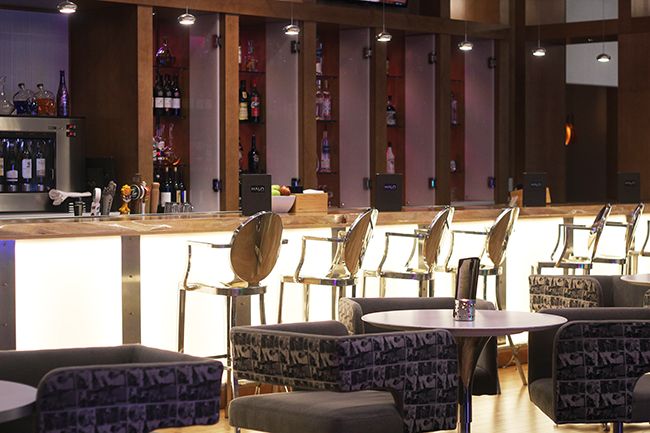 Two weeks ago my boyfriend and I were offered the opportunity to spend a night dining at Halo with our friends Linda, Chris, and their partners. The EIA had originally contacted us separately to try out the many dining and shopping opportunities within the terminal, but they were more than willing to allow us to share this dining experience together when we asked. It made for a fun evening of catch-up and laughter, especially since my birthday was right around the corner.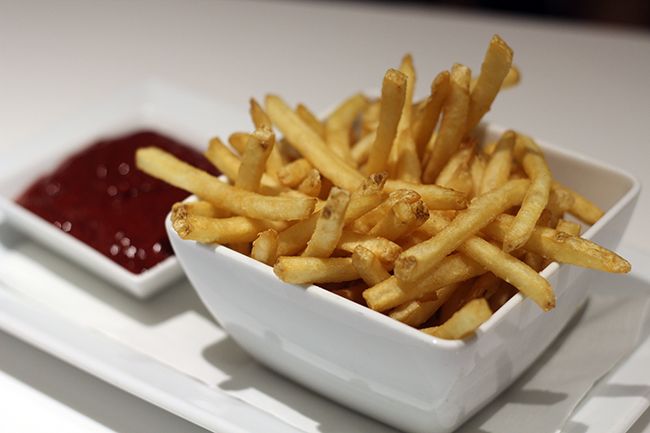 French Fries with Saskatoon Berry Ketchup ($6)
The hotel's General Manager, David Keam, and Director of Rooms, Sumit Bhatia, were our hosts for the evening, and their passion for the hotel and hospitality industry really came through. The Renaissance at the EIA opened two years ago as the only Renaissance Hotel connected to an airport. Most airport hotels are bland and not too exciting, but the Renaissance in Edmonton proves to be anything but. Designed by the same team behind the Cosmopolitan in Las Vegas, the Renaissance Hotel is sleek, modern, and many of their decor pieces invite you to discover more about the hotel itself.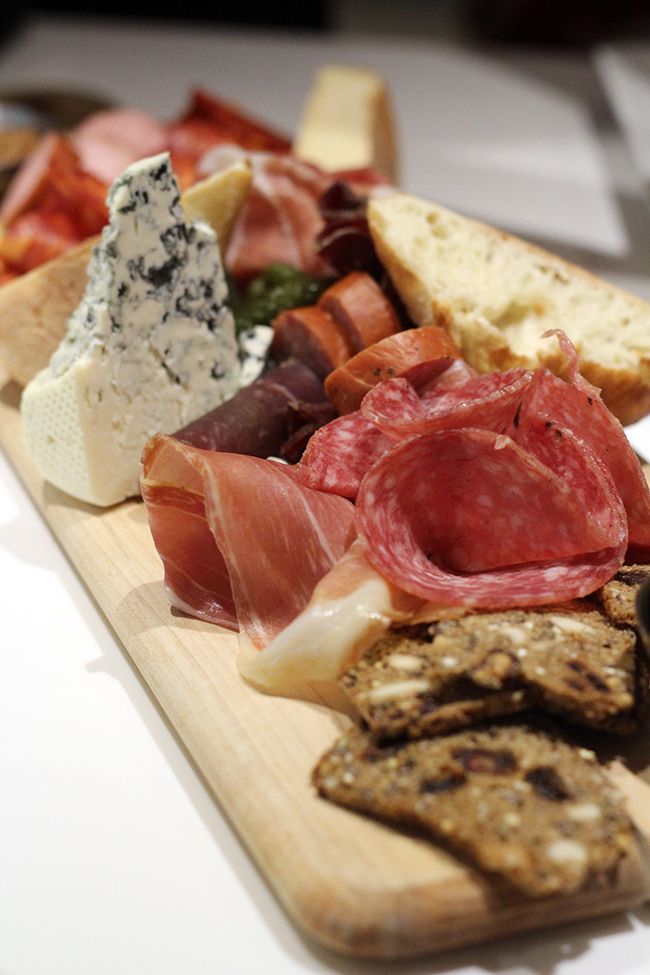 Cured Meat and Sausage Charcuterie Board ($22)
We started our evening by the lounge sharing casual conversation over some of their bar bites. Chef de Partie Daniel Ducharme gave an overview some of the plates we would be tasting throughout the evening and I was quite surprised to hear that Halo tries to incorporate local produce and ingredients wherever possible. This is fantastic though, as travelers staying in the hotel have the opportunity to see and taste the quality of the products from our local producers.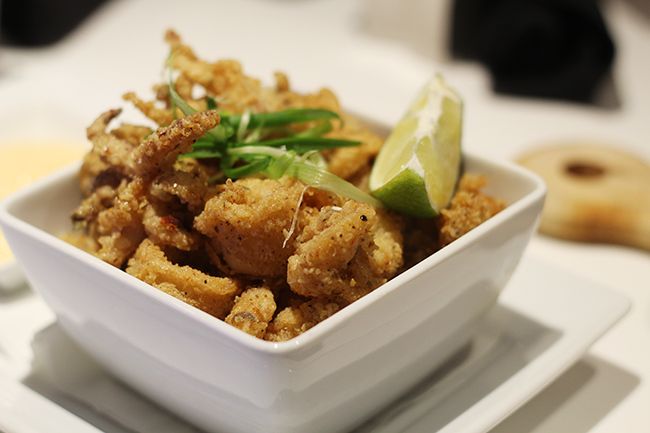 As a group we got a taste of the fries, charcuterie, perogies, and calamari off the bar bites menu. Saskatoon berries are abundant in our province so it was great to see them used in the housemade ketchup served with crispy french fries. The beautifully presented charcuterie board featured a variety of cured meats, supplied by Canmore-based
Valbella Gourmet Foods
, and cheeses from across the country. The lightly breaded calamari ($14) was tender and had a bit of a kick with a dusting of togarashi and a dip into the ponzu sriracha aioli.
The Nagy Mama Potato and Cheddar Perogies ($13) served with caramelized onion and kielbasa sausage are made by
Baba's Own
, a local Edmonton favourite. Fried to a bubbly crisp and served on a bed of chive sour cream, these perogies had great texture and flavour.
These four dishes were just a snapshot of the many available on the bar bites menu, but they were great incentive to try more. If you need more reason, appetizers are buy one get one free from 4-9pm every Friday, so you can end the work week on a high note. Or if you need a weekday pick me up, stop by for 'Bar Ritual' after a busy workday. At 5:15pm the siren signals the end of the workday, free drinks are passed around, and the all-Canadian music party starts with Kim Mitchell's
Lager and Ale
.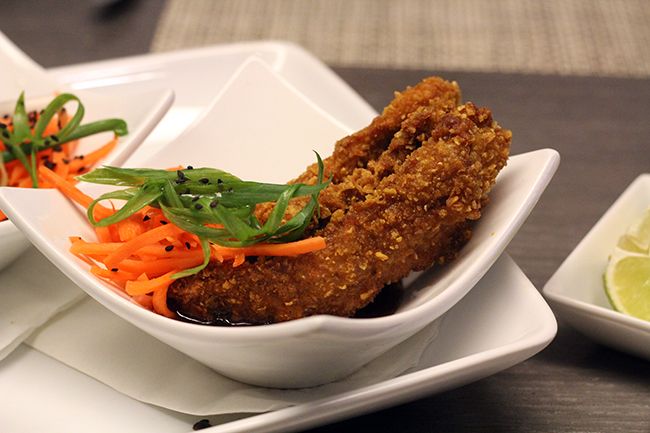 For our entrees we moved over to one of Halo's two private dining rooms. Each room can comfortably seat 8 guests and are equipped with televisions if they are needed, making them a great option for an intimate group dinner. As we each decided on our main dishes for the evening, the Duck Nuggets ($8) on the small plates side of the dinner menu caught my eye. I was hoping for morsels of duck in nugget form, but these nuggets came as full size tenders. The corn flake crust was beautifully golden and crisp, and the flavour of the duck was reminiscent of Chinese BBQ duck, especially with the five spice honey dip.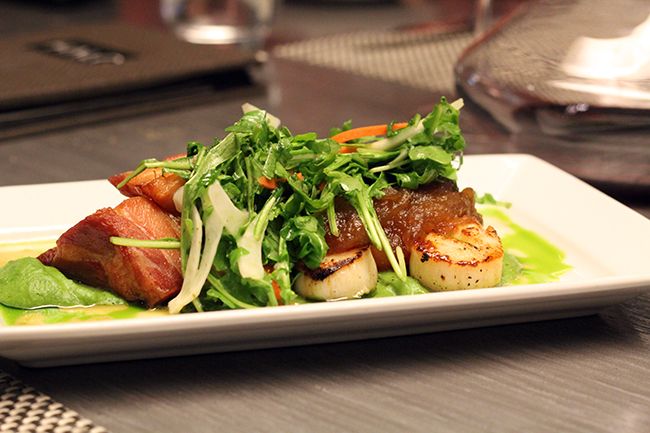 Land & Sea ($15) - confit pork belly, seared scallop, pea puree, fennel, arugula, apple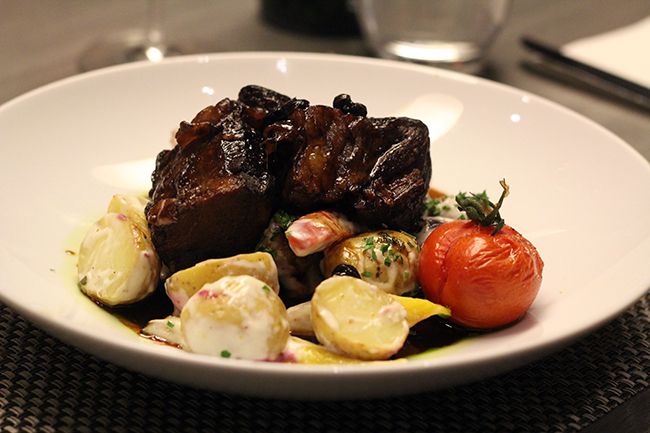 As the entrees arrived to the table, each was beautifully plated with pops of colour. As it turns out, the three ladies at the table were drawn to the risotto, while the men ordered the beef short rib, chicken, and sturgeon off the menu. Gordon went with the Braised Beef Short Rib ($33) served with a warm grainy dijon potato salad, carrots, and Saskatoon Berry jus. The short rib was rich, and fall-off-the bone tender, the way short rib should be. Halo typically serves a braised bison short rib, but there has been difficulty sourcing bison as local ranchers are getting better pricing by sending it south to our American neighbours.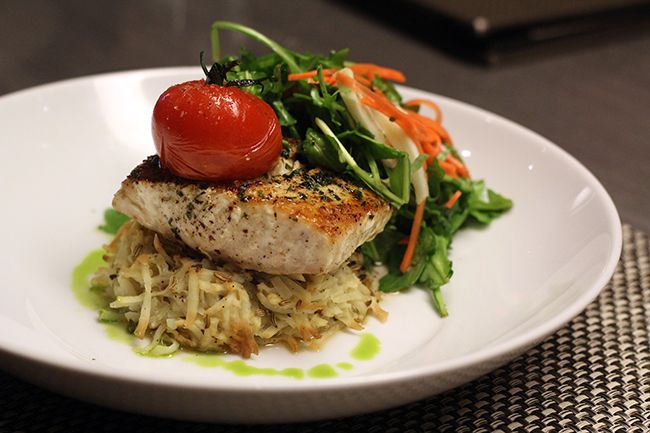 Chris went with the Sturgeon Fillet ($28) which was brown butter basted and served alongside fennel potato latkes, lemon vinaigrette, and a fennel and arugula salad. Aside from the latkes losing their crisp, there were no complaints.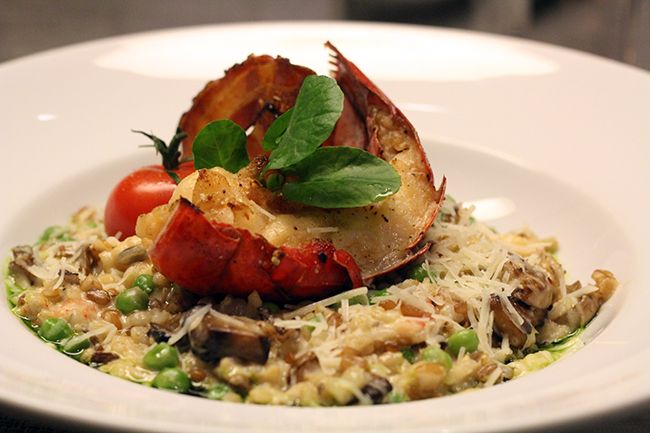 I'm a sucker for lobster risotto, so the Lobster and Forest Mushroom ($39) made with a variety of Prairie grains was right up my alley. The full lobster tail served on the colourful risotto was stunning, and not a presentation you typically see. The use of 7 different grains rather than traditional Arborio rice gave the dish varying textures which kept each bite interesting. I almost prefer this version with the chunks of mushroom and mix of peas - that's how much I enjoyed it! Factor in the perfectly cooked lobster tail and this dish knocked it out of the park.
After dinner we were taken on a tour of the hotel to see what it had to offer. Hotels under the Renaissance brand are typically a step above your average hotel, offering a clean, clever design to enhance your stay. Staff are friendly and the 'Navigators' within the hotel (experts in local food, entertainment, and culture) are passionate about Edmonton and more than willing to direct you to places to check out in the city.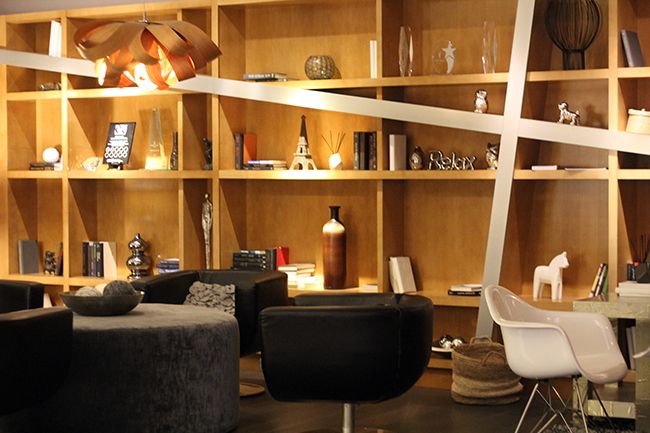 Library
The Renaissance Airport Hotel offers over 200 rooms, twelve of which are suites, one a beautiful penthouse suite outfitted with a remote-controlled $6000 toilet. Despite the differences, two things are consistent between them all - rooms are completely soundproof and each contains mirrors that reflect light to give your room a beautiful sparkle. The second feature was actually discovered by accident after the hotel opened!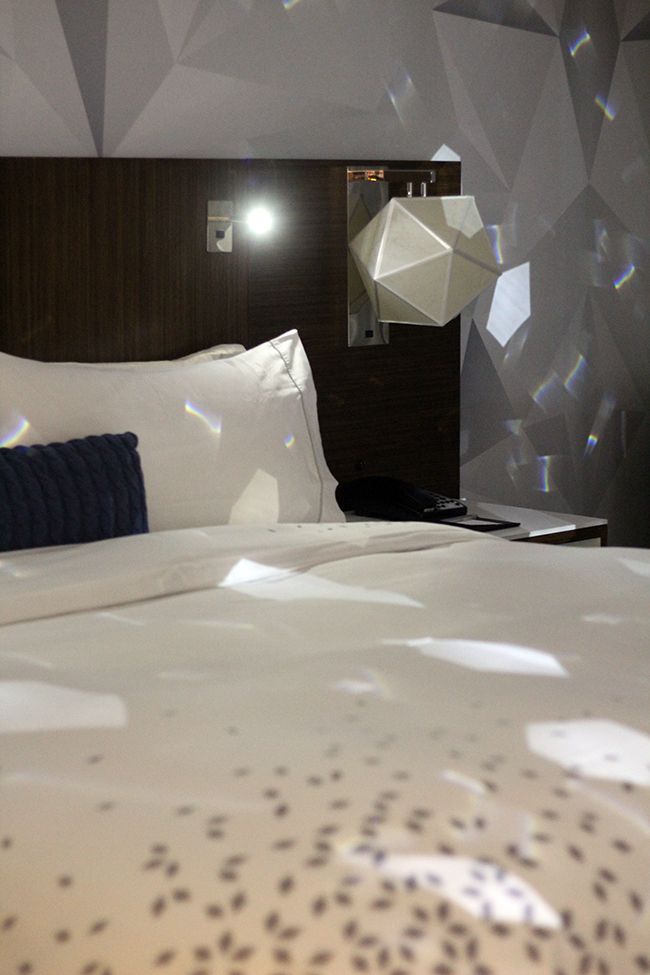 Those of you that live in Edmonton are probably thinking you'll never have the opportunity to stay at the Renaissance, but the hotel actually offers an excellent staycation package. When you book a room at the standard rate, the staycation package gives you:
a complimentary room upgrade
welcome amenities
two welcome cocktails at the HALO bar
a sharing platter at the HALO bistro
in-room dessert
continental breakfast for two at the HALO bistro
parking
It's an incredible deal and you get to discover all that the Renaissance has to offer.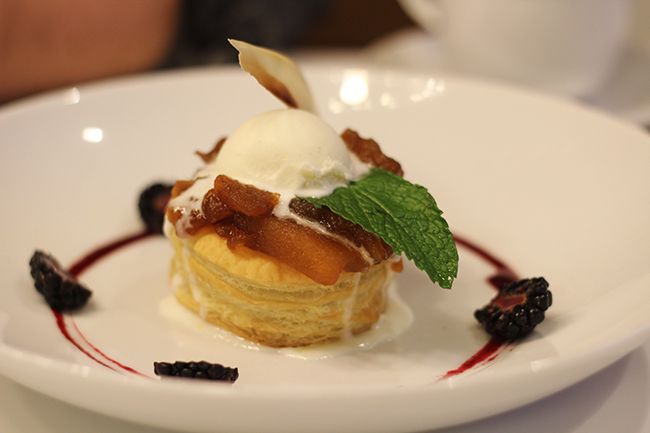 Apple Pie
Our evening ended with dessert served in a room tucked to the side in the hotel's banquet kitchen. This room is able to accommodate up to 8 guests and is the home to the Chef's Table that the hotel offers from time to time. A large window allows guests to watch the hustle and bustle in the kitchen, and a television screen gives an overview of the kitchen prep area. It would be so interesting to watch the kitchen operate on a busy night!

Creme Brulee
As we all shared a variety of desserts we realized that given the location of the hotel there isn't much competition for Halo, unless you consider
Chartier
in Beaumont, which is a completely different type of cuisine. Halo's menu offers a wide variety for travelers (and eaters!) of all types, and they take pride in sourcing ingredients locally where possible. For some, it may seem a long distance to travel for a meal, but the food is worth your while.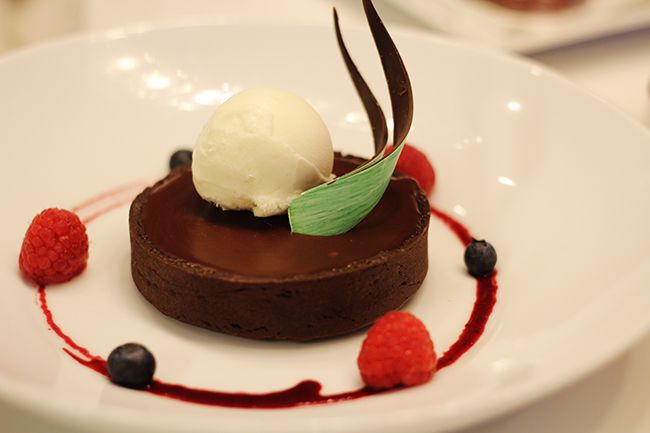 Chocolate Ganache Tarte
If I haven't convinced you to make the trip out for a meal, consider dropping by for some nibbles or a drink before your next flight. Or if you are picking someone up from the airport, arrive a little early and park in the hotel parking area. Grab a bite or a drink while you wait - there's a convenient pedway connecting the airport to the hotel, and you can get your parking validated.
A big thanks to the Edmonton International Airport for coordinating the evening, and a huge thank you to the team at the Renaissance Airport Hotel for the hospitality and putting together such a memorable night. From this point forward it looks like I'll be arriving for my flights a little earlier, and my boyfriend has you to thank for that!
psst, if you're a frequent traveler, make sure to sign up for EIA Rewards - it's a complimentary program that sends out monthly discounts for parking, shopping, and dining. Members are also entered into monthly draws for flight prizes!
*Disclosure: I was contacted by the Edmonton International Airport to review a dining/shopping experience. Views expressed in this post are solely mine. This post is 100% my opinion, and as always, my priority is to you, the reader, to present an unbiased, thorough review.