Canova Pasticceria: Pastry and Panettone for the Holidays
November 27, 2016
Just beyond the Yellowhead Highway, off 127 Street by the CN railway tracks, lives a true hidden gem in Edmonton - an unassuming bake shop selling decadent Italian pastries.

Canova Pasticceria - 12667 125 Street - Edmonton AB


Canova Pasticceria
(formerly De Fazio Gourmet) is the child to Carla Roppo and Kris Owczarek, husband and wife and business partners. Despite having no formal baking training the duo took a risk and acquired De Fazio Gourmet in 2012, learning to bake and sell
gourmet biscotti
to local shops and cafes.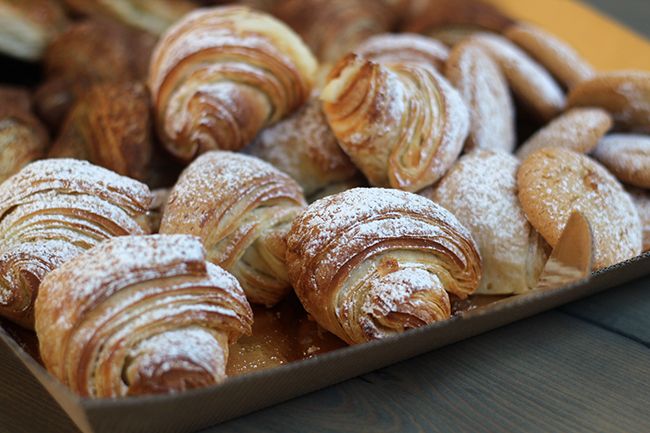 Vanilla & Nutella Cornetti
But biscotti wasn't enough. After a trip to Italy to learn about Italian pastries, Carla and Kris now make some of the most beautiful pastries in their pasticceria, using methods rooted in old-world Italian baking traditions. This means using meticulous processes to make all their goods from scratch, including their holiday panettone, which takes 36 hours to make from start to finish. There's no shortcuts here, only the highest quality wholesome ingredients like 83% New Zealand butter and pure vanilla.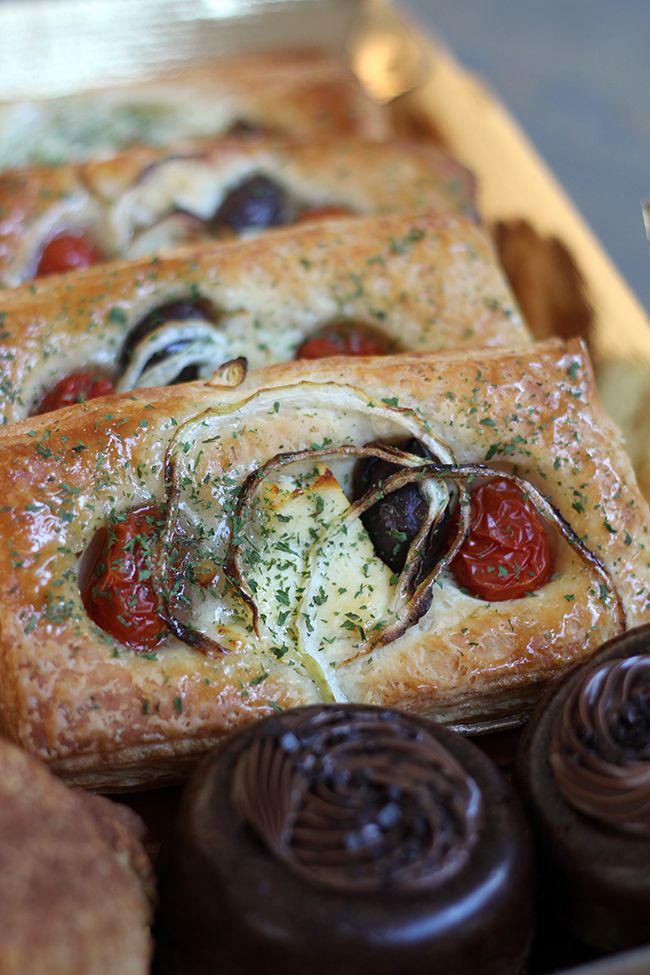 Savoury Danishes
After discovering the pasticceria, I was in luck as Canova reached out and offered to send me a sampling of their pastries that were sure to impress. The beautifully designed brown packaging accented with gold was enough to draw me in, but what was waiting inside was even more impressive. A beautiful spread of vanilla and nutella cornetti, amaretti, nutella brownies, and savoury danishes were nestled together, almost too pretty to eat!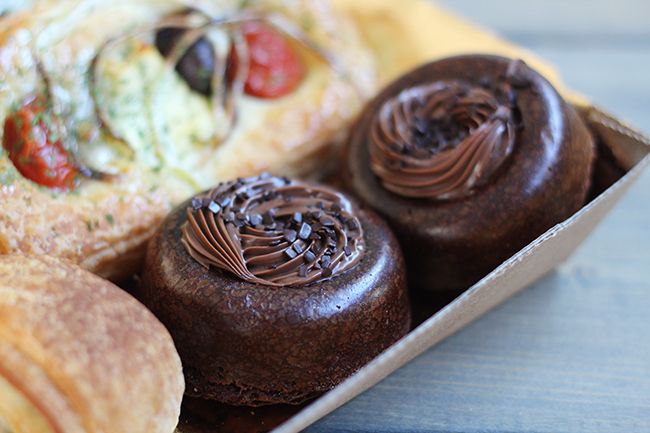 Nutella Brownies
Gathering friends for a dinner party was the perfect way to showcase these treats, and everyone raved about them. The gluten-free amaretti were lightly sweet and soft with a chew, while the brownies were dense and rich with added decadence from the nutella. Of all the treats in the box, the vanilla cornetti won me over. Flaky layers of croissant-like pastry gave way to a luscious vanilla pastry cream with every bite, making it a star in my books. The nutella cornetti were also fantastic, but I found myself partial to the vanilla version as nutella can be a bit heavy.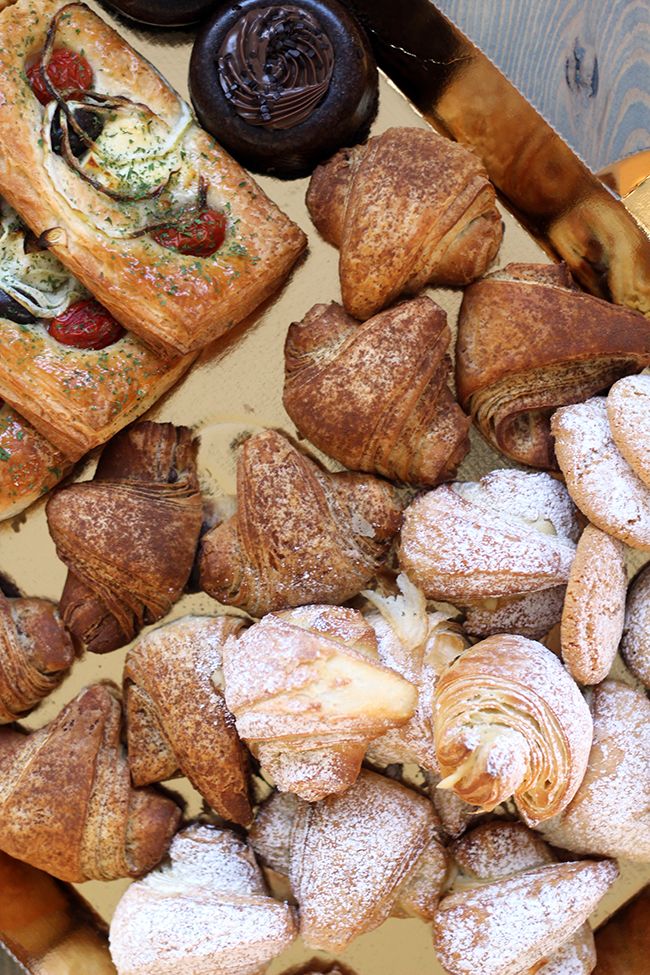 Now you must be thinking to yourself that pastries of this caliber must come with a high price tag, but think again! Canova's pastries are delicious and affordable, so you can impress guests on a budget. It's a win-win for everyone, so think about Canova the next time you need pastries:
Large Pastries (such as danishes and cornetti) are priced at $2.75 each
Brownies are $2.00 each
Savoury Pastries come in at $2.00 each
Amaretti are $1.00 each
Mini danishes are priced at $1.75 each
Cake loaves are $10.50 each, or $1.75 per slice
Carla and Kris continue to produce their gourmet biscotti under the De Fazio brand, and although I've seen these biscotti throughout the city I never realized that they were locally made. The biscotti come in a wide variety of flavours and are delicious dipped into a cup of hot coffee. If you stop into the Pasticceria you can actually grab a cup of
Caffe Umbria
coffee to pair with biscotti or pastries as a little pick-me-up!
Panettone (literally translated to 'big bread' in Italian) is a traditional holiday sweet bread made with candied oranges, raisins, and citrus zest. Using the process they learned in Milan, Carla and Kris were determined to produce their panettone using old world methods with a sweet dough starter. This is no easy feat, as the dough requires multiple feedings, additions, and time to rise. It takes 36 hours to produce a batch of Panettone, and the results show that the time commitment is well worth it.
Canova's Panettone stands tall and packed full of raisins and candied citrus. The bubbling through the bread makes it light and fluffy, and it truly is the best I've ever tried. Each panettone is wrapped by hand using beautiful packaging imported from Italy, and it makes for an impressive gift for under $20. This panettone is Canova's pride and joy, and they're ramping up for their busiest holiday season yet. Safeway and Sobeys across the country will be carrying Canova's panettone this year, as well as smaller independent stores like Sunterra and the Italian Centre in Alberta. Canova's Panettone is going to be a hot item this Christmas, so you'll want to get your hands on one before they all sell out!
Click here
to find one near you!
Given that the pastries are delicious and so affordable, it is recommended to call ahead and place an order as the shop does sell out daily. While Canova Pasticceria is classified as a hidden gem in our city, I have a feeling that status will change soon enough.
*Disclosure: I was sent pastries and panettone from Canova Pasticceria for potential review on my blog. Views expressed in this post are solely mine. This post is 100% my opinion, and as always, my priority is to you, the reader, to present an unbiased, thorough review.