Lately, the area around McKernan, or 76th Avenue has been getting a lot of attention. With the opening of Belgravia Hub and Enzo's on 76th, I've been seeing a lot more traffic in the area and needed to see it for myself.

Enzo's on 76th - 11214 76 Avenue - Edmonton AB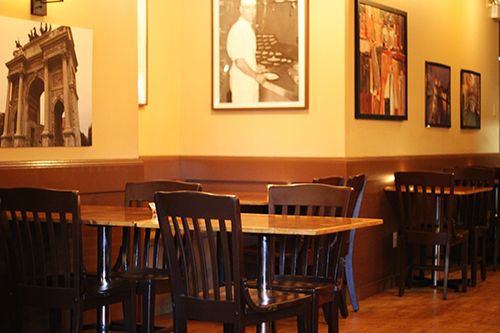 I had decided on meeting with a friend for dinner this past Tuesday night, and whoa. It was busy at 630 on a weeknight. All the tables were full with patrons and the servers were running around. The interior of the restaurant is dim, surrounded by images of Italy on the walls, allowing for a more intimate environment for dinner. However, as there are many tables and patrons within close vicinity to one another, I found it difficult to have conversations with my friend over dinner as it was extremely loud with so many conversations happening at once.
We chose to sit at the bar since we didn't want to wait for a table to open up. Word of advice? Always make reservations, even if you're checking out a restaurant on a weeknight! You never know. Anyways, the bar itself is quite high, and it was at a very awkward height for short little me. Even my friend who is much taller than I am found it to be at an odd height, especially if you're eating food at the bar. So we opted for the next available table, even if it meant moving partway through our meal.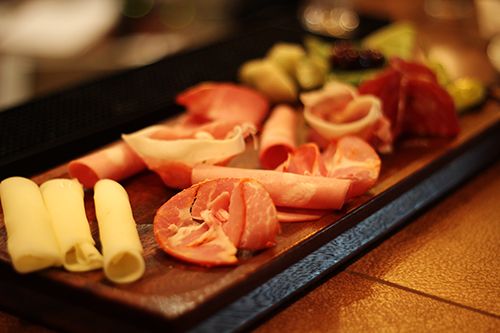 From what I understand, Enzo's takes their name from Vincenzo Tagliente, who started up this restaurant after being inspired by a tour in Italy. I didn't have a chance to meet Enzo, but the server did inform me that Enzo was working away in the kitchen, making sure the food was up to standard. We were each given a menu to peruse, and it's a simple, one page menu presented on a clipboard. Sometimes simple is best, as the kitchen is able to focus and put their energy into creating outstanding Italian classics for patrons - and that's exactly what I was hoping for. We started out the meal with the Antipasto Misto ($14), which had provolone, prosciutto, mortadella, salami, capicola, pickled artichokes, pickled peppers, and olives. The meats on this board are purchased from the Italian Centre here in Edmonton, which unfortunately don't compare with in-house cured meats. But hey, it's the second best thing next to that, right? Right? :)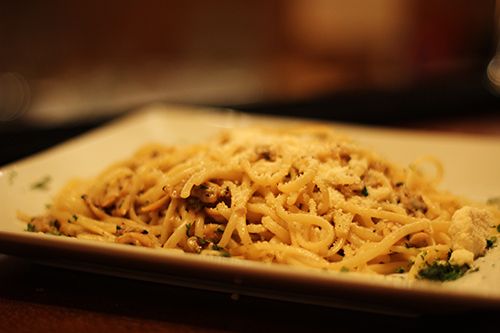 Enzo's offers a choice of six pasta dishes, that can be made with either long or short pasta. Within the varieties, each dish can be customized further with add ons such as prawns, chicken breast and meatballs. My dining companion went with the Vongole Pasta ($15) -
baby clams with white wine sauce
, and it really was a lovely dish. The serving was quite large, typical of Italian cuisine, and was loaded with baby clams. I feel like the clam to pasta ratio was literally 1:1, making this option a really great value. The dish was a little briny, but the pasta was al dente and seasoned perfectly. Topped with some parmesan and you're in pasta heaven.
For myself, I couldn't pass up the Amatriciana ($15) -
spicy capicollo with mushrooms, and onions in tomato sauce
. Once again, the pasta was al dente, sitting in a flavourful garlic, basil and tomato sauce. Although both pasta dishes were fairly large in size, there was no way either of us were going to leave any pasta behind. And trust me, when we finished, our plates were clean.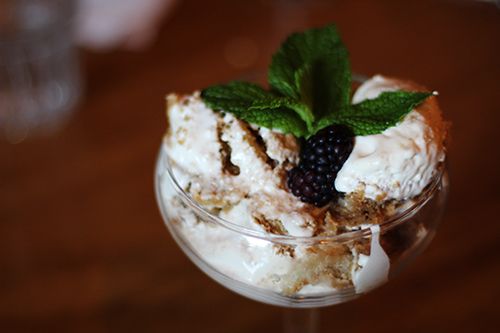 Despite being full, we ordered the Tiramisu ($7) without hesitation as I had heard it's made in house. The soft cake amongst the creamy mascarpone was a delightful finish to the meal - not overly sweet, but enough to satisfy any sweet tooth.
Despite being caught in the dinner rush at Enzo's the servers were friendly and took care of us to the best of their ability. The environment is cozy and inviting, while the food is comforting and affordable - something you want to see in a neighbourhood restaurant. I do have to mention that Enzo's is open from 11AM - "close" daily, meaning that they're going to be open as long as there are customers. For the lunch hour, they offer 5 different paninis at $8 each, that can be served with a soup or salad for an additional $5. Catering and take-out is available as well, so make sure to check them out. If their current popularity is any indication, make your reservations now.