2013 Taste of Edmonton Sneak Peak & Highlights
June 26, 2013
Last week, I had the opportunity to attend the media launch for 2013's Taste of Edmonton (July 18-27, 2013) held at the Art Gallery of Alberta. A beautiful and very fitting venue if you ask me, considering Taste of Edmonton has always been held in Churchill Square just outside the doors of the gallery. For it's 29th year, the logo has been revamped with vibrant blue and green, and the festival has so many different events to partake in. I'm so excited for the festival this year, and wouldn't be surprised to find myself there every single night!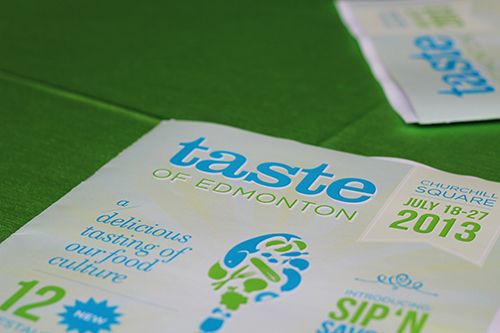 To start off, one of the new changes this year is the 9 new restaurants, with 40% of the menu items being new as well. I remember back in the day when I was reluctant to visit Taste of Edmonton, just because it was the same food over and over each year. Kudos to the committee for striving to improve the festival, and for the chefs for being innovative and coming up with new dishes! In addition, a total of 7 local food trucks will be featured on the grounds over the course of the festival. Another great feature is that some restaurants are able to offer regular and large sizes of the same dishes. If you're hungry, try the large! Want a taster? Try the regular. Better yet? The menu has a great legend indicating which dishes are new, feature local ingredients, are vegetarian, contain seafood, are gluten free, or contain nuts. Take a look for yourself
here
.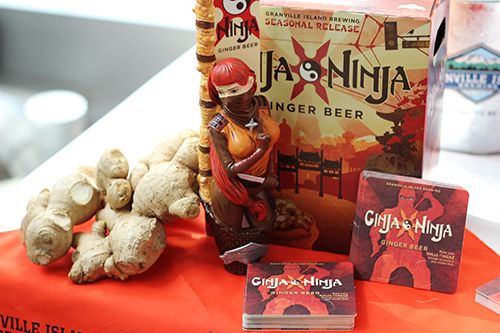 Brand new to the festival this year is the Sip N Savour venue, which will feature interactive culinary workshops, themed dinners, a specialty food market, and food cooking competitions. Some days will feature more than one workshop, but there's something for everyone, ranging from making gluten-free meals to making cheese and curing bacon. Themed dinners? All will be served alfresco, and run according to the theme of the day. One of my favourite things about Taste of Edmonton has got to be the cooking competitions though. And this year there's three! A Burger competition featuring local chefs, a BBQ baked brownies competition, and a black box competition (think Chopped!) that I will be competing in with my friends
Lesley
&
Addie
. Come cheer us on!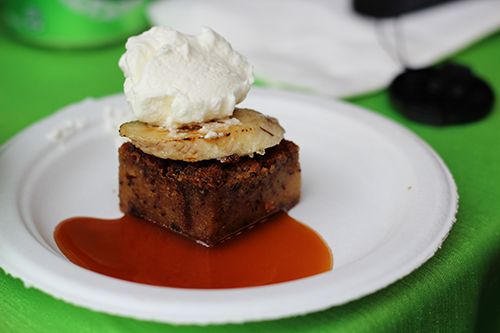 But what is a media preview without the food? Some select vendors were on site to give us a taste test of the menu in July, and I must say some of these dishes I would eat again & again. My day started with the Banana Bread Pudding with Chantilly Cream, Caramel Sauce & Bruleed Banana from Zinc. Wow. The bread pudding was moist, dense, and eggy, served up warm and not overly sweet. This dish will be available in both regular and large sizes, but seriously, go for the large!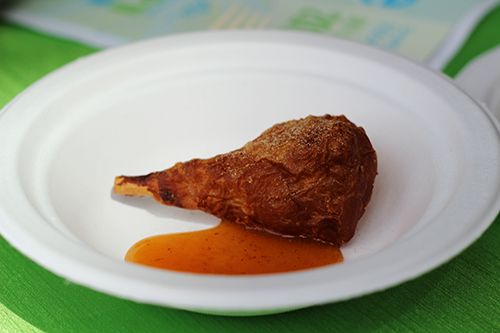 This year, Padmanadi Vegetarian Restaurant will be serving up their version of Chicken Drumsticks (vegan) with a plum sauce. I was surprised by how closely the soy product mimicked the real texture of a chicken drumstick! But I could still tell I was eating a soy product, as it was a little bland and had a slight porous nature to it. It's definitely something different, and unfortunately not something my meat loving self would want to have again.
The Hat Resto Bar is offering some Mahi Mahi Sliders and Sausage bites, both dishes available in regular or large sizes. The slider had a slight fishiness to it, and the bun was soft, but a little dry. It could definitely use a little more sauce. The sausage bites on the other hand were quite salty and were served up with a stout sauce.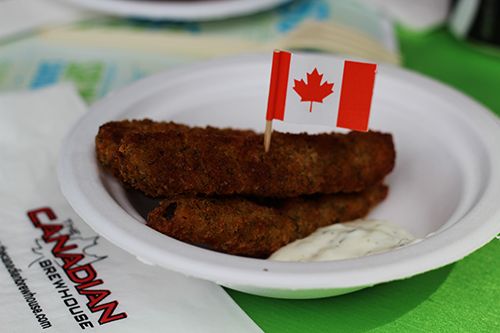 One of my favourite guilty pleasures: deep fried pickles! The Canadian Brewhouse is serving these babies up in regular and large portions, and they won't disappoint! The pickles still maintain a slight crunch, while the coating is crisp and not too salty. And you can show your Canadian pride while you munch away!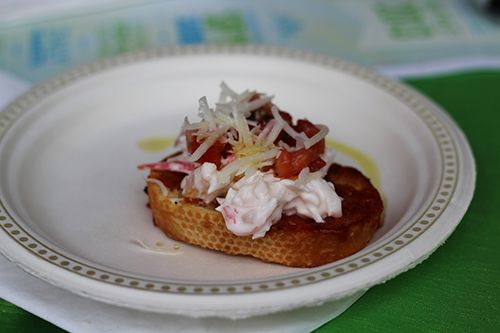 The Underground Tap & Grill has a seafood crostini as one of their offerings - the crostini itself was quite dry and hard to bite into, but the seafood mix on top was generous, and topped with some tomato and parmesan cheese.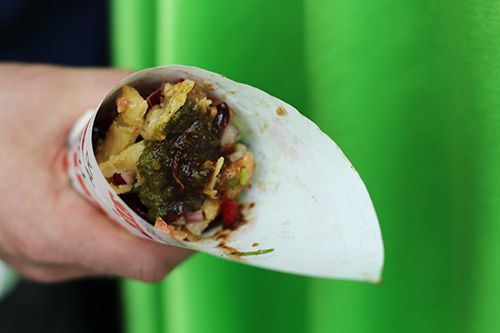 Naan-O-Liscious served up their craisin papri, which will be available in two different sizes. This street food inspired dish is made with samosa chips and chickpea salsa, mixed with mint and coriander chutney, and topped with yogurt and craisins. I actually quite enjoyed the mix, as there was a distinct crunch from the chips, and bold flavours from the spices. The craisins helped tone down the spiciness, adding both texture and an unexpected sweetness to the dish.
Mikado is joining the restaurant line up this year, and cooking up their dragon eyes, served up in regular and large portions. The dragon eyes at Mikado are something I always order when I get there - salmon sushi, wrapped up, deep fried, and served with a Sriracha mayo.. mm, gets me every time!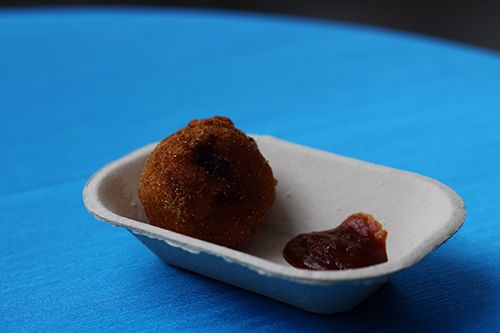 Smokehouse BBQ is offering their famous Pork Balls, which are massive arancini stuffed with pulled pork and caramelized onion. Fresh out of the fryer and these are sure to please with their crisp exterior. Watch out though - they're served with a raspberry chipotle sauce, and its got a kick. Like, the fire in your mouth kind of kick!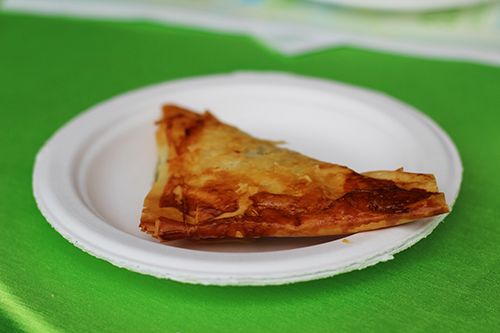 It's All Greek to Me is offering their spanikopita this year, and their version features an incredibly flaky and crisp pastry. The spinach mixture inside is quite creamy, and flavoured just right so it's not overly salty.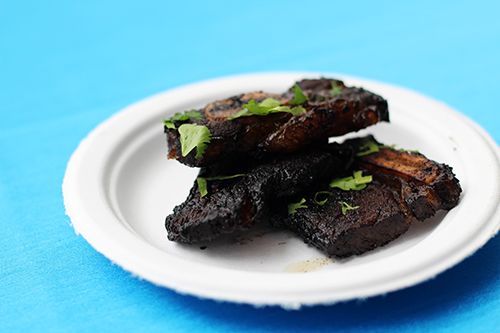 The North Shore Beef Ribs from Mercer Tavern were a huge hit all around at the media release. The Korean-inspired ribs had a nice char to them, and were flavoured with a soy marinade. These were a favourite of mine, and I definitely recommend ordering a large size of this too!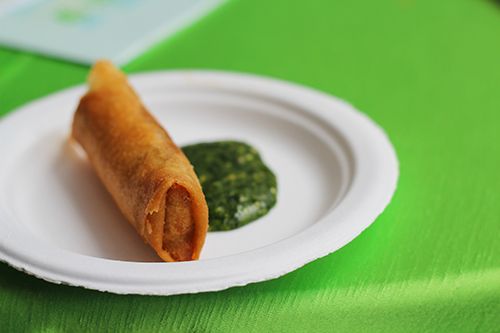 Partway through the event, Zinc decided to showcase their second dish for Taste of Edmonton: Crispy avocado roll with cilantro honey pesto. The spring roll was fried to a golden crisp, with a filling similar to that of guacamole. The pesto unfortunately didn't do much for me as I'm anti-cilantro, but the roll itself was tasty.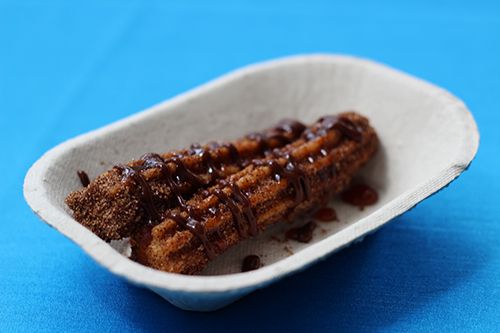 At the end of the meal, I finished off with some churros from The Three Amigos, covered in chocolate and caramel sauces. Unforunately, the churros were quite dry, which I think can be attributed to having made them in advance and storing them at the event. If they are made on the spot at the Taste of Edmonton grounds, the hot churros could be amazing!
Having had the chance to try out a variety of the food available to sample at Taste of Edmonton this year, I think it's going to be a great celebration of local restaurants - just cross your fingers that this rain we've been getting lately is ready to stop! The themed events at Sip N Savour are going to be a blast, so let me know if you're planning on attending any interactive sessions or dinners!
And don't forget to stop by on July 21 for the Black Box Competition to see yours truly competing!
Disclaimer: as this was a media preview event, views expressed in this post are solely mine. I was not expected to feature this event on my blog, nor obligated to do so. This post is 100% my opinion, and as always, my priority is to you, the reader, to present an unbiased, thorough review.