Recap: Indulgence 2013
June 21, 2013
After attending Indulgence last year, I wasn't sure whether or not I wanted to return based on my experience of the event. But when the time came to buy tickets - I jumped on that train and decided to give Indulgence another chance. For those of you new to the concept, Indulgence is all about celebrating local food and drink. Showcasing local producers and talented chefs. It's a night of food, wine, friends and full stomachs, and this year's event blew last year out of the water.

With all tickets being sold out in three days, it's amazing to see how much this city supports it's local food scene. At $62 per ticket, you're given access to dishes from 21 local restaurants and producers, and unlimited wine pairings. Best of all, this year's beneficiary of sale proceeds went to the Junior League of Edmonton - eating while supporting a good cause is something I would do anyday.

As most of these dishes can't be found in restaurants, take a peek down below and have a nice long drool - then hit up the restaurants in the near future to support local food!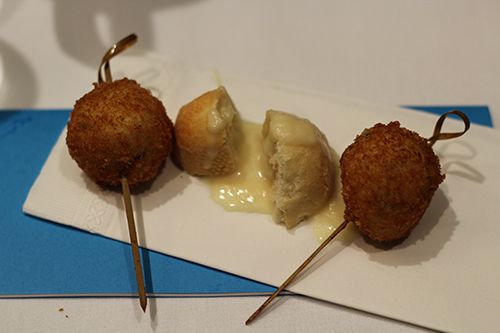 4404 Restaurant: chive & Sylvan Star Gouda arancini lollipop with Calliope Winery Sauvignon Blanc, gruyere cheese fondue. I love many of the cheeses from Sylvan Star, but my favourite has to be their grizzly gouda. It has a wonderful nutty flavour to it!

Cafe de Ville: Progressive Foods quick cooking barley, Edgar Farms asparagus risotto & barley beer nuts. This was my first encounter with the quick cooked barley, and I really enjoyed it's chewy texture. Edgar Farms asparagus is no stranger to me though - they produce amazing asparagus, and it's always quickly snatched up at the farmers market! So good. Seriously, give it a try!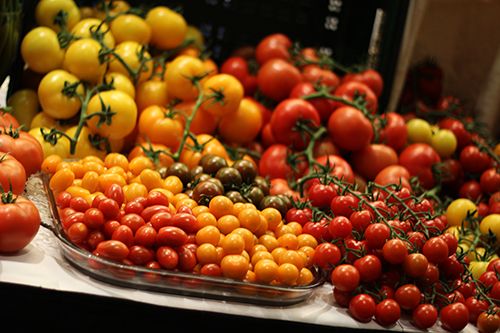 Beautiful tomatoes from Gull Valley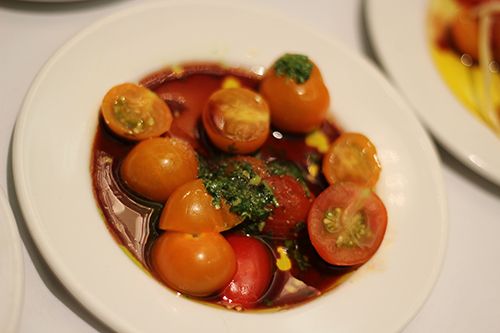 Culina Muttart: Prairie caprese salad: Gull Valley Greenhouse tomatoes, Sylvan Star Gouda, Mighty Trio Organics canola pesto and Yakimetz Farm saskatoon berry balsamic. Gull Valley tomatoes are some of the best around - I am currently obsessed with their zebra tomatoes! Such a great snacking tomato full of flavour and amazing texture. Pick some up on your next trip to the market!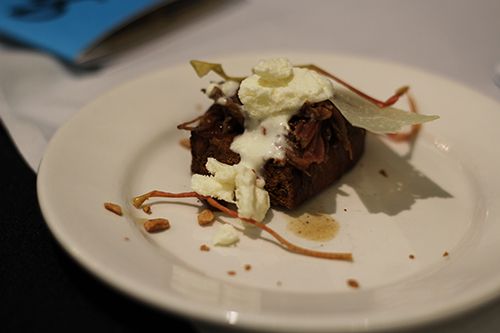 Edmonton Petroleum Club: Smoked walnut biscotti, The Cheesiry pecorino braised beef short ribs, pears, white chocolate & pecorino ice cream. This was my first savoury biscotti ever - totally interesting, but unfortunately a little on the dry side for me. The pecorino from The Cheesiry is amazing though - if you get a chance to try it out, please do!

Kitchen by Brad Smoliak: Ukranian 'Potsticker': pan fried perogies stuffed with braised, boneless Spring Creek Ranch short rib, Korean peppers, mushrooms and cabbage, a touch of sweet and a dallop of sriracha flavored creme fraiche. With Spring Creek's delicious naturally raised beef amped up with a kick of heat, I think this is how I'm going to eat all my perogies from here on out!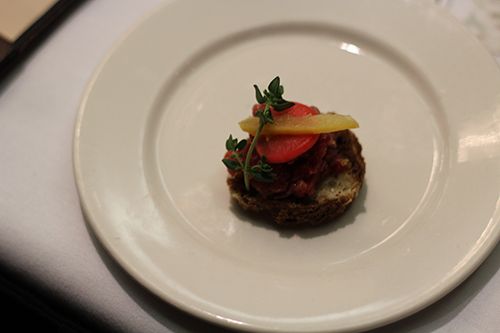 Lux Steakhouse & Bar: Four Whistle Farms lamb tartare, rye crostini, pickled radish, watercress and preserved lemon. Four Whistle's lamb is always tender and not too gamey. I really enjoyed the texture of the tartare, and you could taste the true flavour in the dish. Unfortunately, the lemon was quite dominant, and I would love to try this dish again with the citrus toned down.

Madison's Grill: Doef's Greenhouse panko crusted eggplant wrap stuffed with roasted red pepper and Fairwinds Farm feta. Accompanied with cocktail tomato and chili pepper naga. I wish the crust had been a little more crisp, but this dish was a great way to serve up eggplant differently. Doef's produces some amazing vegetables - I particularly love their heart shaped cucumbers! So cute!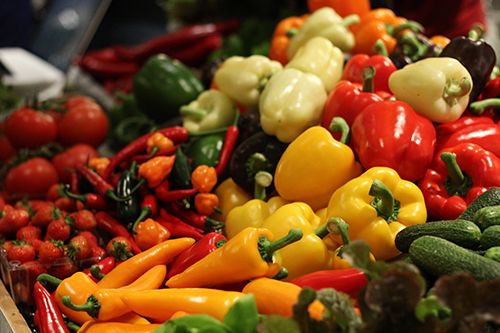 Beautiful array of veggies from Doef's Greenhouses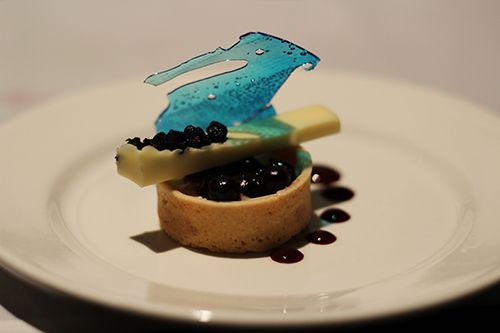 NAIT School of Hospitality & Culinary Arts: Berry Ridge saskatoon berry tartlet with saskatoon berry curd, saskatoon berry whipped mousse and saskatoon 'raisins'. Berry overload! But this one was welcome, as the berries starred in the dish with their natural sweetness. And how beautiful is that presentation?

XIX Nineteen: Pressed belly of Irvings Farm Berkshire pork, roasted red beet puree, pickled beets and apple puree. I honestly am not a fan of Canadian pork, as there is typically a stench to it. But Irvings Farm produces delicious pork products that I would eat any day. Chef Fung's pork belly was delicious - pork with a nice layer of fat and paired with the slightly tangy beets. Mmm.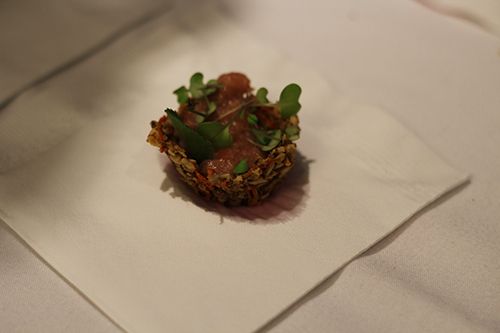 Noorish: Sundog Organics carrot and radish cup, filled with rhubarb-ginger chutney, jalapeno mint jelly and microgreens. This cute little nest had lots of different flavours to it, but I hoped it would be crisper. Nonetheless, unique and vegan.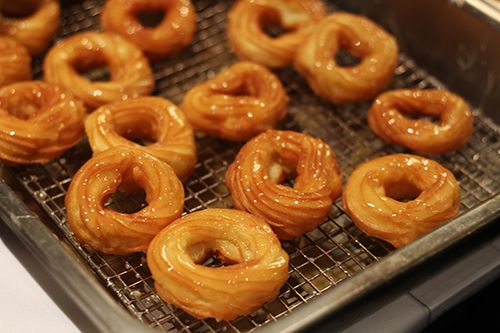 Red Ox Inn: Coal Lake honey cruller with confectionaries. I love the honey from Coal Lake, and it was awesome paired with this donut! I'm not a big fan of crullers, but this one was a little different, with a harder exterior and soft interior. This was a huge hit for the crowd, and showcased the delicate flavours of the honey well.

Select Restaurant: Leg of Tangle Ridge Ranch lamb roulade with black currants, pistachios and lamb jus. Not the best presentation, but the lamb was tender and the deep friend kale added a different element!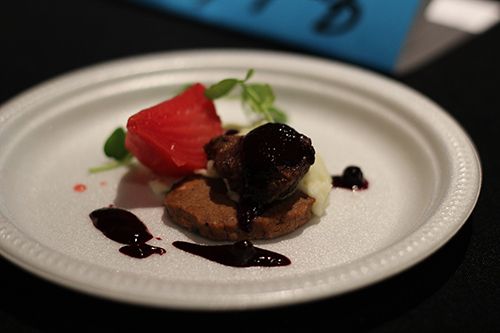 The Manor Casual Bistro: Belle Valley Farms braised Alpaca with smoked wild blueberry gastrique, neck rillette and pickled beet. Who knew alpacas were farmed in Alberta? I sure didn't! I found that alpaca has a similar consistency to pork - the braised alpaca was a little dry, but the alpaca confit piece was delicious! The pickled beet was also a great palate cleanser at the end.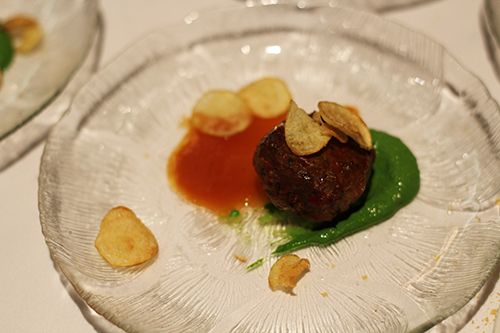 The Marc Restaurant: Planet B Farms Ile de France lamb merguez, kale and roasted garlic puree, tomato fumet and fingerling potato chips. I'd have to say this was my favourite dish of the night! The merguez was spiced just right, tender, and the purees really complimented the flavour of the lamb. If I could have this again I would!

Urban Diner: Philly style Pembina pork sandwich: braded spelt mini sub, Russian dressing, caramelized onion, peppers and provolone. At this point, I was pretty full, and the size of this sandwich was frightening! The pulled pork was tender and juicy, but just a little sweet for my liking.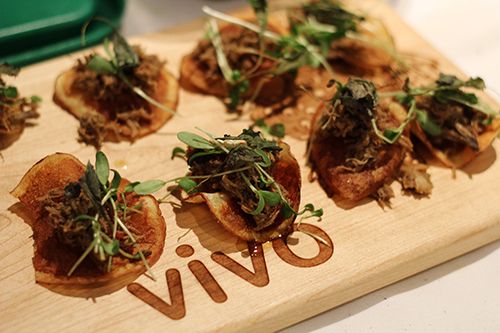 Vivo Ristorante: Greens, Eggs, and Ham pulled duck, red perfection potato chip, crispy mustard greens and fenugreek sprouts. The presentation was genius - one bite, delicious, and easy to eat. Anything with chips always grabs my attention!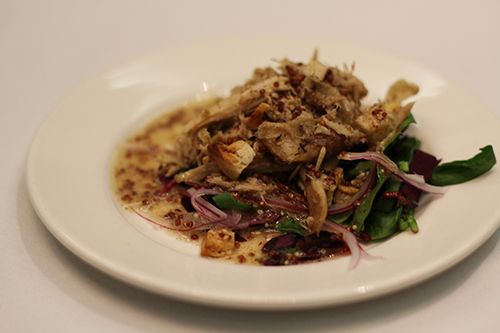 Von's Steakhouse & Oyster Bar: Nature's Green Acres pulled poached chicken with sage flavoured baby croutons, "almost burnt" butternut squash, hot bacon and mustard emulsion. The bacon fat was evident throughout, and the chicken was tender and flavourful. I loved the aspect of tangy grainy mustard too. Another favourite of the night for me!

Zinc Restaurant: Sunworks Farm chicken Mettwurst sausage with Stradivarius reduction. Whey brined smoked beef brisket, pickled cabbage, brioche dumpling. There were so many elements to this dish. The brisket was a little too smoky for my tastes, so I enjoyed the chicken sausage & brioche dumpling.
All in all, the night spent enjoying the food and company was great! Kudos to the committee and their commitment to the local food movement. Did you attend this year? Let me know what your favourite dish was that evening!

Thinking of attending Indulgence next year? I'll be seeing you there!