Hot Pot: Urban Shabu
June 05, 2013
I've always wanted a restaurant in Edmonton to be dedicated to shabu-shabu or sukiyaki. It's something I always seek out while I'm in Vancouver, cause there's nothing like it here! While there's places to have hot pot, sometimes I crave the soy-based broth and not the typical soup seen in Chinese hot pot. I know that Sabu Sushi Bar previously offered shabu-shabu, but I don't know if that's the case anymore. So when I saw the signs for Urban Shabu on 97 St. go up, I was really excited, hoping that there was finally going to be the place I had dreamed of!

Urban Shabu - 9700 105 Avenue - Edmonton AB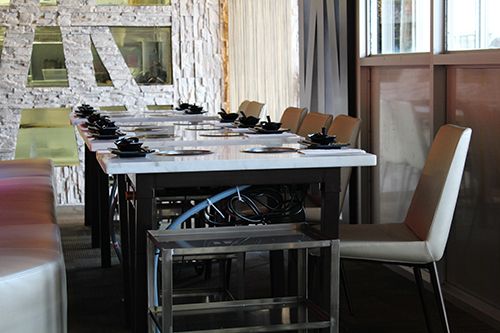 Urban Shabu has taken over the spot last occupied by Spicy Garden, which I used to frequent as a young child with my parents after Chinese school on Saturday mornings. It isn't really anything to be missed, but walking into this new restaurant made me appreciate all the renovations that were done. The interior is very modern, with marble accents and lots of interesting lighting. On the walls are pictures of various cities around the world, including London and New York - and the white furniture makes the place look and feel clean.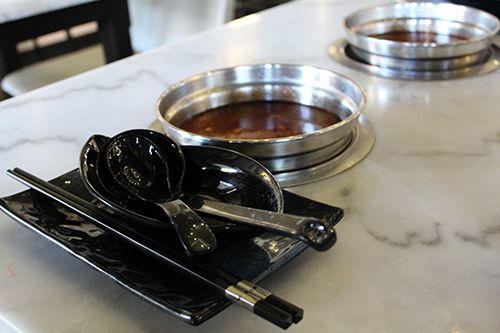 Urban Shabu is actually related to
Urban China
- the restaurants are both opened and run by the same owners, hence the 'Urban' in their name. Having opened just a few days ago, the restaurant was bustling with activity at 6:30pm on a Monday night. Many tables were full of patrons, talking and eating, while a handful of staff walked around helping to bring out food and clean up tables. Now, unfortunately for me, this isn't a restaurant dedicated to shabu-shabu. Instead, it's an all you can eat hot pot place, yet again. Can someone please make my wishes come true!?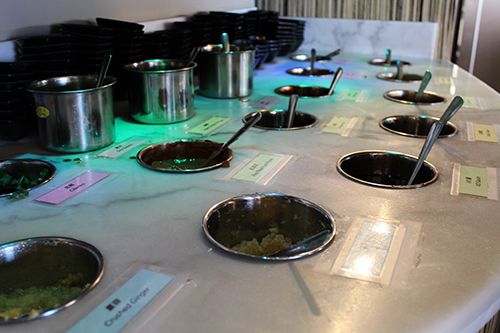 Anyway, Urban Shabu offers individual pots for each patron, with tables able to accommodate groups of 2 or 4, but tables can be pushed together for larger groups. Price wise, it's a little more expensive at $25.95 per person, with $2.00 per specialty soup base (chicken both is free), and no drinks included. Their sauce bar offers quite the spread of 16 options, including some special sauces like fermented red bean paste, oyster sauce & xo sauce. My one gripe is that they don't have fish sauce - always essential in my sauce mix!
Although the restaurant is a little more expensive, they have one of the most extensive lists for food that I have seen here in the city! I counted 90+ "raw" food items, and 6 cooked ones that you can order from the list that is included in the all you can eat price. They also offer some deluxe offerings like sliced geoduck (+$15) and fresh lobster or crab (+$ market price) if you so please. But based on the list included in the price, I was pretty happy with what was available on there. Notable item? Deep fried buns (man tou), which I loooooove to order when I eat Shanghainese! The soft buns are deep fried to have a crisp outer coating and soft interior, and served up with condensed milk. When warm, they're seriously delicious, and Urban Shabu doesn't disappoint!
Buns aside, the ordering system here requires you to peruse a sheet of items, and check off everything you want. Within 1-2 minutes of ordering, food starting showing up at our table! Talk about service. All the items were extremely fresh and thawed out if previously frozen (like beef balls & fish balls), but the shaved meats were definitely sliced upon ordering and sent to the table immediately. Items to note? The shaved lamb and beef were shaved paper thin and incredibly tender, while the lamb didn't have a strong gamey flavour. The white fish balls I also loved, because they were massive in size and had a nice 'elastic' bite to them. And I can't forget their shrimp - wow they were HUGE, literally the same length as my hand. The kitchen did send the ingredients out in smaller portions than I would expect, but for all you can eat, that may be better, as people tend to underestimate how much they can actually eat.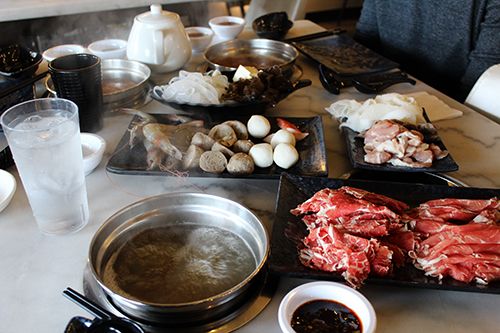 For the dessert crowd, Urban Shabu offers four different options after your meal: Japanese Style Sesame Balls, Sweet Tofu, Mango Creme Sweet Soup & Osmanthus Cake. I tried out their soft tofu (dow foo fa) which was very smooth and served likewarm with a light ginger simple syrup - a great end to the meal. I'm pretty curious about the sesame balls though, and will definitely try them out next time!
Although Urban Shabu isn't my dream shabu-shabu restaurant, I quite enjoyed my visit. The food was fresh, and individual cooking style gives everyone freedom to cook and eat at their own pace. I had the chance to try out their Tom Yum Goong broth which was very flavourful and I would highly recommend it as a soup base here. There are plenty of staff on hand and they're all very friendly as well - a huge bonus in a self-serve type of restaurant. Based on the environment, food, and service quality, I'd say the higher price is definitely justified. I'll be back when the weather is colder and I'm craving hot pot again, but in the meantime, for your visit, make sure to call ahead and make a reservation ahead of time!