Urban China
July 28, 2010
I had some relatives from Vancouver come up to Edmonton for a surprise visit this past week, and for my family, that meant going out for dinner. The Chinese cuisine in Edmonton isn't all that great, so it was hard choosing a place that would be appropriate to bring our guests out to. To my surprise, my mom and aunt decided to pick Urban China - very surprising since neither of them had been there before! Their reasoning was that dinner on a Monday night would be much better than on the weekend. Less business = better service = better food! They're smart.

I had heard and read from others' experiences that this restaurant was a little more on the expensive side for Chinese food, and taste of the food was a hit or miss. As a family, we chose to order their Peking Duck set meal for $208 - not bad, since it was meant to feed around 10 people, or 11 in our case.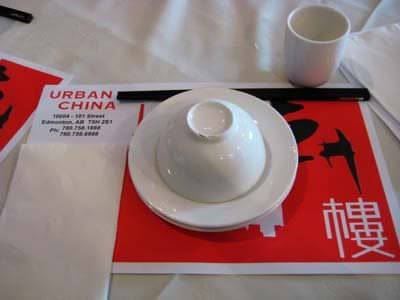 Settings at the table
Most set meals in Chinese cuisine feature the same type of food, so I won't be explaining every single course in the meal we ordered, but rather I will describe some of the dishes I thought were cooked very well, or had some degree of difference or unique quality to them.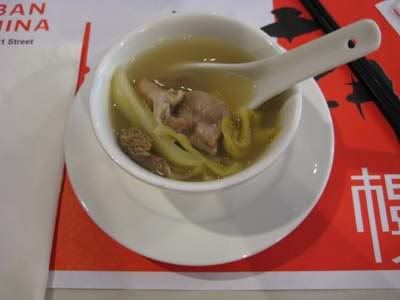 Pork Stomach and Pickled Mustard Soup
In most Chinese set dinners, it begins with a soup. The soup accompanying this meal was a "Chiu Chau" style soup, made with pork stomach and pickled mustard. I'm definitely not a fan of pork stomach, but pickled mustard on the other hand.. yes please! The soup was lovely, the seasoning to the soup was great to cover the usual prominent taste of pork in the soup, and the light broth was great to start off the meal.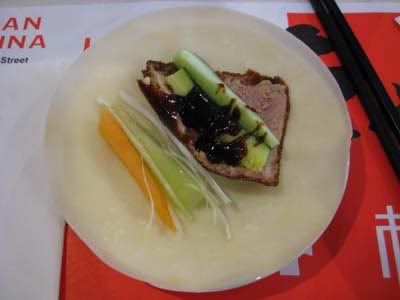 Peking Duck Wrap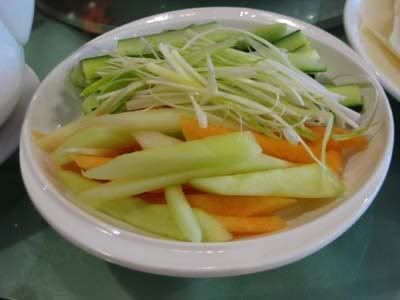 Toppings for the wraps - including honeydew and cantaloupe!
Our first course was BBQ duck, and it would be served through two different dishes. The first dish we had was the traditional peking duck wraps. Normally this dish is garnished using carrots, cucumbers and green onion. Here at this restaurant, we were given the choice of cucumbers, onion, cantaloupe and honeydew! It was so unique, and surprisingly, the sweetness of the melon was a great pairing for this dish to offset the saltiness of the hoi sin sauce.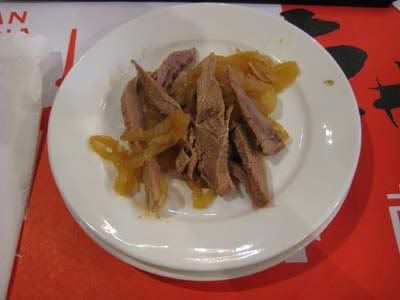 Duck & Jellyfish
The second duck offering was presented as a duck meat and jellyfish mixed together. I thoroughly enjoyed this dish, as the jellyfish was cut into thick strips, and cooked perfectly to maintain the elasticity of the jellyfish. And while I talk about this - is jellyfish considered to be a seafood? I really don't know..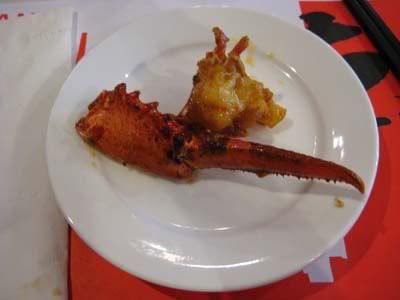 mmm Lobster!
Our dinner also included a lobster course. This one here was really interesting - instead of the normal cream-based sauce and noodles, this one was cooked with a completely different sauce. It tasted almost like a satay-based sauce, and was very delicious. I don't even like lobster and I thought this dish tasted very good.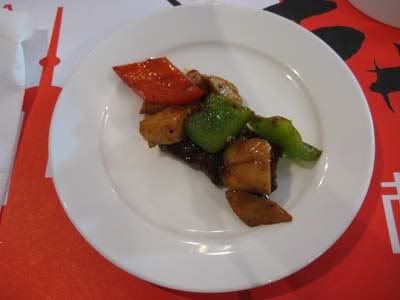 Stir fried beef with bell peppers & king mushroom
Another interesting dish in our meal was a beef dish, in which the beef was stir fried in a spicy sauce with bell peppers and king mushroom pieces. The coolest part of this dish was the king mushroom - it looked like tofu, but once you bit into it, it had a very interesting texture. The outside was a little tough, but the inside was soft and chewy. It was a nice contrast in texture when compared with the tender beef, and crisp peppers.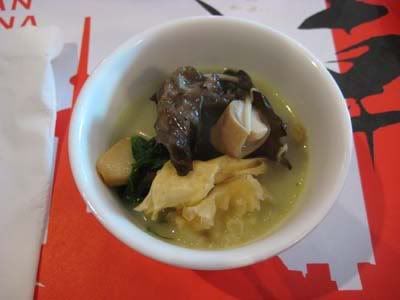 Second soup for the night :)
A second soup in our meal was a fish based broth, which included snow pea tips, grass mushrooms, wood ear fungus, snow ear fungus, and bamboo. It was a nice twist on the usual snow pea tips with abalone mushrooms in broth!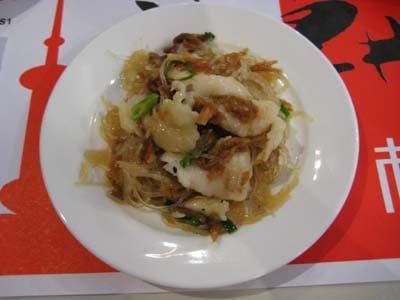 Steamed fish with glass noodles
And onto one of my favourite dishes from the night - steamed fish fillets served on top of glass noodles. This dish was one of my favourites because it was flavourful, and a very unique way to present the fish. The noodles were al dente, and the salted vegetables garnishing the fish gave the perfect saltiness to the dish.
All in all, the meal was great! I will be back again for sure in the future :)
Urban China
10604 101 St NW
Edmonton AB