Basil Leaves are Great.. Not Only For Cooking! [CLOSED]
July 29, 2010
Yesterday, after studying at the library, I met up with one of my good friends, Dan, for dinner. We originally planned to try out Samurai Bistro located downtown, but to our dismay, the restaurant was closed when we got there! So instead, we headed around the corner to a Vietnamese restaurant called Basil Leaf.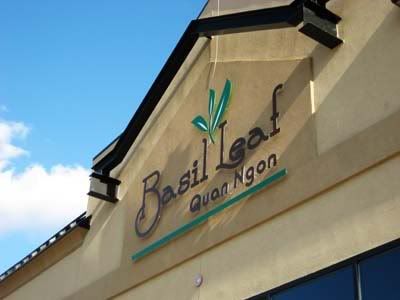 Basil Leaf Restaurant
Basil Leaf has been open for a while now I believe, as Vince and I had made a prior visit sometime in March of this year. It's located where the old Chinese supermarket "shun fat" used to be (I have no idea what the English name was, because I was always told in Chinese!). That supermarket burned down twice I believe, and now this restaurant is located in one unit of the rebuilt building. The building is still empty with the exception of this one restaurant. Let's hope it doesn't burn down, cause I really like this place!
From the outside, you would not get the impression that the restaurant would look the way it does on the inside. The decor is very well done. It's modern, and of all things, this restaurant also features a sports bar! When we arrived though, the place was relatively slow, so we didn't get to see whether or not there was a dinner rush.
So as we sat talking about the past and present, the waiter was very eager to take our order, likely due to the fact that there was not much business and he was a little bored! Dan ended up ordering the pho dac biet, while I got pho bo vien (?), the one with just beef balls, because there was no tripe option! Boo!

My pho with beef balls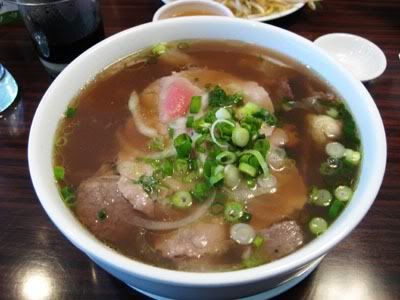 Dan's pho dac biet
However, once our dishes arrived, I was more than pleased! It was one of the best pho soups I've come across lately, and I personally think it could rival the broth at Tau Bay. The soup was flavourful, and not overloaded with msg since I wasn't really thirsty after the meal. The noodles were cooked perfectly, not too hard and not too soggy, while the beef balls were chewy and seasoned well. Dan also agreed with me on the soup, so everyone go check out this restaurant!
The prices are very reasonable for what you get, as the bowls are much larger than those at pho hoa, and are priced around $7.50. They also have an assortment of vermicelli bowls, spicy soups, and rice offerings as well. The only thing that really bothers me is the area the restaurant is located in. It's right by the Hope Mission, so there are some questionable people in the neighborhood. Be careful when you go :)
Basil Leaf Kitchen & Sports Lounge
10023 107 Avenue NW
Edmonton AB