Vietnamese Japanese Fusion: Maki Maki
July 01, 2010
Yesterday to boost my motivation to study for MCAT, I booked a lunch & study date with Andrew - Our choice for lunch? Maki Maki! Vince and I had visited this location for lunch once before, but we were definitely on the fence about this one..

"Maki maki means roll roll" as quoted from their menu, and right they were. They had approximately 60 different options for sushi rolls ranging from your everyday california roll to the ecstacy roll (which Vince did not enjoy on our first visit), and a locally named Oilers roll. We met up Vince to have lunch and give this mix of Vietnamese and Chinese food a second try.

For lunchtime, they had some specials, like bento boxes ranging from $8 - $11, filled with various sushi rolls and sashimi options. I myself opted for the lunch special pho, which was a HUGE bowl of pho dac diet (and yes, I picked out everything except the beef & tripe.. mmm)

For me, beef tataki is a must, so we obviously ordered that, and gave their dragon eyes a try as well. Andrew chose the tuna bowl, and a yam roll, while Vince like his usual self tried to be adventurous, but settled on the BC roll and the spicy scallop roll.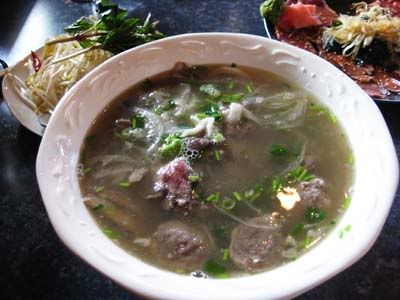 Pho Dac Biet
The pho itself was GINORMOUS. I felt like it was an extra (extra extra, perhaps?) large bowl of pho, loaded with the works that you usually find in the pho dac biet. The meat offered inside was mediocre, in some bites I felt the beef was a bit on the tough side, but otherwise it was good, especially for the lunch special price of $7.25. Of course, it's pretty difficult to find very good pho in this city, especially when Tau Bay downtown is one of my favourites :)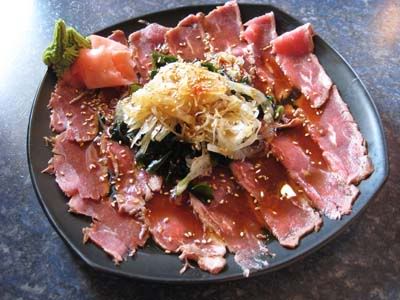 Beef Tataki
For the beef tataki, we ordered the small plate at $8.95 rather than the large for $18.95 because we had no idea what we were getting into. However, the beef tataki was a decent size, and could almost be argued to be my favourite dish from this meal! The beef was nice and tender, not hard to chew, and there was a more than generous amount of seaweed and onion to compliment the beef in the ponzu sauce.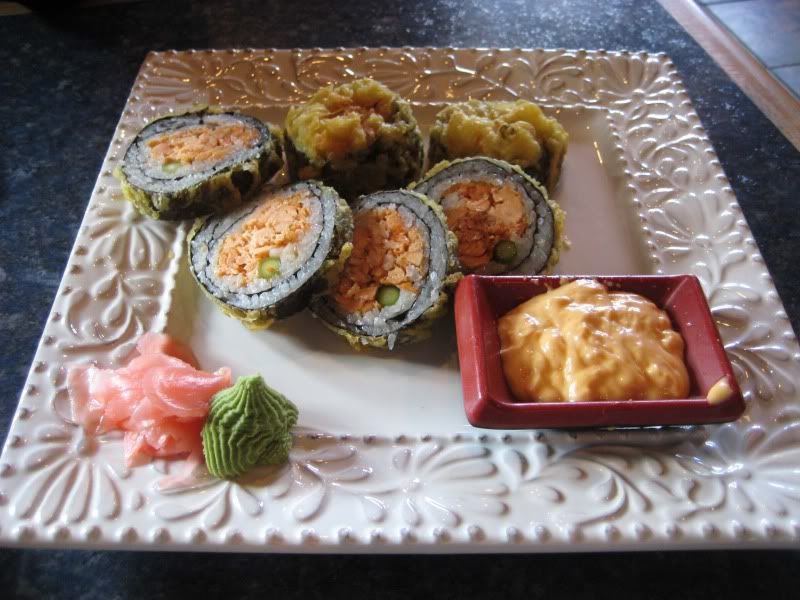 Dragon Eyes
Dragon Eyes, another one of my favourite sushi dishes was a big disappointment for me here at Maki Maki. Perhaps it is because it has been so perfected by Mikado that it's untouchable? Does anyone know anywhere else that makes Dragon Eyes in this city? Let me know! Anyways, the salmon in the Dragon Eyes was way overcooked, and very dry. If it weren't for the big bowl of sauce served with the Dragon eyes to compensate for the dryness, I don't think we would've been able to finish this sushi dish.
I guess I'm interesting when it comes to sushi.. I love the raw beef tataki, and tobiko and masago (fish roe) I would eat anyday, anytime, anywhere. But when it comes to raw fish? Gross! No thanks! So I had to leave it up to Vince & Andrew to review the raw seafood sushi for me.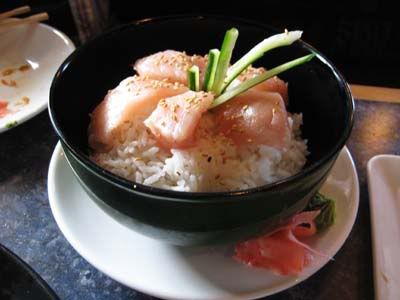 Tuna Bowl
The tuna bowl came with 5 big chunks of tuna sitting on top of rice. Thats it. Just 5 pieces of tuna and rice. For the price point of $10.95, you're better off ordering the tuna nigiri priced at $1.60 each so you're not forcing yourself to eat all that rice!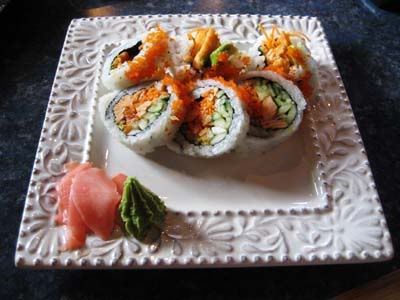 6 pc BC Roll
Like the Dragon Eyes, Vince's BC roll had overcooked salmon, making the sushi extremely dry. The boys didn't complain about the spicy scallop or yam rolls, so I'm guessing those were pretty tasty! All in all, it was a decent lunch, but not somewhere I would prefer to go for sushi or pho by themselves.. but it's always a fun place to go when you have people in your group craving either or!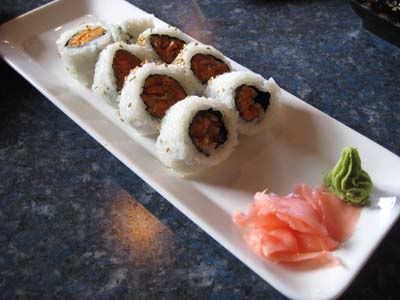 Yam Roll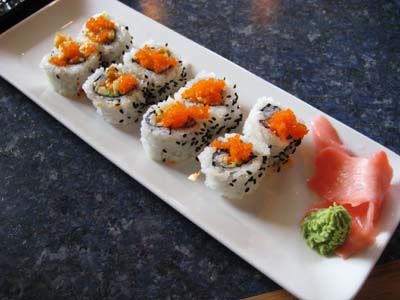 Spicy Scallop Roll
After hitting up the local Second Cup in Riverbend, Andrew and I studied for MCAT at the library.. or did we? Ask David.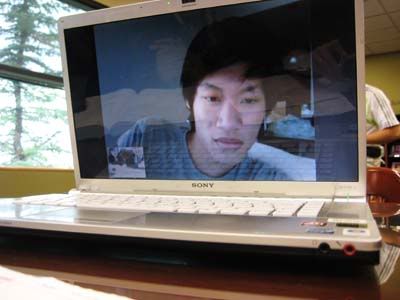 Hi David - thanks for supervising us at the library over skype :)
Maki Maki Japanese & Vietnamese Restaurant
8109 101 Street NW
Edmonton, Alberta