Lee House + Tasty Choice = Fun With Friends
July 10, 2010
Last Thursday, I desperately needed the motivation to help me study for MCAT, so Andrew & I met up once again at the library to study.. only this time, David wasn't around to surpervise us ;) While studying, Andrew's amazing eyesight caught glimpse of this book:



Let's Find Pokemon!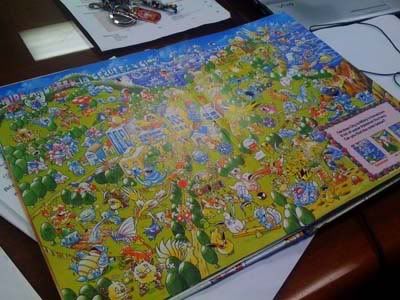 Can you find them? Hahaha
So cute & fun, and it brought back childhood memories trying to find the pokemon in the midst of all the colour on the page!
For dinner, we met up with Crystal and headed over to one of my favourite Korean joints, Lee House. With the heat wave hitting the city, it was impossible to order my favourite jjam pong without feeling like an absolute fool! Therefore, we agreed to order some other classic Korean foods - jap chae, gam poong ki, kal bi and something different, mul nam yeong.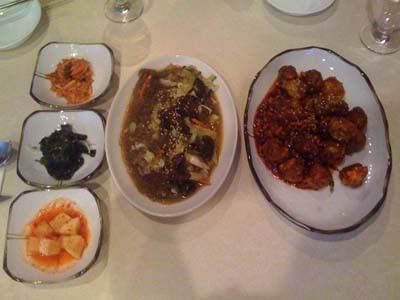 Banchan side dishes on left, followed by jap chae and gam poong ki
Traditionally, Korean restaurants and typical Korean families serve small side dishes with their meals to accompany the food, or to be paired with rice. On this particular night, Lee House chose to serve kimchi radish, kimchi cabbage, and a seaweed salad. All three were great, and I love that they were bottomless! The jap chae at Lee House is my favourite in our city, because it has a unique flavour to it. It's almost like they use a lot of ground black pepper in it to give the noodles some heat, and the noodles never get dry, sticky and clumped together like the jap chae found at other restaurants. Definitely a keeper! Gam poong ki (technically kung pao chicken) is also very unique to lee house. The chicken here is formed into a ball and deep fried before being tossed in the sauce. It's the perfect combination of sweet, salty and sour - but if you ever order this dish, make sure to have a couple people with you because the portion is quite big!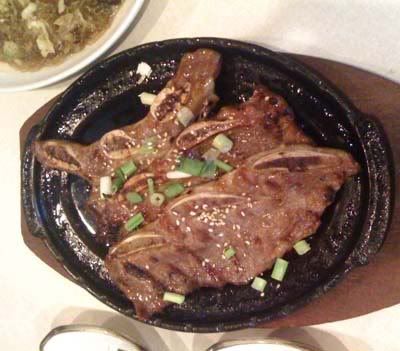 Kal bi - BBQ Short Ribs
Kal bi, otherwise known as BBQ beef short ribs is another favourite of mine when it comes to Korean food. The beef is nice and tender, and I'm a big fan of the tendon/connective tissue that is found right around the bone (I know it might sound gross, but hey, I'm Asian :P). The ones at Lee house are good, but in my opinion definitely not worth the price! After cutting up the pieces according to the number of bones, we counted a total of 8 pieces for $17.00 - I'd rather buy my own and fire up the barbeque at home!

Mul Nam Yeong
And last of all, we ordered Mul nam yeong from Lee House's summer menu (available from June - August). This dish was basically buckwheat noodles served with pickled radish, egg, and beef slices in an ice cold beef broth. This was PERFECT for the summer heat! It wasn't spicy at all, but rather refreshing and cleansing to the palate. The buckwheat noodles remained nice and chewy since they were sitting in a cold broth, preventing them from being cooked any further. Yummy!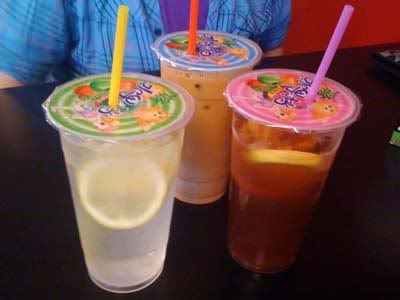 Lemonade, HK Style milk tea, lemon tea
To finish off the night, we picked up some drinks from Tasty Choice on the way home. Great night!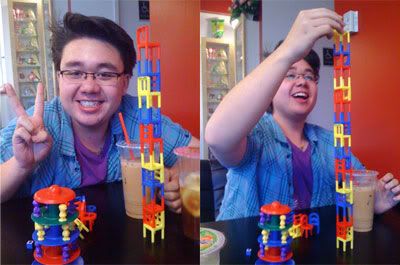 Andrew with his stack of chairs @ Tasty Choice!