Phobulous Eats
July 24, 2010
After our usual Friday pre-dinner drinks with co-workes at O'Byrnes, I had a ridiculous craving for pho despite the heat of the summer sun. The closest pho place we could think of was Phobulous - so we headed there since we haven't been in a long time.

When we arrived it seemed as if the restaurant was closed since the parking lot was nearly empty, and the neon light of the open sign didn't seem to be shining. I was hoping not to look like a fool by pulling on the door, and sure enough the door swung open! I guess the open sign didn't seem to be on due to the bright summer sun shining right back at it.

Once the door opened, I could smell the fragrant scent of the beef broth being boiled, and we were seated promptly by a new waitress. One thing I have noticed about this restaurant is the constant changing of staff running the restaurant. I swear I never see a familiar face each time I walk in there! Nonetheless, the waitress was very friendly and seated the two of us promptly while the other waitress brought us our water - all in the timespan of 30 seconds.

The thing I really love about this restaurant is their creativity in their play on words. Practically all of their pho offerings include the word pho, such as the 'mother pho', 'pho real' and 'pho shizzle'. Besides the change in staff, I also noticed the recent change in decor. The restaurant used to feature scenic portraits and more modern looking furniture, but now there are paintings and photographs taken by local artists hung up on the walls, available for purchase. It's great to see that this restaurant supports local talent!



Such a creative name :)
While perusing menu (I already knew what I wanted) I noticed a new forest-green coloured piece of paper stuck to the inside of the menu, advertising some weekend specials, which included a northern Vietnam spicy noodle soup. Despite being adventurous, Vince was unable to order the dish since they didn't consider Friday as a weekend day (but they consider Monday??? So weird. I'm guessing it is possibly since there may be leftover items from the weekend available!)
I ended up ordering the 'phonomenon', which is pho with rare beef & beef balls, while the waitress recommended a sate hu tieu bowl to Vince. Hu tieu is a little different from traditional pho, where a pork broth garnished with chives and crisp fried shallots is used instead of beef broth. Service was great, so we didn't have
to wait long before our orders arrived steaming hot!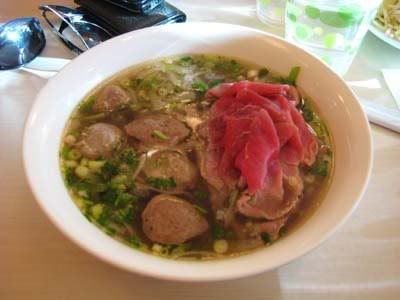 Phonomenon - pho with rare beef & beef balls
My pho bowl was 'phonomenal' as usual, with the tender beef slices and chewy beef balls (I wish there was tripe!), and seemed to be a much bigger portion than normal. Maybe it's due to the fact that I am too used to seeing the dinky portions being offered at other Vietnamese restaurants in Edmonton! What I was most interested in, however, was Vince's hu tieu sate.

Hu Tieu Sate served in two separate bowls
As the waitress brought over his food, it was served in two separate bowls. The large bowl contained the noodles topped with fried sate chicken, chives, shallots and vegetables, and filled with very little soup. This was accompanied by a smaller bowl of the pork based broth on the side. She said that normally the dish is served as one, but she felt that having the two separate really brought out the flavour of the sate.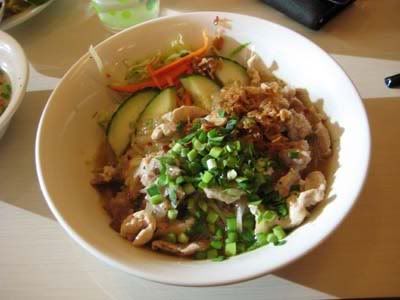 Let's get a little closer..
I found his dish to be very flavourful as well, and a nice change to the usual beef soup. The hu tieu broth is markedly different, capturing the true flavour of pork, and a little saltier than the usual pho soup. Either way, it was a delicious meal and I thoroughly enjoyed myself. The next time I go, maybe I'll be seeing some familiar faces again.. at least I hope so :)
Phobulous
8701 109 Street
Edmonton AB