With every vacation comes a long list of foods to try and restaurants to visit. I'm the type of person that travels to eat and fits in exploration and activities to fill the time between meals. My honeymoon in Maui was no different, as my husband and I arrived on the island armed with a list of 30+ places to hit on our 10-day trip. Instead of giving everyone a long, drawn-out list, I have put together a guide with our most memorable meals for you to enjoy on your trip to Maui.



Spam Musubi, a must-have when in Hawaii!
---------------------------------------
Thai Mee Up Food Truck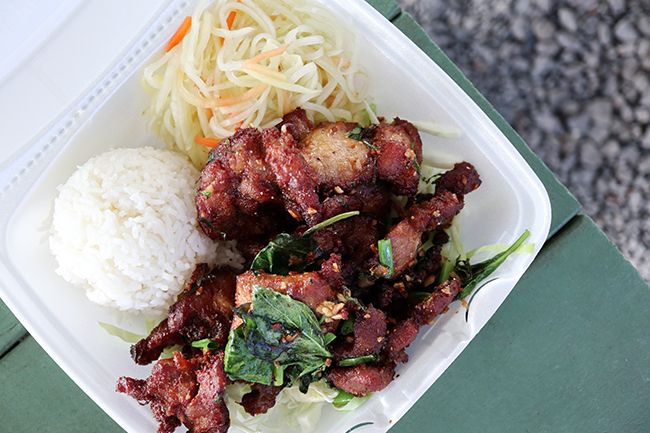 Don't fill yourself up on too many in-flight snacks because you will want to walk off the airplane with a healthy appetite! Right around the corner from the Kahului Airport and across the street from Costco is a gathering of food trucks at Plate Lunch Marketplace, with menus that will have you salivating. This area is a semi-permanent spot with covered seating and space for 5-7 food trucks, making it a great first stop to eat! The trucks offer everything from fish tacos to poke to açaí bowls, but we were on a mission to try the dishes from
Thai Mee Up
. We were instructed by a friend to try the Fried Pork Ribs ($12) and Pad Thai ($10), both of which definitely satisfied. The pork ribs were tender, juicy, and so flavourful - I would absolutely recommend. Portions were generous and we had leftovers for the next day. You can find the truck at 591 Haleakala Highway, Kuhului.
Leoda's Kitchen & Pie Shop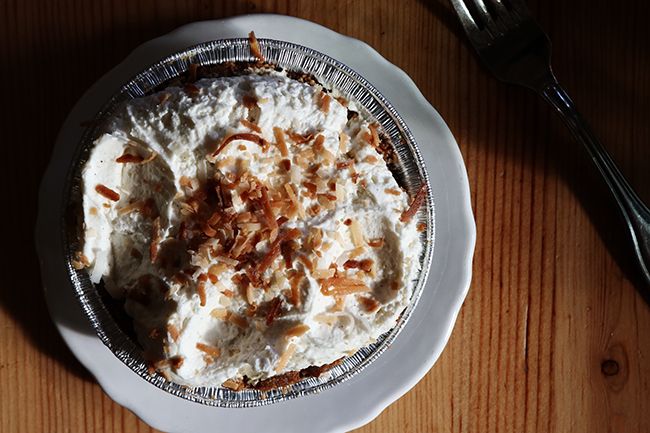 Driving along the Honoapiilani Highway to the West side of Maui brings you through Olowalu, home to
Leoda's Kitchen & Pie Shop
. This gem is in a bit of an unassuming spot and is easy to miss if you aren't paying attention. Trust me, Gordon and I were so mesmerized by the ocean that we didn't even realize we drove past! Leoda's casual eatery offers breakfast, lunch, and dinner, but the pastry case is where you want to direct your attention. There's a giant assortment of sweet and savoury pies, but we went for the classic Coconut Cream & Banana Cream pies ($4.75 each). Both had an enjoyable crust, creamy custard, and just the right amount of sweet whipped cream to top it all off.
Star Noodle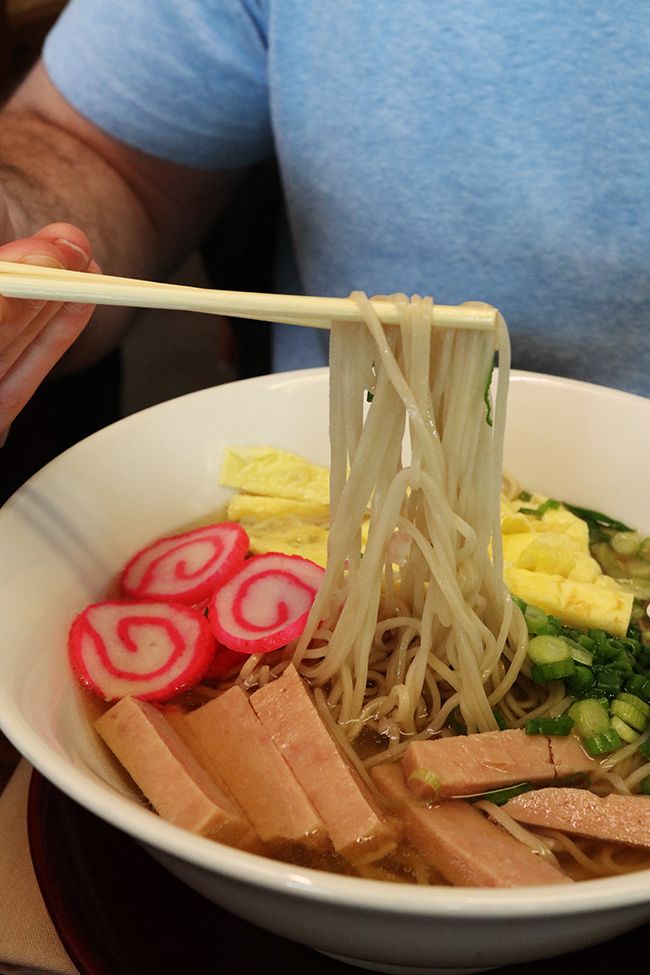 As a self-proclaimed noodle lover it wouldn't be right if I didn't have a bowl or two while in Hawaii.
Star Noodle
in Lahaina was high up on my list of places to try as they serve fresh house-made noodles for lunch and dinner. We arrived to a packed house in the late afternoon, but luckily the turnover was quick and we didn't wait long. Star Noodle makes all their ramen, saimin, and udon noodles in-house and there's many different preparations for every noodle on their menu. It was a tough decision but we ordered the Local Saimin ($10) and Star Udon ($10), both of which were simpler in preparation to allow the noodles to shine. The saimin had a nice toothy bite while the udon came with the doughy chew that is expected. I wish we had more time on our trip to return and try more dishes, so we'll definitely be visiting again in the future. If noodles are your thing I'd definitely recommend a reservation, if you can score one!
Morimoto Maui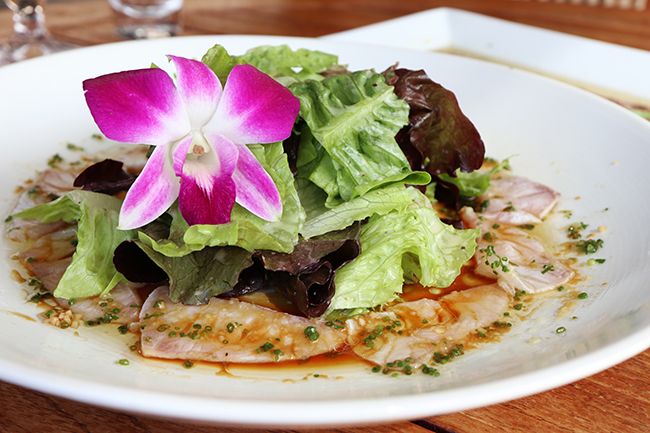 Being located in the middle of the Pacific Ocean means Hawaii has access to some of the freshest seafood, so we made sure to indulge. I grew up in the Iron Chef era and was always a big fan of Masaharu Morimoto, so a visit to his restaurant was in order. Located within the beautiful Andaz property in Wailea,
Morimoto Maui
has an incredible unobstructed view of the beach and ocean. It's truly breathtaking and the lunch we splurged on made the experience even better. The sushi and sashimi were incredibly fresh, beautifully plated, and ranks as some of the best we have ever enjoyed.
Flatbread Company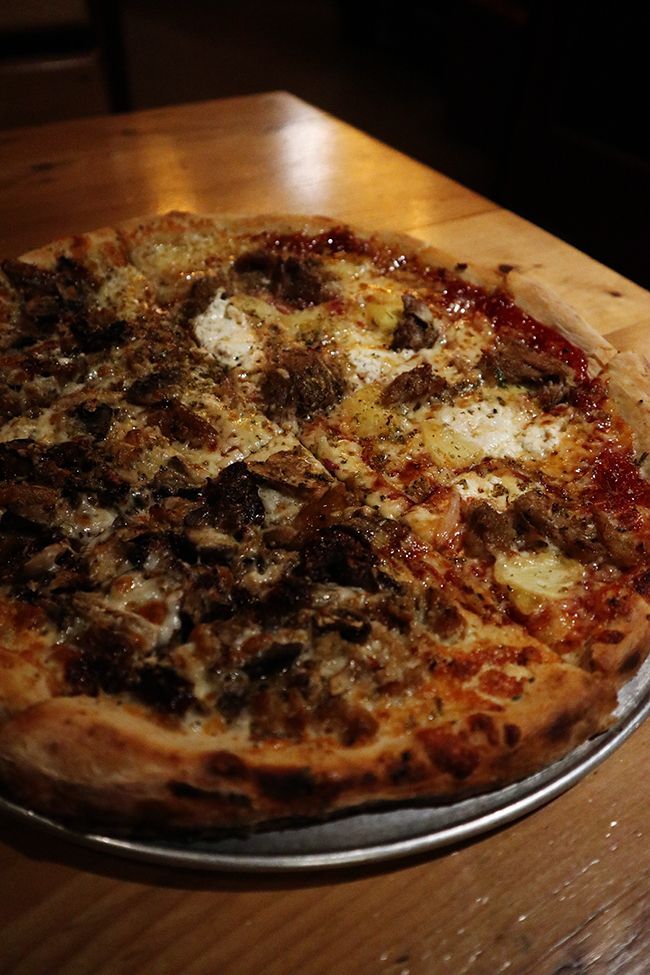 After a long day driving the Road to Hana and back, you'll need some sustenance.
Flatbread Company
should undoubtedly be a pit stop on your way back to your accommodations on the island. This humble pizza restaurant is committed to sourcing local sustainable and organic ingredients, and fires up all their flatbread over wood fire in their stone and clay ovens. Although thin and crispy, the crust had a pleasing chew and the flavour combinations all sounded delicious. We opted for a half/half of the Homemade Sausage and Mopsy's Kahlua Pork flatbread, and to this day I still think about the phenomenal pairing of the smoked pork shoulder and sweet Maui pineapple.
Tin Roof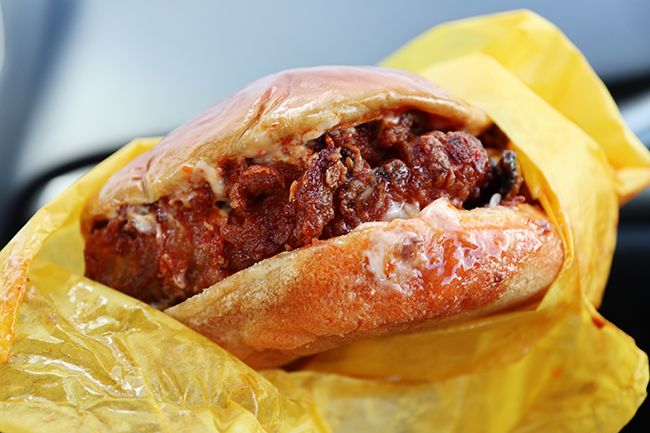 When you're on the hunt for a quick and casual lunch spot, look no further than
Tin Roof
. Owned by celebrated Chef Sheldon Simeon, Tin Roof offers a fresh take on Hawaiian lunch favourites that are sure to pack a punch to your taste buds. This grab & go spot offers daily specials and a core menu, and after trying almost everything they offered over two separate visits, there was not a bite we did not like. But if there's
one thing
you can't leave Maui without trying, it's the Spicy Chicken Sandwich ($7). The ultra crispy chicken thigh smothered in spicy aioli and served inside of a brioche bun is worth the flight alone.
T Komoda Store & Bakery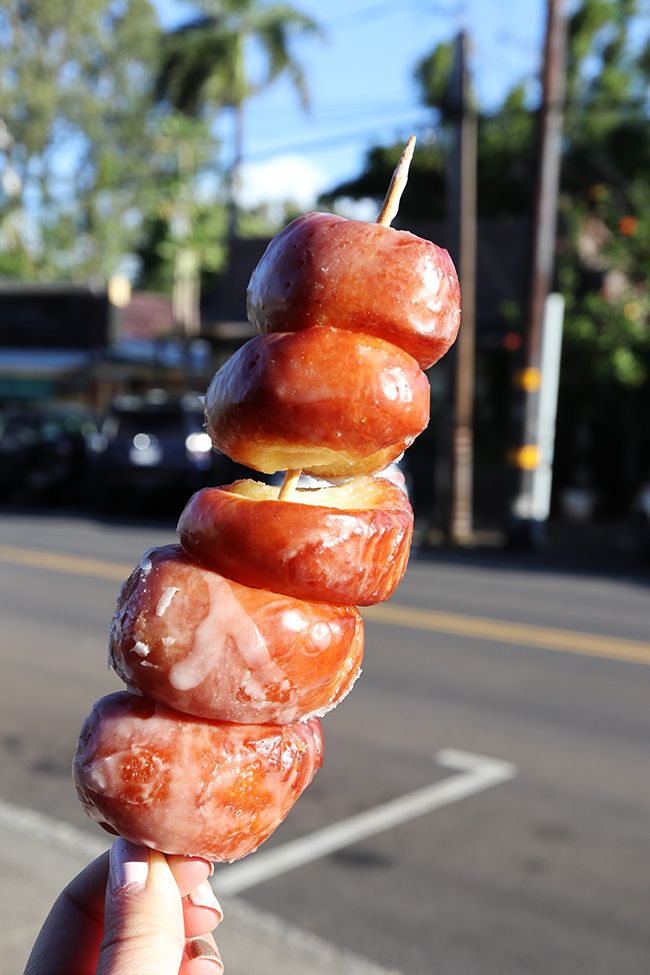 After spending the early hours of the morning above the clouds watching the sunrise on Mount Haleakala we made our way into the old cowboy town of Makawao for some sweet pastries. Komoda Store & Bakery is a favourite of locals, specializing in a handful of baked goods such as guava malasadas, cream puffs, and stick donuts. The stick donut might look silly, but it's an item you don't want to pass up. The soft, fluffy donuts dressed in a thin icing are little bites of heaven! Service is quick and friendly and the baked goods sell out fast, so make sure to stop by early in the morning.
Tamura's Fine Wine & Liquors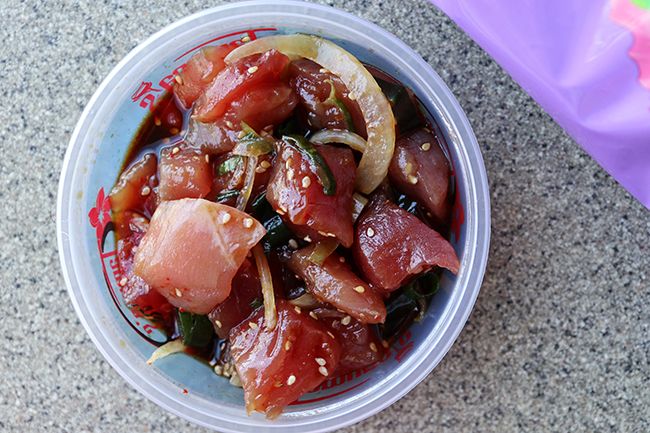 If you aren't leaving Hawaii a couple pounds heavier due to eating too much poke, you are missing out. Poke shops can be found throughout the island and poke by the pound is available in grocery stores, but did you know you can even get your poke fix at the liquor store?
Tamura's Fine Wine & Liquor
is home to wines, liquors, packaged snacks (hello rice crackers and li hing mui candies!), and has a poke counter tucked away at the back of the store. Given the variety available, you would think you were at the deli counter in a grocery store! At Tamura's you purchase your poke by weight, or you can have a poke bowl built to your liking. You can try before you buy, and Tamura's had some of the freshest poke we tried on the island.
Ululani's Hawaiian Shave Ice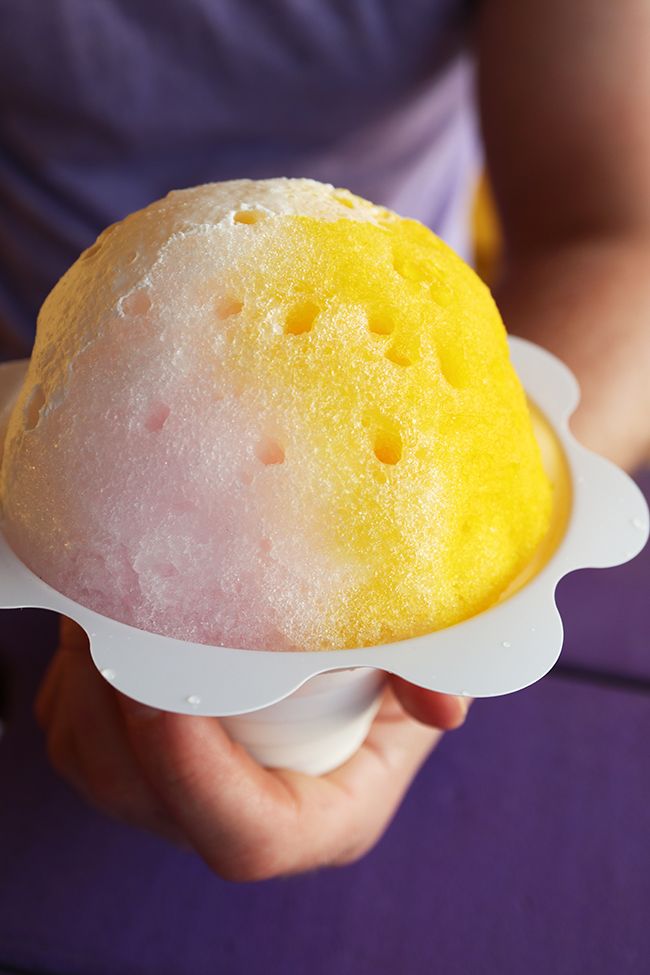 Under the heat of the sun, digging into a mountain of shave ice is one of the best ways to cool down, and
Ululani's
has you covered with seven locations in Maui. The syrups are made with real fruit and cane sugar, so there's nothing artificial here. Pick from one of their signature combinations or build you own, either way it's a delicious, refreshing treat any time of day.
Lineage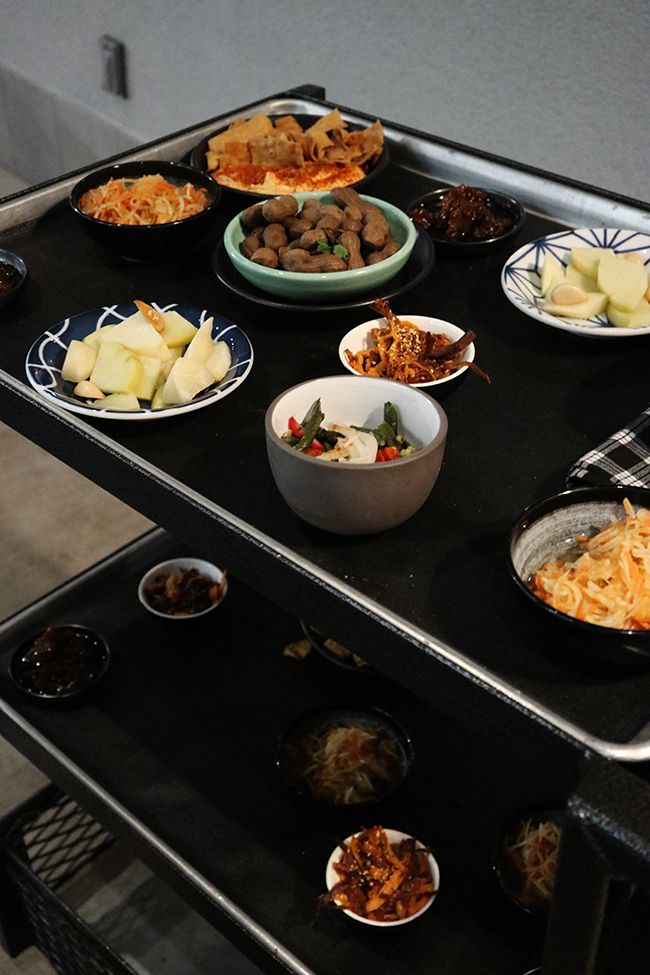 Our final dinner in Maui turned out to be the best meal of our honeymoon, so if you're heading to the island soon you absolutely need to pay a visit or two to
Lineage
. It's another restaurant from Chef Sheldon Simeon, but the offerings are very different from those at Tin Roof. From start to finish we had a spectacular meal, learning a little bit about the history behind the dishes that showcase chef's heritage and upbringing. While the menu has changed since our visit, I'm happy to see that some of the standout dishes are still available on the menu. Do yourself a favour and order the Chicharon with Chili Pepper Water and try some of the Poi Mochi. You can thank me later.
Dining our way around the western portion of Maui allowed us to get a taste of what the island has to offer, but there were so many more places we have yet to explore. The island has incredible ingredients, traditional recipes to share, and everyone we encountered had so much respect for what they take and use from the land and sea. This list is just a small representation of what you can find and are places we wouldn't hesitate to visit again on a future trip! Whenever you're headed to Maui next, follow your nose and you'll be sure to find something ono. And if I missed your favourite spot be sure to let me know!