Weekend Brunch for Downtown Dining Week 2019
March 05, 2019
March in Edmonton is always a delicious month as diners can look forward to the Downtown Business Association's annual Downtown Dining Week. This year from March 8th - 17th you can enjoy prix-fixe menus for lunch ($18), dinner ($30/$45), and weekend brunch ($18) at the 49 participating restaurants in the downtown core.




For 2019,
Downtown Dining Week
has gathered a record number of participating restaurants for the 10 day event. It's a great time to try out a new restaurant or visit your favourites, as the multi-course menus are attractive and the prices are very reasonable and often feature dishes that aren't on the regular menu. While weekday schedules may not always accommodate time to dine out, I'm happy to share that for the first time ever, 11 restaurants will be offering $18 two-course brunch menus on both weekends over the course of the dining week. Weekends were made for brunch, and I've got a little sneak peek of some of the dishes you can find on menu this year during Downtown Dining Week.
------------------------------------------
Blue Plate Diner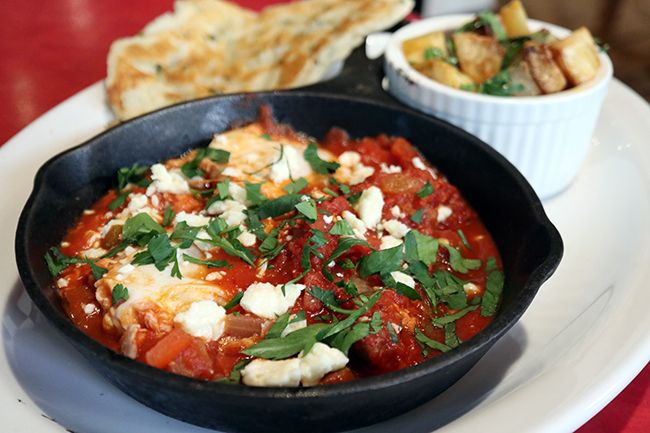 The
Blue Plate Diner
is a staple on 104 Street, serving up globally-inspired comfort food for lunch, brunch, and dinner 7 days a week. For weekend brunch during Dining Week they are offering Harissa-Spiced Shakshuka paired with an Orange Juice Mimosa for $18. The shakshuka is fragrant with a touch of heat and features 2 eggs simmered in a North African tomato sauce. Finished with crumbled feta cheese, it is delicious served with pillowy Turkish flatbread and crispy Lebanese-style potatoes. This dish won't be around for long as it is an off-menu special for Downtown Dining Week.
Central Social Hall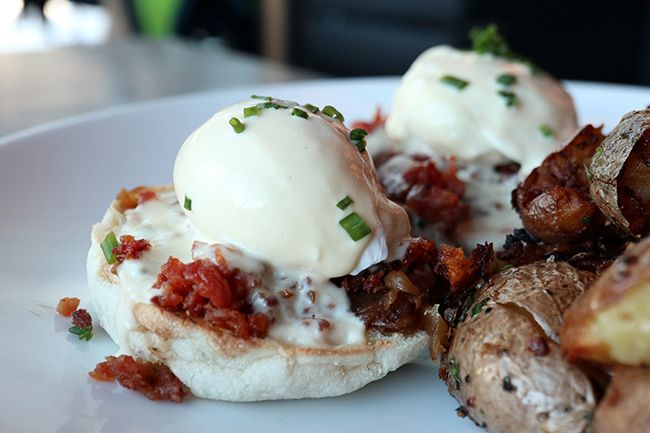 At the corner of Jasper Avenue and 109 Street you will find
Central Social Hall
, which is more than your average restaurant or bar. It's a gastropub where good food, drinks, and friends come together any time of day to unwind and enjoy the social atmosphere. For Downtown Dining Week, Central Social Hall is offering a two-course brunch for $18. You have the choice to pair Belgian Waffles, The Cure (an incredible brunch poutine), or the Oil Country Benny with either Made-to-Order Doughnuts or Nutella Cheesecake. I know what you're thinking - the choice is difficult!
The Oil Country Benny brings together locally-sourced Italian sausage, bacon, caramelized onions, and two perfectly soft poached eggs on English muffins. Finished with a roasted poblano and white cheddar sauce, the sweet and savoury notes are a winning combination. The dish is served with house greens or crispy potatoes, and I recommend the latter - you can trust me on that one.
As part of Downtown Dining Week, Central Social Hall has partnered with
Herbologie
, a new local spice merchant in Edmonton, on one of their desserts. The Made-to-Order doughnuts come as an order of three and are deep fried and rolled in icing sugar that's mixed with Herbologie's cinnamon from Tanzania. The doughnuts aren't your usual light and fluffy doughnut holes, but rather are a little heavier and remind me of little fried bread balls. The cinnamon has fragrant notes of pine and citrus which are enhanced by the rosemary anglais dip. They aren't much to look at, but the textures and flavours make them a must-have to round out your brunch.
Craft Beer Market
Craft Beer Market
is a great casual spot to grab a bite and a beer (there's over 100 available on tap!) in the downtown core. For Downtown Dining Week you can get a three-course brunch for $18, which is seriously good value. Start your meal with locally sourced yogurt, then choose breakfast tacos, a taquito skillet, or a farmhouse benny and finish with snickerdoodle waffles or housemade cookies. The Red Racer IPA Taquito Skillet was calling my name and the dish was well worth the calories. The crispy taquitos with tender pulled chicken were cheesy and had a nice kick of heat to them. Combined with the soft poached eggs and creamy guacamole it's a dish I could indulge in over and over again.
DOSC Restaurant
DOSC Restaurant
(Drunken Ox at Night Sober Cat in the Morning) occupies a beautiful space in a heritage building along 104 Street. Cafe by day and restaurant by night, DOSC is offering three two-course options for $18 during Downtown Dining Week. I opted for the Brisket Benny which features Montreal spiced brisket on an English muffin and is finished with a maple hollandaise. The pulled brisket was moist and tender and the subtle hints of maple in the velvety hollandaise was delightful. The accompanying fresh fruit bowl was beautifully filled with mangoes, blackberries, raspberries, blueberries and gooseberries and was topped with a light syrup. It's a brunch combination that's indulgent but not too heavy.
If you are a brunch lover there are plenty of great options during Downtown Dining Week. Head on over to the Downtown Business Association's website to browse the
full menu listings
from the 49 participating restaurants and start making your dining plans - most restaurants accept reservations too!
There's also some exciting events that have been planned over the 10 days for the public to take part in that you may be interested in:
Wherever you make your reservations, happy eating! And Happy Downtown Dining Week!
*Disclosure: This post is sponsored by the Downtown Business Association. Views expressed in this post are solely mine. This post is 100% my opinion, and as always, my priority is to you, the reader, to present an unbiased, thorough review.