When it comes to Filipino food there are only about a handful of choices available in our city. I will admit I'm not the most familiar with Filipino dishes, but I'm always up for trying something new.

Kanto 98 St. Eatery - 10636 98 St. NW - Edmonton AB


Lucky for us there's a new spot in Chinatown where Chef Edgar Gutierrez (one of the minds that brought us
Tres Carnales
and
Rostizado
) is serving up his take on modern Filipino street food. In Tagalog Kanto means "corner" (where two streets meet), or a busy area in Manila where vendors serve Filipino street food. So if you ask me, the name is perfect for this new eatery. Joining great spots like Tau Bay Restaurant, Van Loc Submarines and Ruby's Bakery, Kanto has found its home on 98 Street.
As you walk into Kanto you really feel the modern, hip vibe of the space. A vintage photo of Edgar's mother back in the Philippines greets you at the door, and Filipino artwork from the 60's mixed with comic book characters from Edgar's childhood adorns the walls. Mix in some hip hop beats and it feels like you're dining at the coolest spot in town.
Garlic Fried Rice
Kanto offers fast-casual service in which you place your order at the counter and your dishes are brought out to you as they're ready. The menu splits its offerings into BBQ, baos, bowls, and a handful of sides. The menu seems small, but the flavours pack a punch. The restaurant has been open for just over 1.5 months and I've eaten my way through the menu over three separate visits. Sharing of plates is highly encouraged, so to get a better taste of the menu bring a few friends for lunch or dinner.
The Chinese term 'bao' is a bit ambiguous as it can refer to a few different food items, but the bao at Kanto are similar to the Taiwanese 'gua bao' in which meat and condiments are sandwiched between a flat steamed bun, resembling a taco of sorts. Bao have become increasingly popular over the last few years and I love that Chef Edgar is putting a Filipino twist on them. Each order comes with three portions, each on a light and soft steamed bun.
The Bao Bae ($15.50) features Kanto's crispy fried chicken garnished with pickled cucumber, spicy red pepper mayo, fried garlic and green onions. The flavours come together nicely, and since the mayo is made with bird's eye chilis it gives the bao a real hefty kick. It's my favourite of all the baos on the menu as I love the contrasting textures.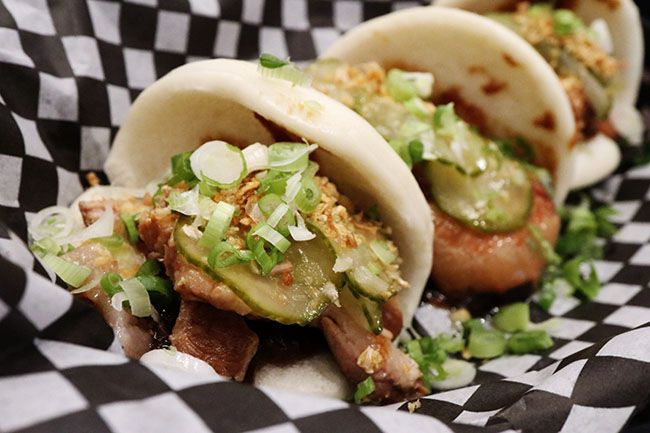 The Bao Boy ($15) on the other hand features a savoury and tangy pork belly braised in soy and vinegar, finished with fried garlic, pickled cucumber and green onion. The pork belly is so flavourful and literally melts in your mouth as you bite into it.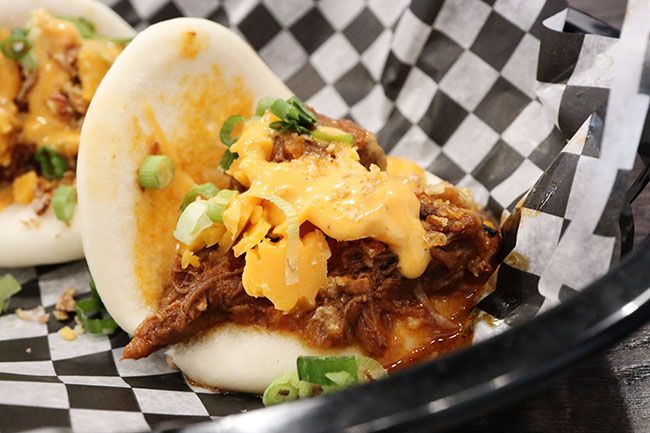 The Karabao ($15) is similar in texture to the Bao Boy with its fork tender braised beef, but the flavour is markedly different as it mimics the flavours of a classic beef kaldereta stew. Tomato puree, red pepper mayo, fried shallots, green onion and keso (cheese!) round off the flavours to this tasty bao. If you love this bao filling you can order it as a bowl of kaldereta served over rice.
When I see fried chicken on a menu, it's almost impossible for me not to order it. Kanto's take on fried chicken is supposed to be a mix of wings and thighs (the wings being a full wing with the tips) (3pc $5.60/6pc $11.25) available in original or spicy. Unlike a lot of fried chicken out there, Kanto's version is just lightly coated and fried very crispy, so you're not biting through a thick crunchy layer of batter before hitting the meat. The resultant fried chicken isn't overly oily and stays crispy for longer when coated with the sauce. While the original flavour is well seasoned, I love the spicy version - it's well-balanced between savoury, tangy, sweet, and not overly spicy. Order six with half original and half spicy to decide which flavour you like!
When it comes to BBQ meats I'm a bit of a sucker for pork belly. The Liempo ($13.50) is marinated, grilled, and sliced into generous chunks. The pork belly can be quite fatty, but in this case fat is flavour. Each piece is rich and tender and you get a bit of smoky flavour from the grilling process. The pork belly is also served with a small bottle of vinegar that has been steeped with garlic, shallots, and chlli, which you can use to flavour the pork belly and cut through the richness of the fat.
Talangka Fried Rice
On my first visit to Kanto our server recommended that we add a side of rice to our Liempo, so we went with the Garlic Fried Rice ($7). I'm not usually one to eat a lot of rice, but I would fight you for this dish at Kanto. This isn't your ordinary fried rice - Chef Edgar wanted to give his fried rice the same crunchy texture you find in rice at the bottom of the rice cooker pot. The resultant dish is garlicky, full of umami, and has great texture with its chewy crispy bits. To add a bit of funk a small pipette of fish sauce can be added - I recommend squeezing the contents all over the rice.
In the last few weeks Talangka Fried Rice has made it's way onto the menu, which is an amped up version of the garlic fried rice. In Filipino culture Talangka refers to a very small river crab. Being so small they do not have any substantial meat to them, but they are instead savoured for their deep yellow tomalley (fat + roe). The addition of the talangka gives the rice a nice colour and some added depth of flavour, but it's quite subtle so I didn't find a big difference between the two fried rice offerings at Kanto.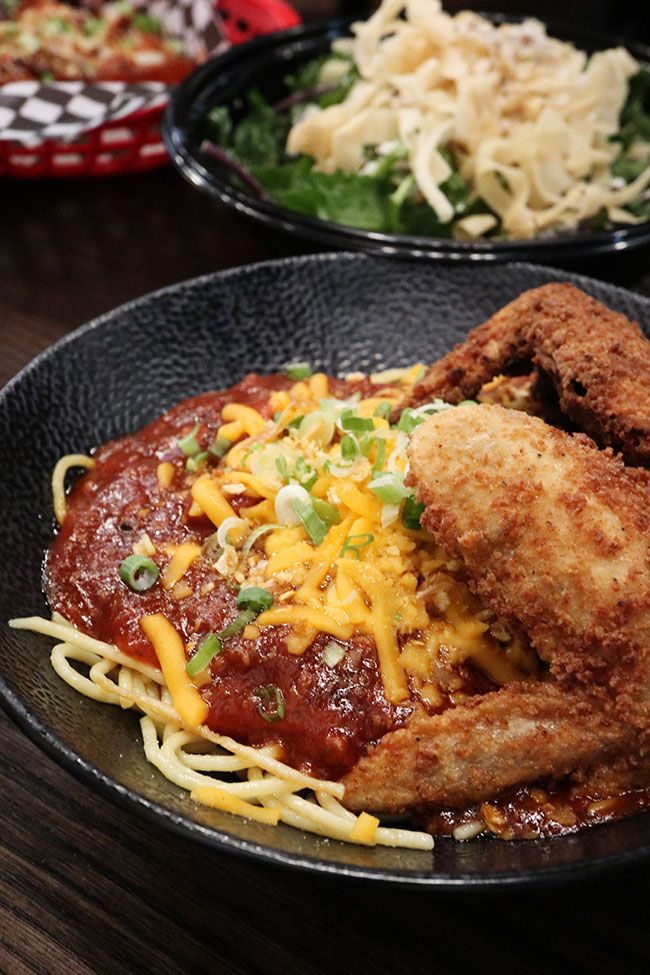 Another recent addition to the menu is the Spaghetti & Chicken ($16), which is Kanto's take on Filipino style spaghetti made famous by the fast food chain
Jollibee
. I grew up eating my parent's versions of spaghetti sauce with soy sauce added into the mix, but the Filipino take is quite different. The tomato sauce base is sweet due to the addition of banana ketchup, which came about in World War II due to a shortage of tomato ketchup and a high production of bananas. The banana ketchup is literally a combination of bananas, sugar, vinegar, spices and red dye, so it isn't your typical ketchup, but it's uniquely Filipino. You will either love or hate this style of spaghetti, but I like it since it has such a fun twist to it. With hot dog slices, cheese, and fried chicken it feels more like a dish for kids, but I can see how nostalgic this dish can be for an adult.
Given the quality of the dishes here at Kanto and the rise in chefs supporting the
Filipino Food Movement
I wouldn't be surprised to see more establishments open up in the city in the next year. Filipino food is definitely one to watch and Chef Edgar and his team are bringing killer dishes out of the kitchen. At peak times it's going to be harder to find a seat in the restaurant, but Kanto is fully equipped to do takeout orders and has partnered with some food delivery companies to get dishes right to your door. Price points are fairly standard for dining out, but I highly recommend bringing a group of friends to try out a bigger portion of the menu.
Kanto is working towards a liquor license, some new dishes, and cold desserts (namely, Halo Halo) for the summer, so there's lots to look forward to. I'll be coming back on the regular - I just Kanto get enough!