Manicure Monday: NARS x Pierre Hardy Sharks Left
June 03, 2013
Hi everyone! Hope you've had a wonderful past couple of days - I feel like I completely fell off the face of the planet and left social media behind over the weekend. It was kinda nice spending lots of time with friends out and away from the big city. I spent time in a tent sleeping under the raining sky - the sounds and temperature was soothing and relaxing. Ah, back to reality.


One of the products making a lot of buzz in the nail polish world right now is the gorgeous duos released by NARS in collaboration with Pierre Hardy. When I first laid saw the whole collaboration, the makeup products were pretty, but my eyes were drawn to the gorgeous polish duos. I absolutely love the contrasting duos, and can't wait to share when I've picked up with you!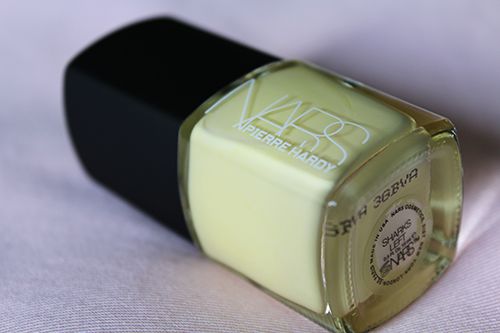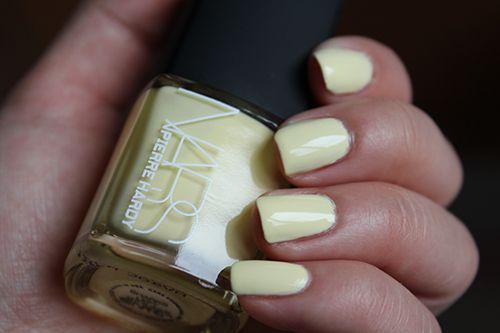 Each duo has just one name, with one polish being 'left' and the other being 'right'. So this week on my tips, I have Sharks Left, which screams Spring to me. It actually kind of resembles the shade of pollen that comes out of pine trees - which totally showered all over me this weekend while running around trees (gross) - but nonetheless, the colour is a lovely pastel yellow. The shade itself is quite light, and could actually lean towards looking chalky on some skintones, and it gave my skin a darker appearance. What I unfortunately wasn't too impressed with though was the formula: it was thicker, and streaky upon application, requiring a full three coats to achieve a smooth, opaque coat. After two days of wear, I started to see my first chips, which also wasn't too impressive, as they progressively became worse over the week. I'm hoping its just this one colour that has wear issues, as the polish certainly isn't cheap at $33 CAD/duo! We'll find out with Sharks Right next week!