Escape with Me: A Week Spent with Ford
March 10, 2013
If you follow me on Twitter, you may have known I was given the opportunity to drive the new 2013 Escape for a week courtesy of Ford Canada. I definitely live up to the Asian stereotype and drive my Civic from day to day, so driving a non-Asian manufactured car was never really in my plans. It was a totally unexpected opportunity, but I was up for a change to ride around in an SUV! And to tell you the truth, as an avid Amazing Race fan, I knew that the Escape came with park assist and a hands free lift gate which I was beyond excited to try out.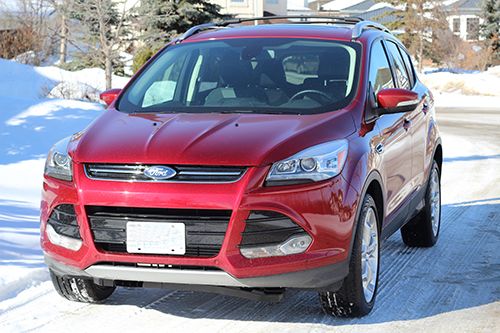 Being a student and shopaholic, there's not too much I want out of my vehicle. I need it to get me from point A to B, have a smooth ride, be fuel efficient, and have a large enough capacity to carry my day to day needs and lots of shopping bags after a stressful day at school (I am totally serious). Aesthetics are a major bonus too - what? I'm so vain.
So let's start off with the looks and feel. The new design of the Escape is much sleeker than those of the past, and is equipped with headlights comprised with bright strips of LEDs. The vehicle itself didn't feel too big, but there was plenty of space in the interior for both the driver and passengers to be comfortably seated, with plenty of headroom to spare. The interior was lined with soft-touch plastic and glossy trim here and there, with seats covered in a smooth leather. The dark interior was contrasted with beautiful blue lighting (so pretty at night!), and the MyFord Touch system was integrated in the centre of the console.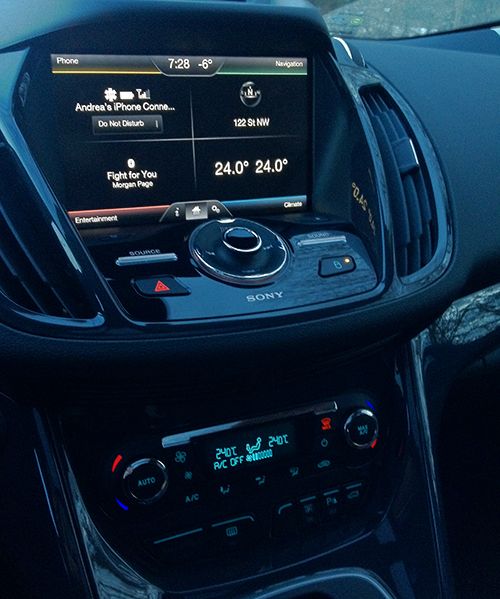 The touchscreen system was easily accessible, and very easy to use. Synchronization with my phone to play music and make calls was quick, and the built in navigation system and dual climate control was pretty impressive. This vehicle utilizes a Sony system with amazing sound quality, so you can imagine I was blasting music everywhere I went. The only difficulty was that the Bluetooth synchronization with my phone wasn't always automatic, and I had to play around with disconnecting and reconnecting my phone more than twice during that week.
Being a top of the line vehicle, I would say the Escape was very technologically advanced. From quick heating seats to keyless entry and a push-start ignition, it was equipped with a rear view camera, front and rear sensors with audible alarms, blind spot sensors and cross-traffic sensors. Talk about awesome, as I didn't have to worry while driving this larger vehicle since it was looking out for my safety, too! I found the blind-spot monitoring system to be a little faulty, as it kept sensing the side of the bridge I was driving on as a vehicle.
I will admit to being a little (okay maybe more than a little) speed demon on the road, and I loved that the Escape was able to accelerate and keep up with my jam packed schedule when rushing from school, to work, and home. The 4WD provided great traction on the road in icy spots, and it felt really safe driving around corners and turning at higher speeds. After spending a week with the Escape, I've gotta say that I quite enjoy driving SUV's. Being able to sit up higher allows for a better view of the road, and the smooth ride of this new vehicle really helped ease the frustrations driving over Edmonton's pothole-d roads. Seriously, I think we are the pothole capital of Alberta.
One of the coolest features for me had to be the Active Park Assist, where the car completes parallel parking for you. I was worried having to parallel park a larger vehicle, but the programmed parking assistance was AWESOME! You control the speed, while the vehicle controls the turning of the wheel. The first time was a little frightening, seeing the wheel turn right before my eyes, and the car was parked tightly into a space I never would've attempting parallel parking into. So cool.
Another great feature was the hands-free power liftgate, where a simple wave of your foot under the trunk of the vehicle unlocks and opens it for you within seconds. When your hands are full of groceries or shopping bags, not having to juggle everything to fish for your keys out of your bag or pockets is so convenient. The trunk is also quite roomy, giving me enough space to stow my junk (backpack, purse, random shoes and clothes, textbooks) and even make a power trip to Costco - my family has weekly apocalypse shopping trips there, and the trunk space stood up to the test!
Being both a student and having a shopping problem pretty much means I need to see where I spend my money. As listed for the Escape, fuel consumption is 9.8L/100 km in the city, and 6.9L/100 km on the highway. This to me was amazing, considering my Civic performs just slightly better. However, for a week of city driving (and a little bit of my speedy habits), I had used up 3/4 of a tank of gas, putting my driving at about 13-14L/100km. While its not terrible, its good to keep in mind that the numbers don't exactly line up. There are many models of the Escape out there to choose from, and for the week I was driving around in the 2.0 L EcoBoost Titanium 4WD model. With all the extras included, the vehicle came out to just under $43 500 (excl. GST), which isn't exactly a price I would be willing to pay. However, most models start at $21 500, and the options added on top are up to you.
I did really enjoy spending time driving the 2013 Ford Escape, and was pretty sad to have to give it back after a week. The smooth ride, integrated technology and aesthetic appeal really grew on me - test it out for yourself and see what you think.
Disclaimer: This vehicle was provided courtesy of Ford Canada. I was not expected to feature this vehicle on my blog, nor obligated to do so. This post is 100% my opinion, and as always, my priority is to you, the reader, to present an unbiased, thorough review.