A New Face on Jasper Ave: Japonais Bistro
March 07, 2013
A couple weeks ago while I was allowing the internet to entertain me, I came across an ad for a new Japanese restaurant opening up in Edmonton. Replacing the recently closed One One Eight was Japonais Bistro, promising modern Japanese cuisine & a sake bar. After that initial exposure to the ad, I saw it over & over. Their marketing worked really well in their favour and they hyped up the anticipation for their opening.

Japonais Bistro - 11806 Jasper Avenue - Edmonton AB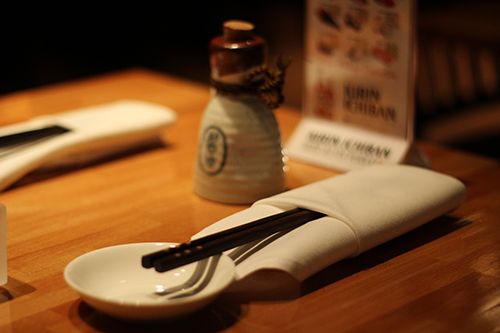 While their grand opening is slated for March 8th, I noticed that they were running a couple "pre-opening" nights of dinner service, so I found a friend willing to venture out to check out their menu. I never had a chance to visit One One Eight while they were around, but I have to say regardless of how much renovating was done, the interior of the restaurant is lovely. The dark furniture, rustic brick walls and large mirrors work really well with the dim lighting. The place is clean, and still smells like paint, but after being broken in, this is going to be a great location for a nice dinner date.
The menu was quite extensive, and intriguing to say the least. With lots of options, I probably stared at the menu for a good ten minutes, not really knowing what I wanted to eat, but wanting to try out a lot of dishes! If anything, they seem to be leaning towards rolls as their specialty, with 20 different options available. There are also lots of fun appetizers too, so there's definitely something for everyone. To start off the meal, we had Beef Tataki ($12.95):
seared beef, fresh ground daikon, red onion, green onion, with ponzu & sesame dressing
. The beef was thinly sliced, tender, and sitting in a delicious ponzu - not overly salty which was a great change compared to many other restaurants. I only wish there was more of it in the dish!
Those of you that have followed my food adventures long enough will know that I can't eat raw fish. Unless its Ahi tuna, in which case sign me right up. But if you tell me that a fish is going to be seared, that's a great option. Our second dish was the Jalapeno Yellowtail ($16.95):
seared yellowtail with jalapeno, cilantro & ponzu sauce
, served with tobiko atop the fresh jalapeno. Turns out the sashimi was seared only on one side, but I loved this dish. The fish was fresh and had a great mouth feel. The texture from the tobiko, heat from the jalapeno, and sweet & spicy ponzu sauce worked really well together. Huh? I ate raw fish? This was one of my favourites from the night!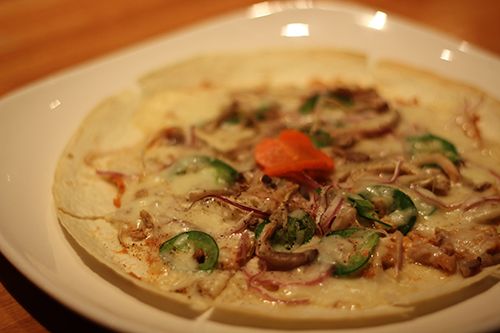 Next up was something completely different - we decided on an interesting take on sushi pizza with the Spicy Tuna Pizza ($14.95):
spicy tuna paste, shitake mushroom, red onion, jalapeno, garlic chips, sesame sauce & mozarella cheese
. It sounded totally weird, and came out different from the rice crust I had expected! The spicy tuna paste had cooked into a layer of fish, while the toppings and cheese seemed to work well together. Only thing is that it was
very
spicy. So if you can't take the heat, stay away from this one!
The first sushi roll to arrive was the TNT ($13.95):
shrimp tempura, tobiko, TNT sauce and sesame seeds on a california roll
. The sushi rice used in the rolls was lovely - each grain had form and a soft texture, and seasoned perfectly enough to enhance the flavours of the roll without the need of soy sauce to complement it. That being said, after removing the tempura shrimp from the roll, it really is just a california roll beneath. A chunk of artificial crab meat and avocado sat inside some nori and rice, making it a little boring for me.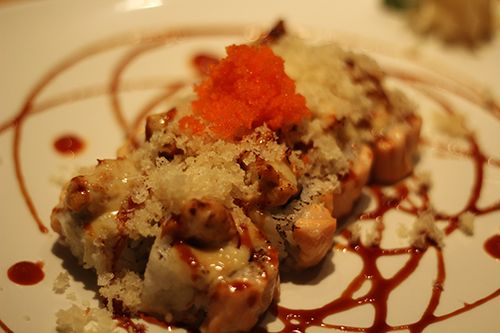 Next up was the Love Crunch roll ($17.95):
baked california roll with salmon and spicy tuna, tempura bits, sweet soy & tobiko
. First off, that huge pile of roe had me salivating, until I realized it was masago and not tobiko. A little misleading, but thats okay. I guess we hadn't realized we ordered another california roll with toppings on it, but this was a little different. The roll had been baked with the fish on the outside of the roll, then topped with panko and dressed with a sweet soy dressing. I liked the change in texture with the crisp crumbs, but in the end, it was still just a california roll on the inside. Note to self: read carefully :)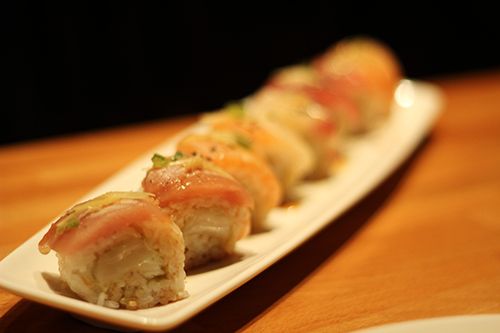 Last up was the New Style Roll ($17.95):
chopped scallops & tobiko wrapped with soy sheet and topped with freshly sliced seafood, seared in our new style way with tobiko on top
. What showed up on our table was quite different from the description, but this was definitely my favourite roll (or even favourite dish?) of the night. An array of different seafood was wrapped around the roll, and topped with a bit of fresh ginger. None of the seafood had been seared (gasp! I still liked it..), and all the pieces were drizzled with a light soy sauce, so there was no need to dip the rolls in any more. The fish was incredibly fresh, and tobiko added a nice contrasting crunch to the soft sashimi.
After a night of eating, I would say I was pretty happy with the meal here. The food is definitely on the expensive side - our bill came out to $90 pre tip for two people, but the fish is fresh and the presentation is there. If you're not a piglet like me, you may see yourself spending a bit less, and still getting to try a variety of items on the menu. I did notice they will be offering
Omakase
, which is a chef chosen tasting menu for $75/person with 24hrs of advanced notice. It'll definitely be an adventurous dining experience if they're successful in the execution. After our meal, a server came over for a quick chat for feedback on the menu, as they are doing the final tweaks on the dishes before the grand opening. This restaurant is so receptive to feedback, and I love how open they are to pleasing customers. And for the next little while, they're offering 10% off your bill to celebrate their arrival to the city. Seeing as the grand opening for Japonais Bistro is
tomorrow
, I feel like they're going to do well. With so much hype around the restaurant, make sure to make a reservation before heading down!