Sweets For Sharing: Caramia Caramels {GIVEAWAY}
November 21, 2016
One bite of a fresh, European-style caramel on her honeymoon was all it took for Tammy to bring the sweet treat home to her best friend Alysia to try. After devouring the caramels much too quickly, their search for similar caramels locally yielded no results. The girls took matters into their own hands and decided to make their own.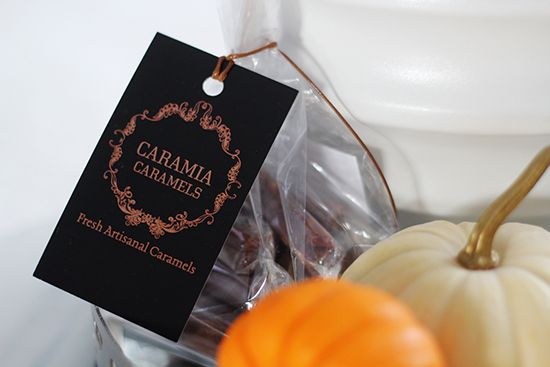 Tammy and Alysia Lok have been best friends for years and recently became sisters, as Tammy married Alysia's brother. Since January of this year Tammy and Alysia have worked tirelessly to perfect their caramel recipe and make their caramel dreams a reality.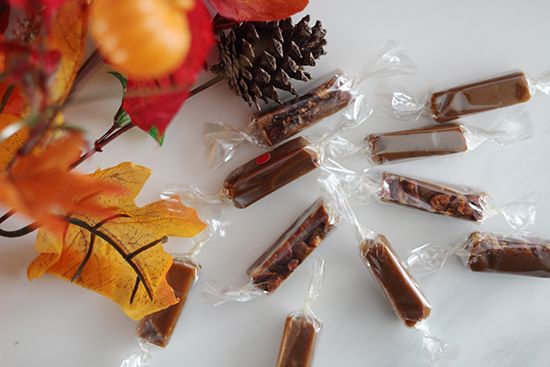 "Cara Mia" means 'my beloved' in Italian, and this duo's creamy
Caramia Caramels
are meant to be shared with the ones you love. After indulging in an assortment of their timeless flavours I can certainly say they are the best caramels I've ever had. The caramels have a soft bite and instantly melt in your mouth. They're smooth, buttery, and best of all they don't stick to your teeth or the roof of your mouth!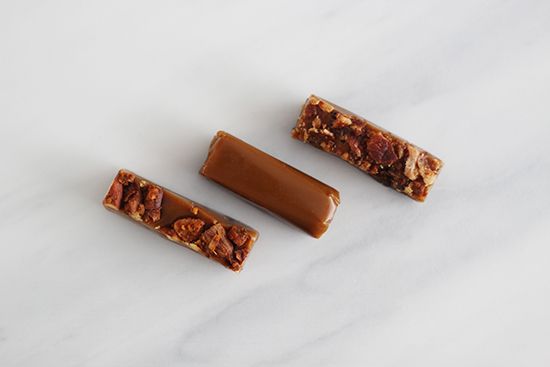 Sriracha Almond, Original, Smoked Maple Bacon
Caramia uses only high quality, natural ingredients in their caramels, and you really can taste the difference. Without artificial flavours or preservatives, the caramels are best eaten within 14 days, but I guarantee they will not last that long once you take a bite.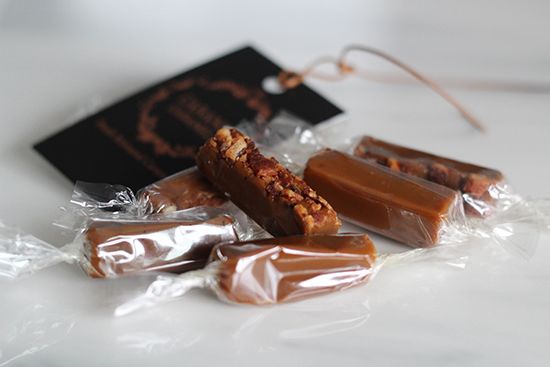 Tammy and Alysia opened their stall at the
Edmonton City Market Downtown
in May and haven't looked back since. They spend Monday thru Wednesday cooking their caramels one batch at a time on the stovetop, and Thursday and Friday cutting and wrapping each individual caramel by hand for the market on Saturday. Each batch takes four hours from start to finish, yielding about 10-12 bags of product.
These girls dedicate an incredible amount of time to their caramels, and both girls have since taken the risk of leaving their full-time jobs to pursue their dream of sharing their caramels with the world. They currently have the resources to make and package caramels for one farmers market, but hope to purchase a candy making machine (
Prince Charming Mix-A-Lot
) to expand further and offer their product online. Through
Kickstarter
, Caramia Caramels has exceeded their $13000 goal to raise money for their machine, and hope to reach $28000 in the next three days to release a new collection of tea flavoured caramels with your support.
This holiday season you will be able to find Tammy and Alysia at the
St. Albert Indoor Christmas Market
and the City Market Downtown on Saturdays. Their caramels are a great treat for anyone on your Christmas list, and their Holiday Collection is sure to please. The Holiday Collection includes hot chocolate, gingerbread, and candy cane flavours, which you don't want to miss. Tammy and Alysia have
kindly offered up an 8-piece box of their Holiday Collection caramels to one of my readers to share the Caramia love
! Find all the details below.
------------------------------------------------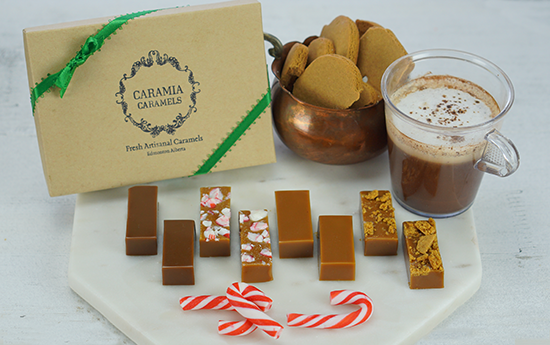 THE GIVEAWAY
One 8-piece box of the Caramia Caramels Holiday Collection
To Enter: Visit the Caramia Caramels website and tell me which caramel flavour is your favourite, or which you would like to try.
Note: leaving a comment is mandatory to enter this giveaway - additional entries will improve your chances of winning, but will not count unless you leave a comment
ADDITIONAL ENTRIES
Follow me via Twitter (@littlmissandrea) (+1)
Follow Caramia Caramels via Twitter (@caramiacaramels) (+1)
Tweet about the giveaway: "I want to try the @caramiacaramels Holiday Collection! I hope I win @littlmissandrea's giveaway! #yegfood #yeg" and link back to this post (+2)
Follow me via Instagram (@littlmissandrea) (+1)
Follow Caramia Caramels via Instagram (@caramiacaramels) (+1)
Visit my Facebook page, and share the giveaway post! Gain 1 more additional entry by tagging a friend in the comments (+2/3)
a Rafflecopter giveaway
This giveaway is open to anyone 18+ years of age in Edmonton. You have until December 1st to enter and the winner will be selected by random and be contacted via email. Good luck!
*Disclosure: I was sent a bag of Caramia Caramels to try for potential review on my blog. Views expressed in this post are solely mine. This post is 100% my opinion, and as always, my priority is to you, the reader, to present an unbiased, thorough review.