mmyum, freshly made pasta!
October 02, 2010
Seems like Vince & I are starting up a trend.. we have to go out and eat every Friday after school for dinner before we head to work for the night! But that's a good thing for us.. we get to check out different restaurants & I get to post up more reviews! Hah :)

But first off, lets start with lunch before talking about dinner. Today Lisa and I decided to hit up Hub Mall here on campus and try out different foods that we have yet to try. You would think that in the two years I've been here already, I would have tried out most of the food there is to offer.. but that's a negative. There's a handful of places I have yet to try!

Today we headed over to La Pasta Trattoria, an Italian establishment inside the building. There are two levels to this little restaurant, in which the top floor serves beverages, sandwiches and panini's, while the bottom floor is responsible for making fresh pasta, salads, and delicious sauces to serve the pasta with.

In the downstairs portion, the walls are very white, making you feel like you almost aren't inside of a restaurant. Honestly, it gives me a bit of a eerie feeling. Like you're in a prison cafeteria or something, hahaa. I don't really know why I feel this way, but the guys that work down there are very friendly which offsets the feelings I get. The menu is written on a white board hanging on the wall, so maybe they change it up once in a while.

Downstairs sitting in the heated pans are about 4 different pasta choices, with 3 different sauce options on the side. You can choose whichever pasta you would like and pair it with any of the available sauces and see if your creation is good or not. Likely it will be, cause who can really mess up pasta and sauce?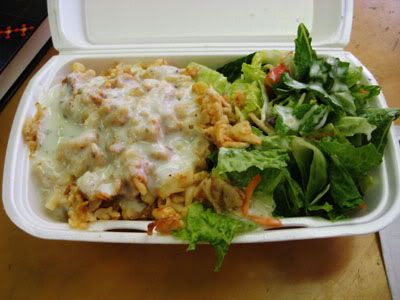 Does this look appetizing to you? :)
I tried their baked pasta with alfredo sauce, served with a side of caesar salad. The total came out to $7 I believe? I also had a coupon for a free drink, so this place is very affordable as the portions are big and will definitely fill you up. My only complaints really would be the consistency of the salad dressing. The dressing was like water, so liquidy that it wouldn't stick to anything! It basically just pooled underneath my vegetables, and got mixed into my pasta which decided to absorb it all up! Not too happy, but the baked pasta was much better. The pasta is quite soft - likely because it is freshly made and baked, making the cooking time much longer than what you would cook pasta for to make it al dente. The pasta was cooked with tomato sauce and cheese, and what I believe was little bits of beef here and there. The beef was hardly noticeable, and in it's ground form so it was hard to tell whether or not it was meat. The server gave me a heaping spoonful of alfredo sauce, which was perfect to cover up my pasta and make it a good lunch in the end. I will be back in the future just to try out their other pastas - I want to see what the non-baked pasta is like!
Now that lunch is out of the way, let's talk dinner. So once again Vince & I found ourselves wondering what exactly we should get for dinner, and we settled on our closeby Ga Ya restaurant. It's good & nearby, so why not?
Being a fan of soup noodles, I ordered the Jjam Pong to warm up my tummy & Vince picked the kim bap on my recommendation.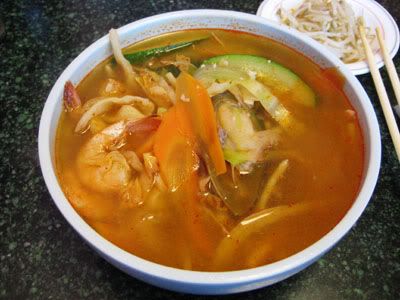 Jjam Pong at Ga Ya :)
The Jjam Pong was good as usual, loaded with seafood and vegetables! I always order this soup mild, and go from there to adjust the soup to my liking. I do prefer the Jjam Pong at Lee House to the one here at Ga Ya, because the noodles here do not have the elasticity of the noodles used at Lee House. The ones here are softer, but the difference obviously isn't enough for me to stop ordering this dish!

Korean Sushi!
When the kim bap arrived, it was so cute and neatly arranged. Kim bap is basically the korean version of sushi, in which the rice encases bulgogi beef, egg, carrots, cucumbers, and picked radish. It can be eaten alone or served with different banchan dishes, but I find that by itself, it's already sufficiently flavoured. This dish is very affordable and filling - the one pictured above is $6 I believe. Go check it out, I love it!
La Pasta Trattoria
9008 112 St.
Edmonton AB
Ga Ya Korean Restaurant
11147 87 Avenue NW
Edmonton AB