Free Burrito Day at Burrito Libre!!
September 28, 2010
How excited was I when I got the Facebook invitation titled "FREE BURRITO DAY!"? SUPER EXCITED.

Today was the first time I headed over to Burrito Libre right by the U of A campus. I know this place opened up last year, and on their first day they gave out free burritos as well. Only that day it was very cold and in the middle of winter!

Today was a great day to walk over to the little establishment, with the sun out & a slight breeze. Despite being fall, the weather was actually really nice - I'm liking this Indian summer!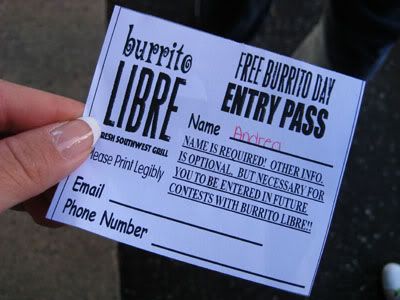 Burrito Day Pass
Burrito Libre was actually giving out free burritos today to help fundraise for the U of A Campus Food Bank. The Campus Food Bank provides food and toiletries to students in need on campus, because they "believe that University is a place where one should hunger for knowledge, not food". In order to receive a large burrito, bowl, or salad, you had to bring one non-perishable food donation, or donate $1. Pretty good deal if you ask me, and I think others would say so as well based on the length of the line they had wrapping around the building!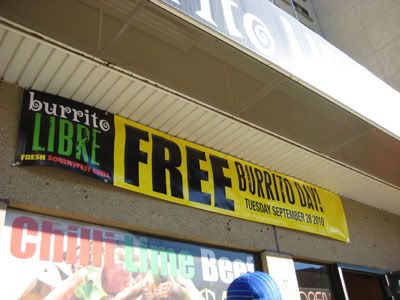 Woop Woop Free Burrito Day
Lisa and I headed over to the little restaurant right after class, and waiting in line did not take long at all. There were maybe 20-25 people ahead of us in line when we got there, but we were up at the front ordering what we wanted all within 5 minutes. What I think was even more impressive was that I got my burrito in less than a minute! Talk about efficiency.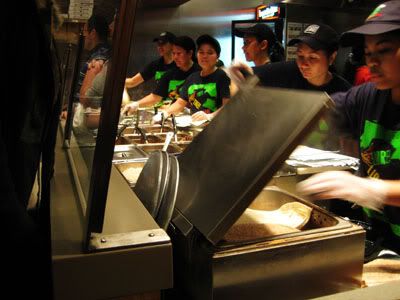 Assembly line of workers
They had a little assembly line formed, with one person at each ingredient. They would ask you whether or not you wanted an item, and pass it on to the next person, assembling the food very quickly. Unfortunately, it was very loud inside, and hard to hear what the person was asking you. I wasn't always able to hear what she was asking me, but I said yes anyways, hah! From what I can remember, there was a choice of meat (chicken, pork, beef), lettuce, tomatoes, rice, black beans, corn, peppers and onions, salsa and sour cream. The restaurant also handed out little cards inviting you back for a burrito in the near future, and the card entitled you to a free serving of chips with salsa. Great way to drive business and help the community!

Look at the filling in there!
Sitting down to eat the burrito, it was so big, just by looking at it I knew I wouldn't be able to finish - but that didn't stop me from trying. The first bite in was just like any normal burrito, lots of tortilla and not much flavour. But upon my second bite I was quite surprised! I got a bite of the rice, which was soft, fragrant, and flavourful. The salsa gave it a mild kick, and the vegetables a nice crunch. There was one thing I wasn't too fond of in my burrito though, and that was the chicken. I had chosen to try the chipotle chicken as the protein in my burrito, and it was a bit too sweet for my liking. I added in some hot sauce to try to mask the flavour, but I could still tell it was there. If you're like me and like your chipotle sauce to be more on the salty side, stay away from this one! Otherwise, I thoroughly enjoyed eating the burrito and will likely go back in the future when I'm close by & hunger is calling!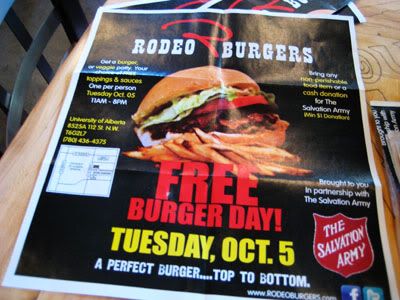 Next Up: Free Burger Day!!
HEADS UP! Rodeo Burger, which is right next door to Burrito Libre here on campus, is having ... FREE BURGER DAY next week, on October 5th. They will require a non-perishable food item or a $1 donation to get a burger! All donations will support The Salvation Army. Make sure to check it out to get some free food & support a great cause!
Burrito Libre
8525A 112 Street NW
Edmonton AB